What is RadioEarn?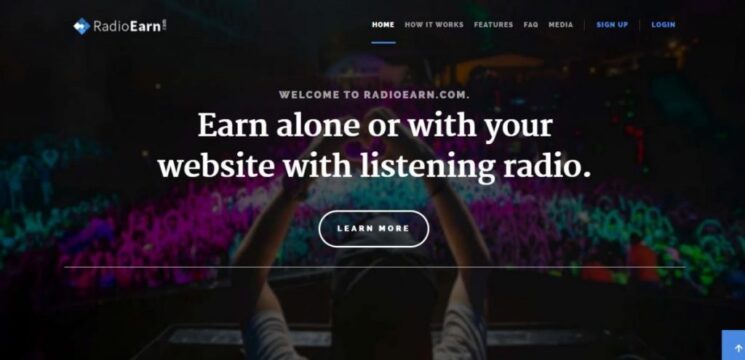 RadioEarn is a popular GPT site that pays users for listening to the Radio. Not only that you can also earn by surfing the websites, clicking ads, and also from its referral program.
RadioEarn is a unique website where you can be entertained by a Radio and also earn at the same time. Today we will discuss how you can earn from this site, how much can you earn, and how do you withdraw your earnings as well.
So let's get started.
Also, read a review of another popular GPT website GPTBox.
How to Join Radioearn?
RadioEarn is a popular global online network where you earn by just listening to the radio. The site is available globally and anyone can join it.
However, the benefit of the site is based on location as well. Mainly people from the US, UK, and Canada get more earnings from this site.
All you have to do is visit the site RadioEarn.com and click on the sign-up button. Then you have to register for the site by filling out your personal details.
You have to fill in your Username, Full Name, Email Address, and Password to complete the registration process.
After that, the site sends you a verification email link which you have to click to officially get verified.
Now you are all set to listen to the radio and earn some money.
You can also listen to the radio or music and earn money from another popular website Earnably. Check our Earnably Review
How does RadioEarn Works?
As the name of the site suggests you have to listen to the Radio to earn some money. Along with that, you can earn some money by surfing as well.
Let's get into the detail of the site:
Listen to Radio:
You have to listen to the internet radio to earn some money from this site. However, there is no availability of normal radio on this site.
After registering to the site, you will see the "Start Earning Tab" where you have to click. After clicking the site directs you to some particular radio station.
You can choose your preferred radio station but these stations are based on location so some stations may not be available to where you live.
After listening to the radio for some time you will start earning some money. According to much research, the site pays up to 25 cents for 15 minutes of your listening.
Embedding your Radio API
If you have a  website or blog, then you can embed your Radio Account on them. So when you get traffic and your traffics listens to the radio from the embedded Radio API then you will earn money similarly.
This is one of the ways to earn some passive income by just letting your traffic do your work and you can just sit back and start earning.
Websites Surfing
Another cool way of earning money online is by surfing third-party websites from the RadioEarning site.
After reaching the site, you have to click Surfing Tab on the Start Earning section. Then the site will redirect you to a third party.
Every third-party site has different means of earning and different instructions to follow so be careful to follow each instruction so that you don't be disqualified and start earning.
However, the basic instructions required is you just have to visit some websites, wait some time, and then you will get paid.
If you want to earn some money by listening to music. Check our list of websites below:
Referral Programme
You will also earn some money from their referral program. The site pays 5% if someone joins from your referral link and starts earning.
However, they must be active for at least 2 months of joining for you to receive the earnings. This can work both ways. If your referral lives in an area where he can earn then he may remain active if not he may be dormant and as result, you won't be paid.
How Much Can You Earn from RadioEarn?
This entirely depends upon how much radio can you listen to and what radio stations are available in your area. Most high-paying radio stations are basically the USA, UK, and Canada-based radio stations.
So if you live around that area then you can easily earn some decent earnings and the availability of radio stations to earn some money are also equally available.
This site provides points based on each hour you listen to the radio which means if you listen to the radio for 5 hours you will earn 5 points.
The conversion rate of the site is you will earn $3 per 1000 points so you can see the earning potential is only based on the availability of the high-paying radio stations.
The earning potential of the site is helped by its mobile app which you can download from Play Store and also from a web browser as well.
The site is very mobile-friendly so you and your referrals can easily start listening to some radio and start earning freely.
Minimum Payout and Payment Method
As we have mentioned before, the site pays out in the form of points and 1000 points is equivalent to $3. Every 15th of the month the site converts your points into dollars.
Once you reach $3 you can withdraw your earnings via Amazon Gift Cards, bank transfers, and bitcoins as well.
After you request to withdraw the amount your transaction will complete within 35 business days. This is a very long time considering it is only $3  to withdraw minimum.
Pros and Cons of RadioEarn
Pros
The earning way is quite entertaining and informative as well.
The minimum payout of $3 is quite low.
Cons
Earnings are base on location so it is quite limited.
It may take over a month to gain your earnings.
You will not earn much so it cannot be used as an active source of income.
The site does not pay via Paypal so it is a major weakness of the site.
Conclusion: RadioEarn Review
After the detailed RadioEarn review, we can conclude that the site is legit but it is not worth joining as there are tons of other GPT options which pay more and also help to withdraw your earnings easily.
However, if you like to listen to the radio, then you can use this site to earn some money while you are binge-listening to programs on the radio.