What is DollarClix?
DollarClix is a Get Paid To (GPT) site that pays users according to their task but completing offers and surveys. The site is worldwide and anyone over 18 years of age can join the site.
The site has a variety of offers to choose from and users can earn from the affiliate program. There are a variety of rewards to choose from particularly cash or gift cards. But their payment system is not as easy as you would like and actually it is quite complicated.
It will also take lots of patience to earn on the site. Discover what is DollarClix all about, how it works, how it pays its user, and how will user redeem their payments.
You can also join the CashoutPoint site if you want to earn money by doing some simple GPT tasks.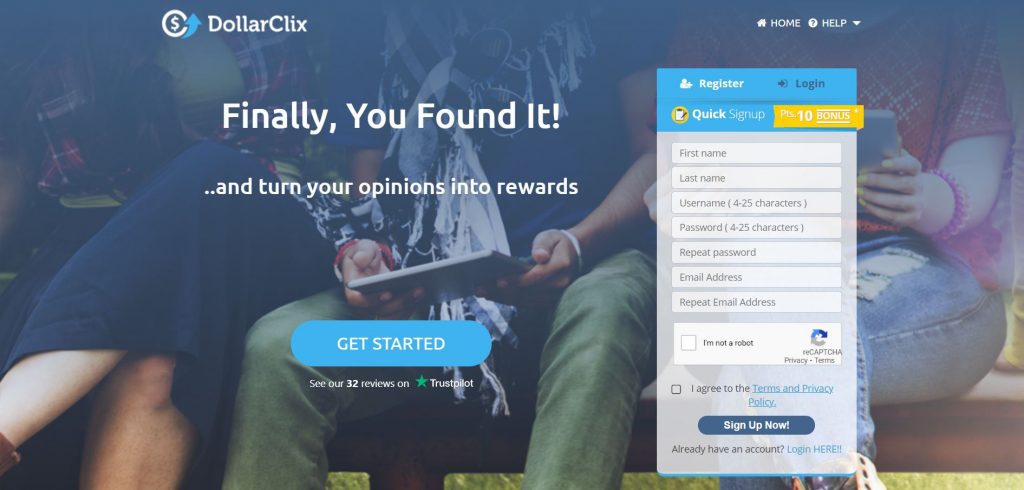 How do DollarClix works?
First of all, DollarClix is the GPT site that means they pay their users when they complete offers and surveys. First of all, users have to join the site and sign up for the account.
The website is free and available worldwide but they prohibit using a proxy or VPN. The users have to fill the website with their name and address and the website needs the user's email address.
After signing up, the website sends the email to verify and users have to verify the email address by clicking on the link sent by the website. After email verification is complete users are recommended to fill in their actual information as profiles.
Now the users are ready to work on the website.
How will you earn from DollarClix?
DollarClix is a GPT site that basically means there are 4 ways to earn. They are
Paid Offers –
There are plenty of ways to earn in DollarClix but most probably users completing paid offers in bulk will earn more. The website provides some tasks to users such as Signing up for a Website or creating an email address.
Users completing these basic paid offers will earn a lot more if they complete them in a bulk. Fixed paid offers have fixed rewards and users will earn the reward as they continue to complete these paid offers.
Offerwalls are also kind of paid offer. There is plenty of unlimited offer walls so users can earn from paid offers continuously.
Paid Surveys –
Another way of earning on the DollarClix website is Paid Surveys. There is various surveys panel to choose from and users can complete the surveys accordingly and get the reward.
Surveys take from 5-10 minutes to complete and it is not that hard. First of all, users have to answer pre-qualifying questions to get selected. After answering the questions, users are selected for survey questions.
Paid Surveys are also beneficial because users can be directed to other paid survey sites and they get rewards as they complete them. The only drawback of paid surveys is there may be a time limit on each survey site.
Watch Videos
Another way of earning from the DollarClix website is by watching videos containing ads. The user will earn the reward after watching the complete video. The rewards earn from watching videos is not as high as other options.
Referral Program
Finally, the last way of earning from the website is by the website's referral program. Each referral will earn users 20% of their referrals earnings. If users referral also invites their referrals the original user will earn 10% of their earnings.
How do DollarClix Pay?
After completing each offer and reward users have accumulated some points. There are two balance, account balance and points balance. Users must pay attention to their account balance.
Users can convert their points to their accounts balance. One point is equivalent to one cent. Hence, users are recommended to convert their points to the cash balance.
How can Users Withdraw their Cash?
Users can withdraw their cash from various options such as
Bank Wire
Virtual Visa
Prepaid Mastercard
Flipkart
Bigabazar
Shopper stop
Tesco card
Amazon
Tango Card
Tipalti
Pros and Cons of DollarClix
Pros
The application is legitimate and pays its user
The tasks and surveys are easier and worldwide
There is a various method of withdrawing the amount.
Cons
Amounts earned is really low.
Some survey sites are not available in every country.
Very complicated payout process.
Takes lots of time to actually earn a decent amount.
Conclusion
The website is legitimate with lots of different options of earnings and payout but it is recommended to take as a passive source of income.
Check out our review of Analysia and get to know if the site is legit or scammed.