Surveys sites are an easy and high-paying way to earn money online. There are lots of survey sites on the internet.
One of the high-paying survey sites on the internet is PaidForResearch which claims to be the best survey site on the internet.
In this PaidForResearch review, I will provide you in-depth and detailed functions about the site and how you can earn the maximum amount of earnings.
But first, let's start with the most important question of all.
Is PaidForResearch.com Legit or a Scam?
PaidForResearch.com is legit and it pays its users. You will be paid for participating in surveys and can earn up to more than 80 points per survey. The site pays you through PayPal, prepaid Visa cards, prepaid MasterCard, or Hotels.com gift cards.
However later in this article, I will explain to you how to earn and how many opportunities does PaidForResearch.com provides. They claim to pay you for giving opinions but is it worth joining?
For more details regarding PaidForResearch.com, check out the article below:
What is PaidForResearch.com?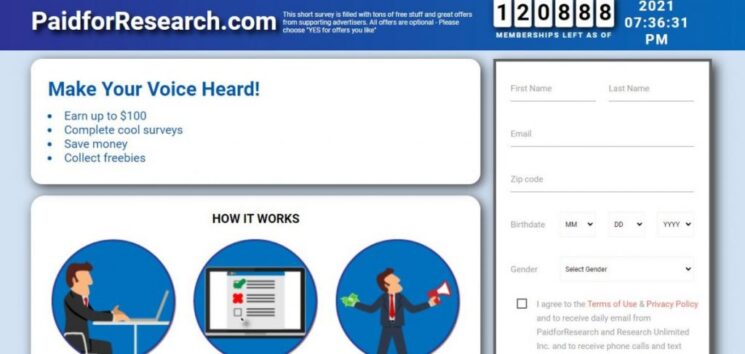 PaidForResearch.com is a website that claims that you can earn money for participating in surveys.
When you visit its website, you can see numbers that claim that the number of available memberships is limited and you have to sign up faster.
This is not true and it is kept just to stress out and make people join the website fast.
Key Introduction:
Application – N/A
Founder – N/A
Founding Year – N/A
Desktop or Mobile Platform – Both
Payment rate –
Payout Method –
How to Join PaidForResearch.com?
Joining PaidForResearch.com is free and easy.
When you visit Welcome to Paid For Research you will see a registration form in which you can fill up the information asked like first name, last name, email, zip code, gender, and date of birth.
Then you can register your account and fill up some yes and no questions which will be explained below.
Check out Surveytime Review and find out if they are legit survey sites or scams.
How To Make Money From PaidForResearch?
PaidForResearch.com is an unusual survey site. After registration of your account, you have to fill up some yes and no questions which will be explained below.
There are 9 pages of such questions and each page consists of about 20 questions. There are various offers available and you have to click yes or no.
If you click no, nothing happens but if you click yes, you have to register and give more info for each of these offers.
Most of these offers are just for promotion with no surveys or surveys of poor quality. You can sometimes find good offers as well but most of them would be poor offers only.
Before clicking yes to any offer, read the terms and conditions. Most of them would be scams and you may be irritated by many unnecessary promotional emails and offers.
Some of the offers have terms and conditions like receiving phone calls from partners of PaidforSurveys.com which is more than 100 partners.
Even though if you click no to the offer, you have already accepted such terms and conditions while signing up for the PaidForResearch.
They also claim that you will earn $100 just by going through all the promotional offers.
How Much Do You Earn From PaidForResearch?
PaidforResearch.com claims you can earn more than $350 after completing the 9 pages of the questionnaire but it is not true.
They only give thank you message and does not give any type of rewards.
You will also not earn $100 by going through all the promotional offers.
There are many complaints by customers regarding this issue but there is no proof of anyone receive $100 by going through all the promotional offers.
You cannot earn anything from PaidforResearch.com.
Check out our MOBROG Review if you want some extra options for survey sites to earn income.
Minimum Payout and Payment Method
Since you will not get paid, there is no minimum payout threshold and payout gateway.
FAQs:
According to PaidForResearch.com, some of the frequently asked questions are as follows:
What can you gain from Paid For Research?
Access to a completely condensed one-stop-shop to the most popular surveys on the net.
Potential dollars to be made – that is why you are here and they know it. They are happy when YOU make money.
Allows you to take advantage of the deals Advertisers have to offer.
Who can participate (Eligibility Requirements)?
Anyone who is 18 years of age or older
Residents of the U.S. (including Alaska, Hawaii, Puerto Rico, and the Virgin Islands) are eligible to participate in their Surveys.
If you live outside the U.S. my you sign up?
Unfortunately, only residents of the continental United States and Alaska, and Hawaii are eligible.
Why are there so many Advertisers?
Advertisers on the site allow you to find and take advantage of the great deals they have to offer.
Allow the content on this site to be a free service to you! Help keep this site free for others by supporting our Advertisers, and sign up for offers that are of interest to you.
You signed up for an opinion offer, but how do you know they got my request?
After submitting their offer, check your E-mails for an email from them to continue the process.
Some surveys will require you to do no work, and others will require you to confirm your request.
Do I have to buy anything?
Not! They are 100% free service, and they want this to be a fun site where you could find actual opportunities. They do require that you answer each question as honestly as possible so that it could help their supporting advertisers.
Is this real?
Yes, they are supported by their advertisers and companies who pay for opinion and market research.
They are a free service, and keep in mind you're not required to buy anything at all. Simply complete their survey and they will send you up to $100 according to their terms and conditions.
Inspection of Safety:
SSL Certificate – Valid (Issued by Go Daddy)
Owner – N/A
Date of Foundation: N/A
Customer Support – Very Bad
Contact Link – N/A
Privacy Policy – Our Privacy Policy: 
Pros and Cons of PaidForResearch
Pros:
 Cons:
com does offer any earning opportunity
You are just time-wasting on this website
The promotional offer is a complete waste of time.
No qualitative promotions
PaidForResearch Review: Final Verdict
PaidForResearch.com is not a scam but it is not recommended to join as well. This website does not provide any earning opportunities.
They claim to pay you for going through promotional offers and completing 9 pages of yes and no questionnaire but you will not be paid anything
Thus, you are not recommended to join PaidForResearch.com as they are a complete waste of time.
You can join other legit survey sites with decent pay rates and more earning opportunities.