Surveys are one of the most common and easy ways to earn money online.
Today I am bringing you a new survey site named Surveytime which claims to be one of the high-paying survey sites.
On this Surveytime Review, I will provide you with a detailed review and information regarding the site including how to join and how to earn from them.
But first of all, you must know:
Is Surveytime Legit or Scam?
Surveytime is a legit site that has so many opportunities to earn by conducting surveys. Surveytime has an excellent user interface and you can easily navigate and start earning. You will be paid via PayPal and you will receive $1 for any surveys that you complete.
However later in the article, I will provide you techniques for increasing your earnings and how you can avoid getting a ban. So please keep engaging with the article below.
What is Surveytime?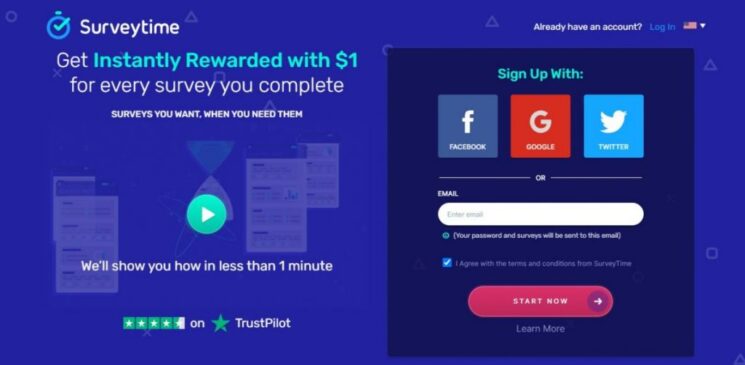 SurveyTime is a popular survey site that pays users for providing feedback and opinions.
It was first established in 2017 so they are in operations for over 3 years already. Surveytime has detailed information on their site so it will be easier for you to start earning.
Their main office is located in the USA. Also, they have the policy of immediately paying the users after completing the survey.
So let's take a look at how you can get started on Surveytime.
Key Introduction:
Website – Surveytime
Founder – Ofir Pasternik
Founding Year – 2017
Desktop or Mobile Platform – Both
Payment rate – $1
Payout Method – Paypal and Bitcoin
How To Join Surveytime?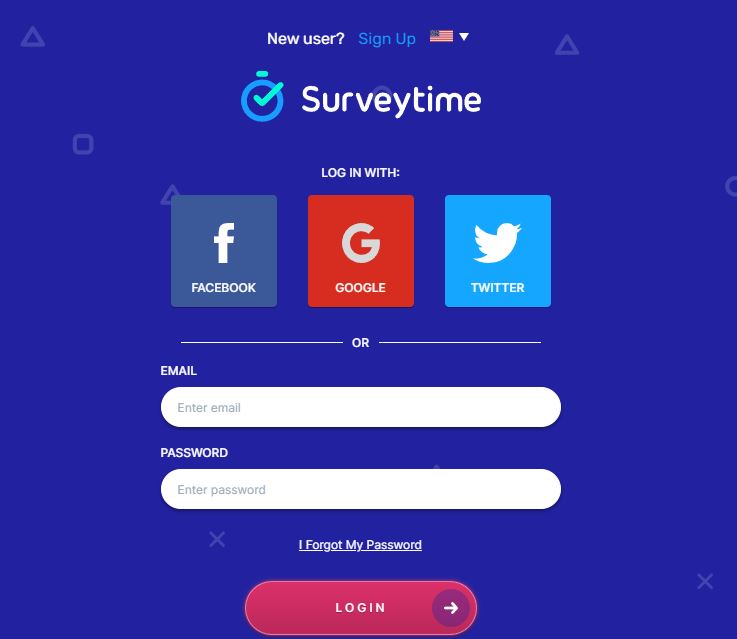 Surveytime is a popular site where you can join from any part of the world. However dependent on the location the number of surveys and earning opportunities will be varied.
Now you just have to visit the site Surveytime and register on the site. You can click the sign-up button and then fill out some personal details.
However, you have to also take the first survey regarding your profile and provide the demographics so that the site can filter the surveys for you.
This will increase the chance for you to receive the survey and increase your earning potential.
How To Make Money from SurveyTime?
SurveyTime has only a limited amount of earning potential and one of the common ways of earning from the Surveytime site is by completing surveys.
The basic gist of Surveytime is to provide your personal information and demographics so that you can increase your earning potential.
Also whenever you complete your surveys you will be providing additional information and additional interest which is even helpful for Surveytime to provide you with even more surveys.
After you provide the survey the data and information the site gather will help various other companies for market research for their products and services.
The site will automatically redirect you to the members' area where you can access all the available surveys for you.
Just like a survey scanner when there is an available survey for you to complete you will receive a notification or email.
You have to qualify for each survey to progress further and complete the surveys but if you can qualify you just simply have to move to another survey on SurveyTime.
You can also view the time limit to complete the surveys and the amount you will receive from each survey which you can already see on the site itself.
Normally each survey may take up to 15 minutes to complete the surveys. Don't only depend on email on surveys so keep logging on and checking the surveys anyway.
Also, you will not complete surveys from Surveytime but you will be redirected to the third party customers however once you complete the survey you will be redirected towards Surveytime and eventually receive your reward.
Check out PaidForResearch Review if you like to earn some side income from survey sites.
How Much Can you Earn from Surveytime?
The amount you earn from Surveytime is entirely dependent on how many surveys can you receive and then complete.
So the earnings are dependent on your location, the number of surveys, availability of surveys, and if you can get qualified for those surveys.
You can make some decent cash as each survey you can get from $1 to $5 but as you know Surveytime is never a get rich scheme.
So if you can get decent surveys per day which can be up to 3 surveys per day then you can earn from $5 to $15 per day.
Hence you can earn up to $100 per month to $500 per month from Surveytime which can be a decent side income.
Check out Yuno Surveys Review to find out they are one of the fast-growing survey sites for users to earn money online.
Inspection of Safety:
SSL Certificate – Valid (Issued by R3)
Owner – Ofir Pasternak
Date of Foundation: 2017
Customer Support – Bad
Contact Link – N/A
Privacy Policy – Privacy Policy
Minimum Payout and Payout Method
The payout method of Surveytime is from PayPal and from Bitcoins.
Each reward from each survey is always $1 so you don't have to worry about the minimum payout on Surveytime.
Comparing to other survey sites $1 per survey is really low however you will have ample opportunities to complete surveys and get your reward immediately as well.
Check out Panel Champ Review as it is considered one of the interesting survey sites out there.
FAQ
How does it Work?
Surveytime will provide you surveys but you have to qualify for each survey. After you complete the surveys they will reward you with $1 each time.
Where can I redeem my $1 reward?
You can redeem your $1 reward immediately Amazon, Paypal and Decathlon, and Target. You will receive a confirmation email from the site for you to confirm your payout options.
What Happen If I fail to complete a survey?
You won't be rewarded if you fail to complete the survey but then you can move on to other surveys.
Pros and Cons of SurveyTime
Pros
The site is accessible worldwide
Surveytime does not have any minimum payout.
You will get paid immediately
There are tons of earning opportunities.
Cons
Customer support is not really good.
Earning potential is based on location.
You will only earn $1 per survey no matter the time limit.
There are lots of complaints regarding technical issues of Surveytime.
Surveytime Review: Final Verdict
Surveytime is a legit site and pays users for conducting and completing the surveys.
There are lots of positive aspects of Surveytime such as availability of surveys, lack of threshold whereas the payout is really low for a survey site.
Many users have fallen in love with Surveytime while some of them have also got disappointed as well.
Over 8,000 users from Trustpilot have rated Surveytime 4.5 out of 5 stars.
Let's take a look at user reviews from Trustpilot.
User Reviews
Here are some positive reviews from SurveyTime.
Review 1
This user has high praise for Surveytime as he claims it is the best site with fast payment and great customer care.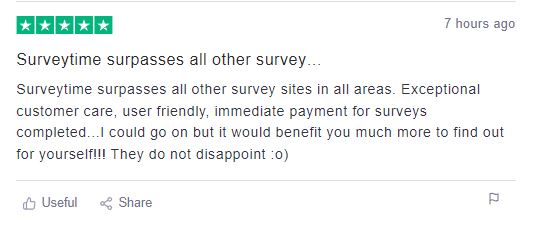 Review 2
According to this user, Surveytime is a very honest and integrate site that pays users very quickly.

Review 3
This user has recommended Surveytime to everyone as an awesome site however he does have suggestions that sometimes the survey invites from the email ended up in spam mail so they should make their email spam-proof.
Now let's take a look at some negative user reviews
Review 4
This user claims the Surveytime was better the first time but recently they don't pay the reward or only pay half the amount of reward.

Review 5
This user is very disappointed that the payout of Surveytime is so low that 22 min survey reward was only 50 cents.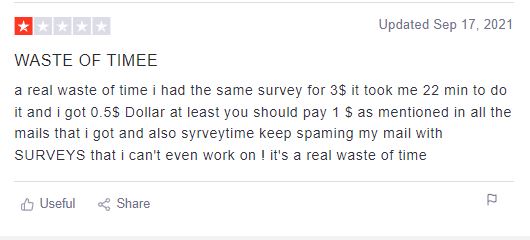 Review 3
This user claims he completed surveys but instead of getting a reward the site actually closes automatically and did not reward.

All in all,
Surveytime is a legit site and it has paid many users but recently many users have complained that they do not pay the user or there is not much opportunity for surveys.
However, I still recommend our users to join Surveytime and give it a try and earn some decent side income.