Surveys are the best way to earn money online. On this Surveys2Cash Review, I will provide you with detailed review of the site.
Is Surveys2Cash Legit or a scam?
Surveys2Cash is a legit site and it pays its users. You will be paid for providing opinions and conducting surveys and can earn up to $5 -$10 per survey. The site pays you through Paypal, Bank Transfer, or even gift cards.
However later in this article, I will explain to you why the site has limited earning opportunities. They claim to pay you for giving your opinion which is half true and half false. They do not pay you themselves but you have to join other affiliated websites and give your opinion to earn rewards.
So stay tuned and keep engaing on the article.
What is Surveys2Cash?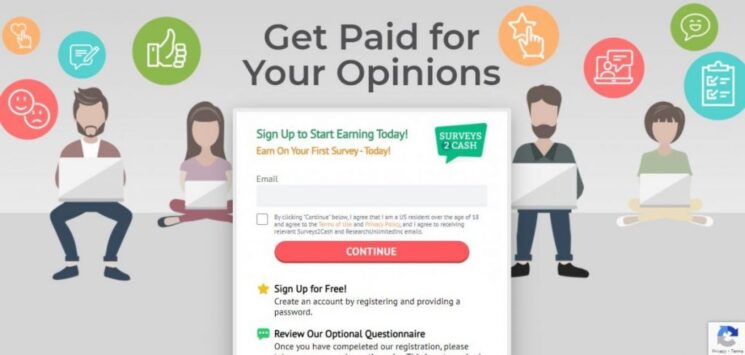 Surveys2Cash is a website that claims you that you can earn money through for providing your opinion.
But you will not find any survey in this website and neither will you earn from Surveys2Cash. They only recommend you to join surveys sites and take surveys from them.
Key Introduction:
Website – Surveys2Cash
Founder – Virtua Drug Ltd
Founding Year – 2015
Desktop or Mobile Platform – Both
Payment rate – N/A
Payout Method – Bank Transfer, Paypal and Giftcards
Getting Started
Joining Surveys2Cashis free and easy. When you visit Surveys2Cash, you will see sign up and take surveys option in the home page.
You can fill up the information asked but it is only available for residents of United States. They will ask about your personal details like any other survey sites.
How To Make Money from Surveys2Cash?

Surveys2Cash is an unusual survey site. It is like a third-party website that acts as a pathway between other survey sites.
You will not actually take anu survey in Surveys2Cash but you can choose any of the affiliated websites to take survey on.
Once you choose a website, you have to sign up in the new website and start taking surveys. Surveys2Cash will receive commission from the affiliated site you join into.
You can not get any in depth info about the survey site you are joining which makes any person wonder if they should join the available survey sites or not.
There is also an option where they will ask if they can contact you for promotional offers.
When you give your consent, they will send you a link where you will know that you will have to share your contact with 100+ partners.
Most of these partners have nothing to do with survey and you will get a lot of promotional phone calls and text messages.
Some of the promotional offers are worth joining but most of them are just spam and is a complete waste of time.
Another amazing survey site is Survey Rewardz and you can check the review here.
How Do You Earn from Surveys2Cash?
You will not get paid directly by Surveys2Cash. If you join other websites through Surveys2Cashthen you may get chance to earn rewards after completion of survey.
But we do not know which survey sites do Surveys2Cashoffer.
Check out our Ebuno Review if you like survey sites and want to earn from them.
Minimum Payout and Payment Method
You may get paid through PayPal or gift cards or bank transfers from other survey sites but there is no pay-out gateway from Survey 2 Cash.
The minimum payout threshold also depends upon the survey site you are taking the survey from.
Just like Survey2Cash, we have an in-depth Lifepoints Panel Review which you can check out here.
Terms and Conditions regarding Surveys2Cash
According to Survey 2 Cash, some of the terms and conditions are as follows:
You expressly understand and agree that surveys 2 cash shall not be liable to you or any third-party for any direct, indirect, incidental, special, consequential and/or exemplary damages including, but not limited to,
damages for loss of profits, goodwill, use, data or other intangible losses (even if surveys 2 cash have been advised of the possibility of such damages), to the fullest extent permissible by law for:
Terms
(A) The use or the inability to use the total offerings;
(B) The cost of procurement of substitute goods and/or services resulting from any goods, data, information and/or services purchased or obtained from, or transactions entered into through, the surveys2cash offerings;
(C) The failure to qualify for surveys from any merchant, or any subsequent denial of services from same;
(D) The unauthorized access to, or alteration of, your registration data;
(E) Whether the pay-for-participation are honored by the applicable merchant;
(F) Whether you realize any economic benefit from use of the surveys2cash offerings; and
(G) Any other matter relating to the total offerings. This limitation applies to all causes of action, in the aggregate including, but not limited to, breach of contract, breach of warranty, negligence, strict liability, misrepresentations and any and all other causes of action.
You hereby release surveys 2 cash from any and all obligations, liabilities and claims in excess of the limitation stated herein.
If applicable law does not permit such limitation, the maximum liability of surveys2cash to you under any and all circumstances will be five hundred dollars ($500.00).
The negation of damages set forth above is a fundamental element of the basis of the bargain between you and surveys2cash. The ability to use the total offerings would not be provided to you without such limitations.
Check out PaidForResearch Review if you like survey sites to earn and find out if it is a legit site or another scam.
Inspection of Safety:
Pros and Cons of Surveys2Cash
Pros:
Surveys2Cashis easy and free to join
 Cons:
Surveys2Cashdoes offer any earning opportunity
This website is available in United States only
You have to sign up in other websites to earn some cash
The promotional offer is complete waste of time.
Surveys2Cash Review: Final Verdict
Surveys2Cashis not a scam but it is not recommended to join as well. This website does not provide any earning opportunities.
They claim to pay you for giving your opinion which is half true and half false. They do not pay you themselves but you have to join other affiliated websites and give you opinion to earn rewards.
Thus, you are not recommended to join Surveys2Cashas they act as third-party website only. You can directly join legit survey sites with decent pay rate and more earning opportunities.