As we know Earning money online has been easier and accessible for everyone around the world.
Most people engage in Survey sites to earn money online as they offer quick money for sharing your opinion.
Today I have brought you a new survey site known as Yuno Surveys which is very popular among surveyors on the internet.
In this Yuno Surveys Review, we will take a look at the in-depth functions of Yuno Surveys and try to provide you why they are one of the most searched for surveys.
Is Yuno Surveys Legit or a Scam?
Yuno Surveys is legit and it pays its users. You will be paid for giving their opinion and can earn up to more than 80 points per survey. The site pays you through PayPal, prepaid Visa cards, prepaid MasterCard, or Hotels.com gift cards.
However later in this article, I will explain to you how to earn and how many opportunities does Yuno Surveys provides. They claim to pay you for giving opinions but is it worth joining?. Check out the article below to find out more in-depth details regarding Yuno Surveys.
What are Yuno Surveys?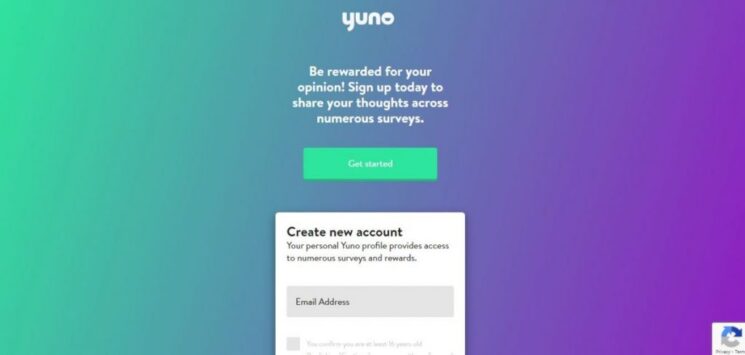 Yuno Surveys is a website where you can earn money by giving your opinion. You can earn money by sharing your thoughts across various surveys.
They have only one opportunity of earning that is answering paid surveys. Yuno Surveys has been recently founded the website in 2019 and it may develop in further future.
Key Introduction:
Website –  Yuno Surveys
Founder – Paul Conway
Founding Year – 2019
Desktop or Mobile Platform – Both
Payment rate – $10
Payout Method –  PayPal, prepaid Visa cards, prepaid MasterCard, or Hotels.com gift cards
Getting Started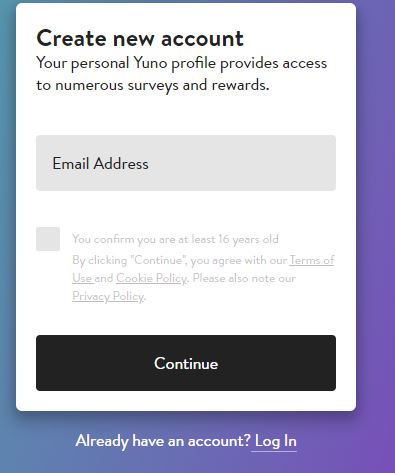 First, you have to register an account on Yuno Surveys by visiting Yuno (yunosurveys.com).
Fill up your email address in the registration form located on the home page. Then click create an account and visit your email and click the confirmation link to activate your account.
Then you can access your dashboard and in account settings, set up your password. You are also required to provide your phone number or you will not be able to redeem your earnings.
Yuno Surveys are available in all countries.
Check out the new survey site MOBROG and find out why it is one of the most searched survey sites out there.
How To Make Money from Yuno Surveys?
After completing the registration process, you can give your opinion by taking surveys just like any other survey site.
You can see all the available surveys at the member dashboard when you log in.
But before taking any surveys, you should answer the profile question. Answering is necessary as it determines if you are qualified to do the survey or not.
There are three types of surveys. They are nice and easy surveys, golden middle surveys, and maximum rewards surveys.
Each survey has its time limit. Nice and easy surveys have about the time limit of 10 minutes, golden middle surveys have a time limit of about 15 minutes and maximum reward surveys have a time limit of about 30 minutes to 1 hour.
You may also be taken to other websites to take surveys sometimes.
If you are looking for excellent survey sites and want to make more money from surveys check our LifePoints Panel Review.
How Much Do You Earn from Yuno Surveys?
You will be paid in point initially in Yuno Surveys. The pay rate of each survey depends upon the type of survey you are taking.
You will not earn for profile questions. The points you earn also differ from the country you are living in.
Nice and easy surveys pay you about 20 points and golden middle surveys pay you about 50 points. Maximum Reward surveys pay higher of all that is about 80 points.
Minimum Payout and Payment Method
You can use your earned points to redeem your reward. The payout gateway is PayPal, prepaid Visa cards, prepaid MasterCard, or Hotels.com gift cards.
For redeeming visa cards, the minimum payout threshold is $5 which is 920 points but the minimum payout threshold of Hotels.com is $10 which is 1020 points.
The minimum payout threshold of PayPal is $5.
Inspection of Safety:
FAQs
According to Yuno Surveys, some of the frequently asked questions are as follows:
How do I change the survey language?
The language is determined by the country you're residing in at the time of completing the survey. If you need to change the language of a survey, please adjust the translation settings in your browser. You can find instructions here on how to do this with Chrome.
Be careful as the use of a VPN could result in the suspension of your Yuno account, as they need to accurately identify the country from which you're completing a given survey.
I completed your survey. Why didn't I get any points?
Once you complete a paid survey, you will see additional points added to your total balance here. Though they reward customers for completing surveys, there are certain scenarios where a reward will not be issued:
You have completed our profile questionnaire
If you're new to Yuno, they will first ask you to complete their profile questionnaire. This is not a paid survey, but rather several "get to know you" type questions on your basic demographics.
The reason they ask you to complete it is to best match you to a paid survey. Once you complete their profile questionnaire, only then can you start earning points and receiving rewards.
You didn't complete the survey
Sometimes they will ask you a few questions before redirecting you to another survey. They understand that asking several questions without a reward can be a little frustrating, which is why they will generally issue a micro reward (1 additional point) as a gesture of goodwill for your time and effort. For more information on how we assign surveys, see here.
The survey was rejected for "quality reasons"
A quality rejection is when a survey is rejected either by them or one of their clients, due to 'bad quality.
Still, feel like you weren't rewarded for a survey completion?
If so, submit a request below with the following information: URL/screenshot of the error message you received.
Time and date of the survey completion. Specific information relating to that particular survey.
With this information, they will be able to properly investigate the issue for you.
Why do you repeat survey questions?
Profile Questionnaire
On their initial profile questionnaire, they will sometimes ask you the same questions to assess your attention and consistency.
The reason they do this is to ensure the data they're providing to their end clients is reliable. Please bear in mind that a failure to answer consistently could mean your survey is rejected and multiple rejections can lead to the suspension of your Yuno account. Check their quality help article.
Seeing the same questions on multiple surveys
While the Profile Questionnaire aims to gather information about you so they can accurately assign you to paid surveys, sometimes you'll see similar questions reappear. Sometimes their survey providers will ask similar, or repeat, questions to ensure your data is up-to-date and to ensure you're an exact match for the survey.
Customer Support
If you have any problems, you can use the FAQ section where you might find your answer.
If you do not have an answer after accessing FAQ then you can contact Yuno Surveys by filling a certain form. The customer support is decent.
They do not have any mobile apps but you can use Yuno Surveys through a mobile browser. You can also contact them for support at [email protected],
Pros and Cons of Yuno Surveys
Pros:
Free and easy to join
Pays through PayPal
The minimum payout threshold is low
User friendly
Cons:
Not many opportunities
The pay rate is low
Yuno Surveys Review: Final Verdict
Yuno Surveys is legit and you may join this site. But it cannot be your primary website to earn money. The payout threshold is low but the pay rate is also low.
There are not many opportunities for earning besides paid surveys. This website is started recently so it may offer better in future.
More than 800 users from Trustpilot have rated Yuno Surveys site 3.5 out of 5 stars.
Let's take a closer look at these user Reviews from Trustpilot
User Reviews
Here are some positive user reviews
Review 1
This user is very happy that Yuno Survey is legit and has paid them with a gift card immediately after reaching the required threshold.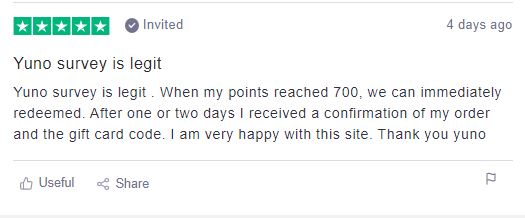 Review 2
According to this user, Yuno Survey is very rewarding and is the best site for performing surveys and getting rewards for it.

Review 3
This user claims Yuno Survey is legit as they have already withdrawn lots of cash and crypto from the site.

Now let's take a look at negative reviews of the Yuno Survey from the site
Review 4
This user has kept it simple as Yuno Surveys is a scam as they were only paid once and then never got paid after that which means you are wasting your time.

Review 5
This user is not happy that she was kicked many times while doing surveys and long surveys have very few rewards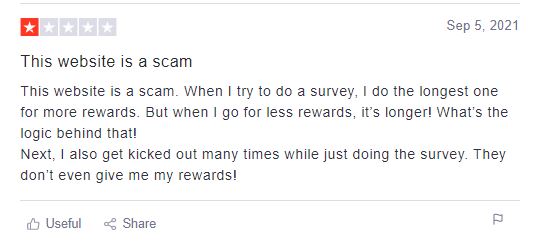 Review 6
This user claims that Yuno Surveys is a massive scam site because the site banned her for giving her legitimate views and did not help in customer support and provided an explanation on why she was banned.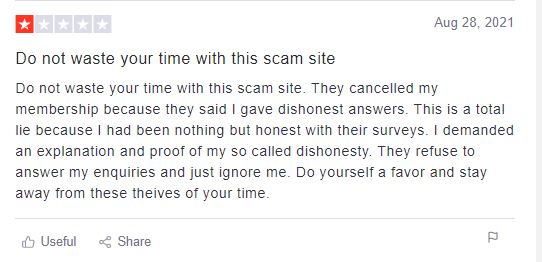 All in all, Yuno Surveys are legit sites and pays the surveys. They are also one of the high-paying survey sites but earning potential is limited on the site.
So I recommend you to join the site and keep an open mind that you will not be rich or be able to pay your mortgage.