Earning money online has never been so easy. There are lots of ways to earn money online.
Some of the options are to do paid surveys, complete paid offers, watch ads and tests and review new products.
Reviewing products is an interesting and exciting way of making money online. There are lots of sites out there that claim to be legit but we have to be careful in choosing them.
Today I am bringing you a new and interesting site HomeTester Club that provides free stuff in exchange for your opinion or feedback on the products.
In this HomeTester club Review, I will show you guidelines for joining the site, how you can earn and withdraw from the site.
Also, you will know if HomeTester Club is legit or a scam site.
Let's get started
What is Home Tester Club?
Home Tester Club is a popular online product testing site that rewards workers for providing unbiased opinions and feedback regarding the product.
However, at first, you have to buy the product, check on the site regarding product reviews and provide an honest opinion.
If your reviews are selected the company will reimburse your shopping cost and you will receive the product for free.
Now let's take a look at how you can get started on the site.
Getting Started
In order to get started, you have to visit the site and register on it. You have to be 18 years or older and from these countries, if you want to join the site.
China, France, Brazil, Canada, Hong Kong, Germany, Indonesia, New Zealand, Philippines, etc.
If you are eligible to join you will see the signup page where you can sign up via Email and Facebook.
After registering for the site you have to provide some personal information such as Name, Address, Zip Code, etc.
This is the final stage of signing up and now you can access your dashboard and find out options of products for reviewing online.
This site is exactly like ShopGala where you will test products for free rewards. Check ShopGala Review here.
How To Work on Home Tester Club?
In order to earn money online from each site, you have to perform the available tasks on the site. Now let's check out the earning opportunity on Home Tester Club.
Testing Products
Testing Products is one of the ways of getting free products from the site. Home Tester Club may not provide you straight cash but getting free products is also not bad.
You will find different available products on the site for you to review, you have to apply for the product.
While applying for the product you have to prove you are qualified for testing the product. The site will ask you a number of demographics questions.
You will also have to be qualified for minimum requirements for testing that product. Only then your application will be accepted.
When your application is accepted by the site, you will receive the product which may take up to 3 weeks.
Then you will test the product in detail and find out every small matter related to it.
Now you have to provide some information in the form of surveys or questions which you have to answer in detail.
You may also have to provide proof of testing the product in the form of a video or photo. Once submitting you have to wait for the site to approve your review.
Once your review is approved you will receive your reward in the form of a free product you received before. So you will receive your reward beforehand completing your job.
You can also check the Product Testing USA review and find out why it is similar to Home Tester Club.
What are the Rewards from Home Tester Club?
As we have mentioned you will not receive any cash or gift cards for your effort.
However, you will receive the free product that you will be reviewing. This may not be for everyone but free products are also attractive for many collectors or people.
Once you applied for the product, you will receive them within 3 weeks of your application if it is approved.
You can also check our User Testing review which is one of the most popular product testing sites that pay it, user.
Pros and Cons of  Home Tester Club
Pros
The site is legit and it provides rewards.
It is helpful for shopping online for detailed reviews of products.
Cons
Home Tester Club does not provide a reward in the form of cash or gift products.
It may take a long time to receive the reward.
Home Tester Club Review: Legit or Scam
Home Tester Club is a popular site where many claims to be a legit site. However, some are not happy that it only provides rewards in the form of free products.
The SSL certificate of the site is valid and issued by Amazon however there is no information on the owner of the site on Whois.
Also over 100 users from the Trustpilot site have rated the site 3 out of 5 stars.
Now let's take a look at some User Reviews from the Trustpilot site.
User Reviews
Here are some positive user reviews:
Review #1
This user says the site is legit as he has worked for over a year and has tested over 6 products.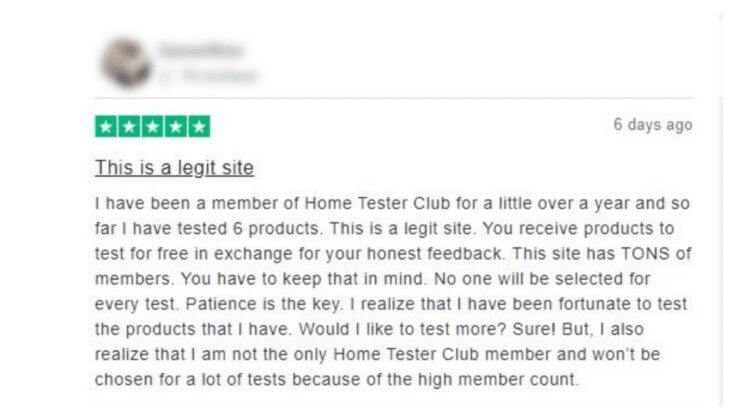 Review #2
According to this user, Hometester club is the way forward and is a lovely website.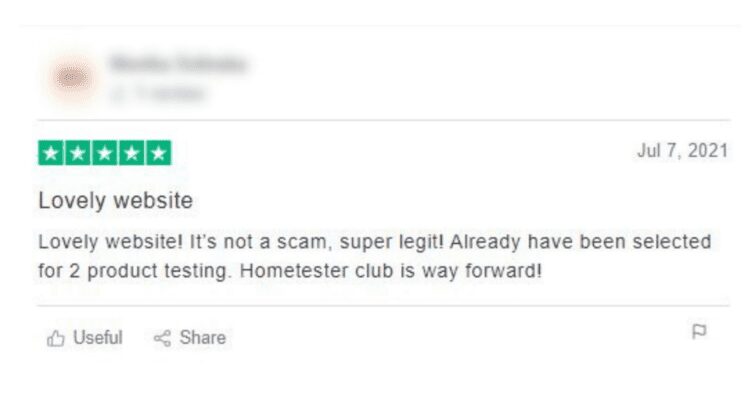 Review #3
This user praised the product found on the website really authentic and quality.
Now here are some negative reviews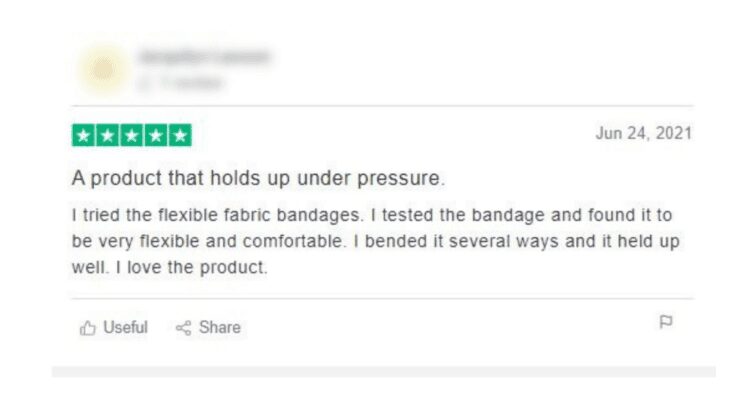 Here are some of the negative reviews:
Review #4
This user is disappointed that he has only been chosen for product testing 2 times over 3 years.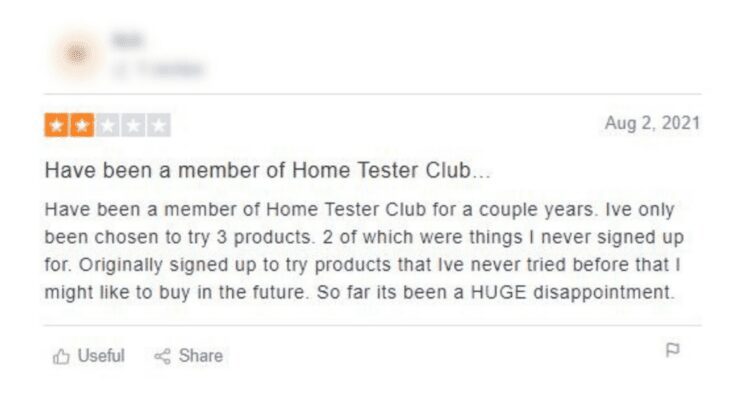 Review #5
This user is not happy he has not heard from the site about product testing despite applying many times.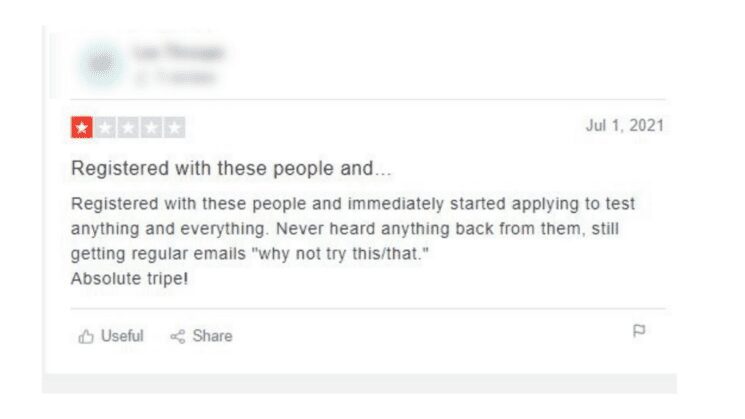 Review #6
According to this user, the site is a total scam and you will not get anything from the site.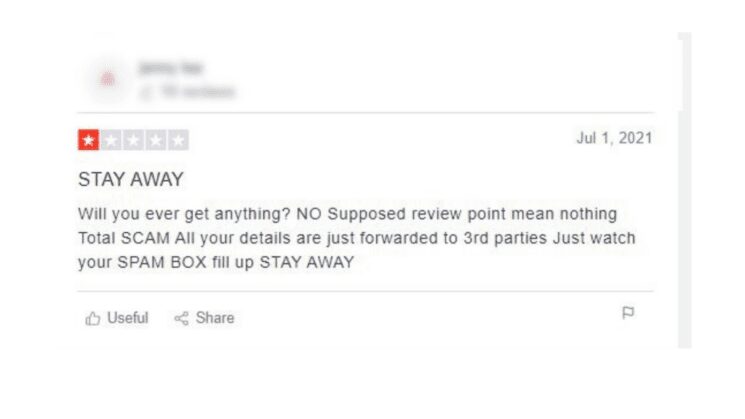 Hence the button line is
There are plenty of positive reviews and some negative reviews for the HomeTester Club site.
However, many people may not like the rewards are not cash and just free products.
So if you like to review products and want the chance to receive different free items then we recommend you to join the site.
The site has really great reviews that claim they are legit and they sent the products.