Raise your hand if you love free samples!
I know everyone reading this including me will raise our hands. 😉
Well, who doesn't like free stuff… Right?
And looks like luck is in our favor today because we are going to review PINCHEme which is basically a free sample site that claims to offer free samples in exchange for feedback.
And in this review, you will find everything about PINCHme such as:
What is PINCHme
How it works
If it's safe or not
How to claim samples
Whether it's worth it or not
And my complete review
This is going to be one hell of a review, so sit back…grab a cup of coffee or whatever and get ready to get your free stuff!
So, let's get started:
What is PINCHme.com?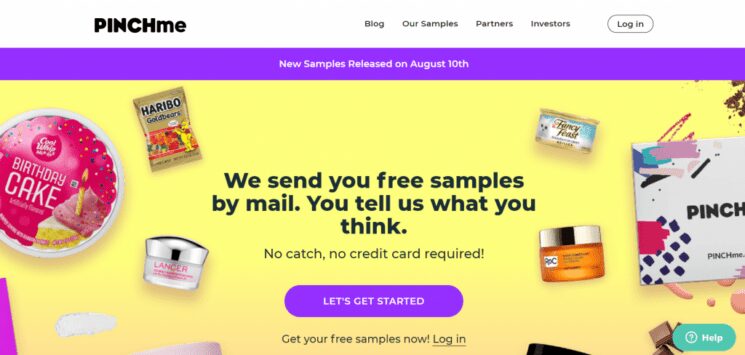 PINCHEme is a New York-based company that was founded in 2013. It is a free sample site where users can get free sample products in exchange for reviews.
In order words, you get products to try for free from various top brands and you just have to use them and share how you feel about the products.
So, it's a win-win for both. Right?
But how does it actually work? That's what we are going to discuss in the next section.
How does PINCHme work?
PINCHme is absolutely free to join and you don't have to even enter your credit card details.
All you have to do is visit PINCHme and sign up using your email (requires email verification)  or Facebook account.
Then you have to complete your profile to get relevant samples like skincare products, household items, make-ups, and so on.
You can watch the official PINCHme tutorial video below to learn more:
How to get Free samples from PINCHme?
Once you've created your account, the first thing you have to do is fill in details on your profile including your household and shopping habits.
If you complete your profile 100%, then you will get relevant products of your likings to try?
What's even better?
You will qualify for more free samples.
Awesome, isn't it?
Moreover, if a new brand or samples are added to PinchMe then you might get additional bonus questions via your email.
So, make sure to keep an eye out on your inbox if you don't wanna miss more free samples.
The samples are sent once a month and only the qualified members will receive free samples.
Moreover, to get the free samples you have to RSVP to the Sample Tuesday Facebook event which is hosted on Tuesday of every month.
You can get free samples on different categories like personal care, home and family, food and drinks, and pet.
PINCHme Review: Is PINCHEme legit?
PINCHme is a legit site that you can join to get free samples once every month. The site actually works as it promised and provides free samples with free shipping.
Moreover, PINCHme has an A+ rating on the Better Business Bureau which further proves its legitimacy.
But its trust pilot reviews show its flipside as it has received a poor review of 2.6-star ratings of over 131 users (As of August 2023).
Though it has 50% excellent reviews, many users have complaints about their free samples not getting shipped or having to wait for a long time to receive the free items.
Moreover, some users also complained about taking surveys and filling out offers to qualify for the free sample.
And, it might be a waste of time for some users who don't get qualified for the free stuff.
This is one of the main complaints of the PINCHme users as some of them do not qualify for the free samples after waiting for a long period of time.
And how do they qualify?
PINCHme qualifies users based on the information of the users submitted on the platform, so their no certainty that you will receive free products.
So the bottom line is:
PINCHme is legit however you may and may not receive free products based on your profile information. So, you can't fully rely on this site to receive free samples all the time.
However, if you just wanna try out new stuff and giving feedback, then this is for you. If you are not qualified for free samples, then you can learn how to get free Amazon Gift cards.
So, that's my honest review about PINCHme.
Now it's your turn:
Have you signed up for PINCHme? If yes, share your experience below, and if not, are you planning to join it?
Let's discuss it in the comment box below!