Welcome to My Coinworker Review.
In the modern world, Bitcoins or Cryptocurrency has become as essential as real cash.
People are investing in them and are sure they will be the future in digital exchange and may even replace real cash.
So you may be wondering how you can earn Bitcoins, then let me tell you there are some ways to earn them.
Today I am bringing you a site where you can complete some simple tasks and earn some Bitcoins.
The site is Coinworker. In this CoinWorker Review, we will find out how you can join the site and earn.
We will also find out if CoinWorker is legit or a scam.
Now let's begin.
What is CoinWorker?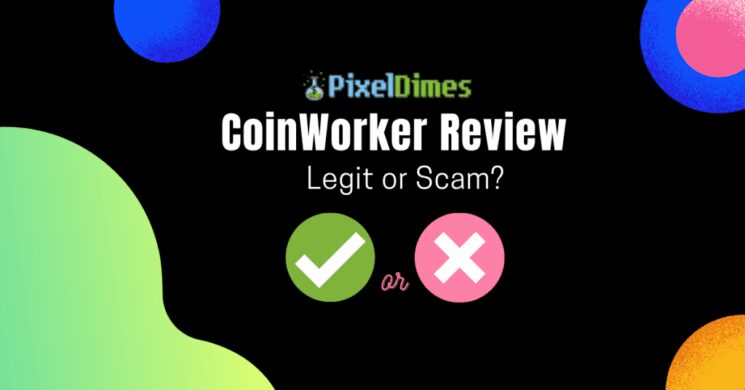 CoinWorker is a popular GPT site that rewards workers for completing basic tasks and micro-jobs.
However, unlike other GPT sites, you won't receive your earnings in cash but terms of Bitcoins.
This is not bad at all as Bitcoins are one of the most demanding cryptocurrencies in the world.
The site was first established in 2011 and has been operating for 10 years which shows the longevity of the site.
Now let's take a look at how you can join the site.
Getting Started
It is very simple and easy to join the CoinWorker site. All you have to do is visit the CoinWorker site and click on register.
The site can be joined from all over the world. But you have to be over 18 years old to be able to work on the site.
Now you have to provide some personal information such as Name, Username, E-mail, Password, and click on I agree on terms of policies.
After this, the site will send you to email activation link, once you click on the link your email will be verified and you will be able to complete your tasks immediately.
How To Work on CoinWorker?
There are lots of tasks available on the CoinWorker site, but most of them are from third-party crowdsourcing company Figure Eight Tasks.
Now they are under a very popular another Crowdsourcing app known as Appen.
Some of the jobs in the CoinWorker sites are
Website Sign Up
Transcription
Translation
Date Entry
Subtitles and Captions
These are the jobs that require the skill necessary to complete. You must have skills for Transcription, and Translation as well.
To complete the job, you have to apply for the job. There you can find instructions on how to complete the task with the exact set of instructions.
Note that if you don't follow the instructions then the site won't pay you and your work will be in vain.
Once you complete the job you will get notification of confirmation of the work completed. After 24-48 hours you will find your reward on your account.
How Much Can you Earn from CoinWorker?
The earning potential of the site is dependent upon the tasks you apply for and actually get it.
Note there is a countless number of people applying for the same job with maybe better qualifications and skill set than you.
To apply for the only job that you are good at and complete without any problems.
But the problem with CoinWorker is the lack of available tasks on the site. It will constantly tell you to check the dashboard of Figure Eight Tasks and wait for the available opportunity.
This shows the Coinworker has very little earning potential and you should be wary of joining the site and maybe waste your time.
You might get odd 1 or 2 jobs on the site so you can earn maybe $10 to $15 per month which is really low.
Minimum Payout and Payment Method
The site CoinWorker provides rewards in terms of points that can be converted into Bitcoins.
1 point is equivalent to 1 cent which will be exchanged in terms of the exchange rate.
The minimum payout threshold is 200 points which is equivalent to $20 and on this site, this is quite a high threshold.
Also, you can withdraw your Bitcoins when you reach the minimum threshold from various Bitcoin Wallet such as Coinbase, etc.
Pros and Cons of CoinWorker
Pros
The site is available globally.
It is easier to join and navigating is easier as well.
You will receive rewards in terms of Bitcoins which can be beneficial.
Cons
The site won't reward you in Cash.
There is a clear lack of available tasks.
The minimum payout threshold of $20 is quite high.
You must have Twitter to get customer support.
Coinworker Review: Legit or Scam
Coinworker is a legit site and it pays. You can also earn some Bitcoins if you really want but the lack of available tasks is glaring.
The site validity is emphasized since the site has SSL validation from the ZeroSSL domain. But the site domain owner is
You may have to wait for a very long amount of time to even gain one task. On top of that, you have to earn $20 to withdraw your earnings.
However if you like Bitcoins you may like the site but many of the workers prefer straight cash or even giftcards which this site don't offer.
So I recommend you to check for better alternatives such as Clickworker and ySense rather than wasting your time on CoinWoker site.