What is EzPoints?
EzPoints is a popular GPT site that pays its users for doing some easy tasks such as watching videos, replying to emails, playing games, etc.
The site pays you with cash prizes and also Amazon vouchers as a reward to the users.
Today we will find out why EzPoints is different than other GPT sites and why you should or shouldn't consider joining them.
We will find out how you can join EzPoints, work on it, earn from it and withdraw your earnings from them.
So let's take a look at it.
Important Update: EzPoints is not operating for over 1 year so the site may be closed.
Getting Started
EzPoints is a global site so anyone from all around the world can join the site and start earning. However, you must be over 19 years old to get started.
To get started you have to register to the site either by your email address or you can use your Facebook account or from your Steam account as well.
After registering you can access your dashboard and start to see your tasks and earn EzPoints which works as a currency for the site.
Later you can redeem your EzPoints to Paypal Cash or for some vouchers.
Just like EzPoints, many GPT websites pay you for doing some tasks. Also one of the fun ways of earning is just by playing games.
Check out our listings of 35 ways to Get Paid To Play Games sites so you can earn some money by playing games.
How to Work on EzPoints?
There are tons of tasks available on EzPoints as it is one of the GPT sites. It means you have to complete tasks to earn money and nothing else.
Now let's get into what are the tasks that are available for earning some cash.
Offers
Offers or Paid Offers are the main tasks of GPT sites. These offers are easy and simple to complete as long as you follow instructions and complete according to the instructions.
There are paid offers every day and their amounts are accumulated so you can get the sight of how much you can earn by just clicking on the tasks.
Offers are located in the Earn Tab which you can access from your dashboard easily. There are tons of paid offers not only EzPoints site but for third-party sites.
Regarding those third-party sites, they will pay more but may take some more time to complete the tasks.
However, you must follow every instruction so that you don't get disqualified from completing the task and waste your time and effort for not earning anything.
Also be careful of using VPN or Adblockers on this site, as you may get banned from not following instructions carefully.
Just like the EzPoints site, there is one unique site in which earns high-paying rewards by doing simple tasks. Check out CashFiesta Review and find out how.
Watching Ads and Videos
Watching Ads and Videos is another simple way of earning some extra income on GPT websites such as EzPoints.
On your dashboard under the Earn money section, you can find the Watch Videos tab. When you click the tab you will find out plenty of YouTube videos to website videos available to watch.
However, the amount allocated to such videos is very very small and you will only get from 1 to 5 cents per video. You will have to watch 100 videos just to earn a low sum of $1.
So workers may not be attracted by the prospect of earning from this category of task and may choose other options.
Surveys
Surveys are the popular and one of the high-paying tasks on every GPT site and also in EzPoints. In your dashboard, you will find "Receive Surveys" options.
You have to fill your profile to be eligible for this task and also answer additional questions just to get started.
But if you provide every information then there are lots of surveys that you can complete and start earning some high-paying rewards from this site.
You will earn up to $5 per survey and some surveys make take up to 10 minutes to complete so it is quite beneficial to be alert for surveys.
However, surveys might depend on your location so it might limit your ability to earn some extra cash.
Raffles and Contests
On the site, there are plenty of raffles and contests which will be a chance for you to earn some decent income.
You have a chance to earn up to $1000 every week as they hold raffles for the top 10 highest earners on the site.
These raffles and contests are held every week which will increase your chance to have some fun and earn some extra cash as well.
One of the popular GPT platforms in 2023 is One Day Rewards which is popular for paying the earnings within a day. Check One Day Rewards Review here.
Minimum Payout and Payment Method
There are tons of payment options to withdraw your earning so you can choose accordingly. Some of the options of withdrawing your earning are Paypal, Amazon Giftcards, Bitcoins, Roblox, and many more.
The minimum payout amount for the site is just $5 which is equivalent to 5000 EzPoints.
On EzPoints the minimum payout is considerably lower and there are tons of ways to withdrawing money which is also the bonus as well.
Pros and Cons of EzPoints
Pros
Excellent Customer Support
Tons of ways of withdrawing money.
Low minimum withdrawal threshold
Easy to join and plenty of tasks available.
Cons
The site is not operating for over 12 months.
Very limited earning opportunities.
No mobile application to earn money easily.
EzPoints Review: Legit or Scam
EzPoints is a popular GPT site that pays its user for doing some easy micro tasks and paying them based on completing them.
Over 70 users have reviews EzPoints on the Trustspot site with over 4.7 stars out of 5.
This indicates the users are very happy with the EzPoints site. Let's take a look at some of the User reviews from the Trustspot site.
User Reviews
Here are some of the positive reviews from Trustspot
Review#1
According to this user, the site EzPoints is great and it is not a scam.

Review#2
However, this user pointed out despite the site being legit some tasks may not be available always.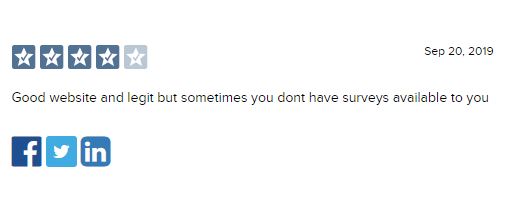 Review#3
According to this user, there are plenty of ways to earn points and it is easy to earn them.

Now let's take a look at some Negative Reviews
Reivew#4
According to this user sometimes the site does not pay for completing the survey and redirect users to the next surveys.

Hence the bottom line is
Over 80% of the users are satisfied and happy with EzPoints as there is not much negative review about the site.
We can assume they are all happy and satisfied with the site.
So you can join the site EzPoints and start earning.