GPT sites are a frustrating way to make money online. However, one interesting site Keep Rewarding claims to be a high-paying site.
You must be wondering,
Is Keep Rewarding legit or just another scam site.
In this Keep Rewarding Review, you will find out how you can join and earn from the site and if they are really worth joining.
What is Keep Rewarding?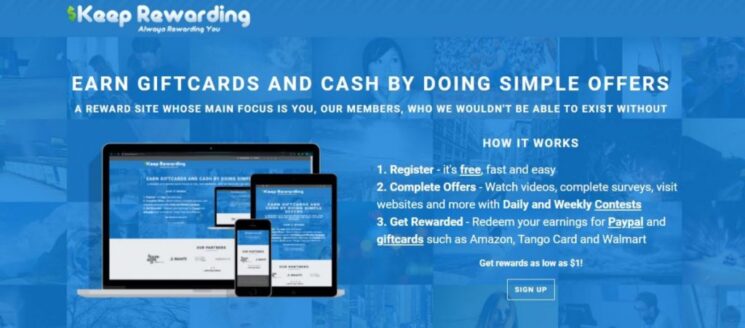 Keep Rewarding is a website where you can earn money for completing paid Surveys, paid offers, watching ads and videos, and participating in contests.
Just like any other GPT site you have to complete the tasks according to the instructions.
Despite being a popular site, it is necessary to know Keeping Reward is not a get-rich scheme but a chance to earn some side income.
Key Introduction:
Application – N/A
Founder – N/A
Founding Year – N/A
Desktop or Mobile Platform – Both
Payment rate –
Payout Method – PayPal and Amazon gift card
How to Join Keep Rewarding?
Joining Keep Rewarding is free and easy.
When you visit Keep Rewarding | Always Rewarding You, you will see a sign-up option on the home page.
Fill up all the information asked and then you can register your account.
How To Make Money From Keep Rewarding?
After registering your account, you can sign in and start doing surveys, paid offers, watching ads and videos, and participating in contests.
#1 Completing Surveys
Completing surveys is one of the ways of earning money in Keep Rewarding.
You can find surveys from third-party websites as there is various survey provider in this website.
Due to various survey providers, you can find a decent number of surveys. Choose one of the survey providers and you can see a list of surveys provided by the provider.
Have patience as it takes a bit of time to receive the surveys that you qualify for.
If there are fewer surveys available in your country then you are encouraged to contact Keep Rewarding.
#2 Paid Offers
You can visit offer walls to take a paid offer and complete it. An offer may contain signing up on new websites, downloading apps, contests like quizzes, and other tasks.
You will find various offer walls in Keep Rewarding but you must read the requirements before taking it. You have to fulfill the requirements to earn.
#3 Figure Eight Tasks
Keep Rewarding allows you to earn through Figure Eight Tasks.
They are the small online tasks that are usually good to earn extra cash.
In the beginning, your pay will be low but as you take the job more, you will earn more trust points which will make your pay increase.
If you are the top 5 earners on Figure Eight tasks every week then you will get a small bonus ranging from 25-300 points.
#4 Watch Videos
You can just watch videos to earn more rewards in Keep Rewarding. You can earn certain points for watching every 4 videos.
Once you login into the website, you can find Paid to Click section where you have to click ads to get paid.
If you are an active member, then you will automatically participate in contests. There are daily contests where you can earn bonus points if you reach the target.
You can also use promo codes to get free points from Keep Rewarding.
Just like Keep Rewarding, we have another excellent GPT site GPTPlanet. Check out GPTPlanet Review here.
How Much Do You Earn?
The pay rate of offers and surveys is unknown. It varies according to each survey and offers in Keep Rewarding.
You will earn 1.2 points for watching every 4 videos and you will earn 0.001 points for clicking an ad.
If you complete the contest, you can earn additional bonus points that the contest offers.
If you want to earn some more from doing some GPT tasks then please check our review of GPTBox Review.
How Does the Company Pay?
You will be paid through US dollars in Keep Rewarding. The payout gateway for this website is through PayPal and Amazon gift cards.
The minimum payout threshold is lower that is 1 USD.
To withdraw 1 USD, you will need to require 110 points but to withdraw 5 USD, you will need to require 500 points.
Similarly, to withdraw 10 USD, you will need to require 995 points. Thus, you can withdraw 1 USD, 5 USD, or 10 USD from both PayPal and Amazon gift cards.
If you also like to earn some money online by playing games and completing paid offers check our Xpango Review.
FAQs:
According to Keep Rewarding, some of the frequently asked are as follows
How do I become an Exclusive Member?
E-Members are a legacy from a time when the site had a two-tiered reward system. This upgrade was discontinued on the 1st of July 2014.
Most of our E-Members have been around since the beginning of Keep Rewarding.
Keep Rewarding reserves the right to offer this upgrade to any member, at our sole discretion. Please do not ask for this to be given to you.
What are the benefits of being an Exclusive Member?
Being an E-Member gives you the following benefits: Rewards cost fewer points
Access to more rewarding daily contests
E-Members earn 15% from referrals compared to 10% for non-E-Members
Choose your text color in shoutbox (Except red & blue which are reserved for admins and moderators)
KR Credit can be redeemed towards Gift Cards (Paypal IS NOT a gift card)
Will I be deleted for inactivity?
Yes, accounts that are considered inactive will be marked as deleted, by the following procedures.
After 30 days of inactivity, you will be sent a reminder e-mail, we really want you back
After 60 days your account will be marked as inactive
After 90 days your account will be marked as deleted and all earnings forfeited.
How long do I need to wait for my reward?
To allow for any unforeseen issues, we will always aim to complete any payments within 7 working days.
If your payment has not been processed within this time, then please send us a Trouble Ticket.
These time frames are subject to change and all members will be notified should any of this information change.
Can I redeem a reward from another country?
Members are allowed to request to receive any of the rewards that we have available.
However, we will most likely contact you to confirm this, before we fulfill your order.
If you order a reward in error you can cancel it yourself, up until it is processed. This can be done by clicking on Pending in the Rewards store. Use this link to see any pending rewards.
If your reward has been processed and something is wrong, then please contact us.
Inspection of Safety:
Pros and Cons of Keeping Reward
Pros:
Keep Rewarding is easy and free to join
The pay rate per survey is decent
The customer support is good in Keep Rewarding
The minimum payout threshold is lower that is 1 dollar for both PayPal and Amazon gift card
Cons:
Keep Rewarding is not available in all countries
The mobile optimization is poor in Keep Rewarding.
Keep Rewarding Review: Legit or Scam
With this Keep Rewarding review, we can confirm that it is not a scam and you can join.
There are decent earning opportunities as the opportunities are more and the pay rate is decent.
The payout threshold is also low and you can get paid through PayPal and Amazon gift cards.
Also over 10 users from Trustpilot have rated Keep Rewarding 3.8 out of 5 stars.
Let's check out some User Reviews from the Trustpilot site
User Reviews
Review 1
According to this user, the site is his favorite as they pay effortlessly and customer support is also excellent.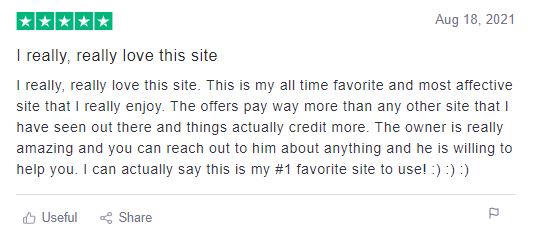 Review 2
This user is also very happy with the site and the customer support is really excellent according to them.

now let's take a look at some negative reviews
Review 3
This user believes the site is a scam as it has been 11 days and he has not been paid despite the site claiming 7 days maximum for payment

Thus, you can join Keep Rewarding as it provides good earning opportunities with a decent pay rate and payout gateway.