Most people engage in Survey sites to earn money online as they are high-paying and easy to complete.
Today I have brought you a brand new survey site known as Survey Rewardz which is a very interesting and high-paying survey site on the internet.
But you must be thinking
Is Survey Rewardz really legit or just another scam.
We will get in a detailed review of Survey Rewardz and find out how you can join and earn from the site.
So without a delay let's get started.
What is Survey Rewardz?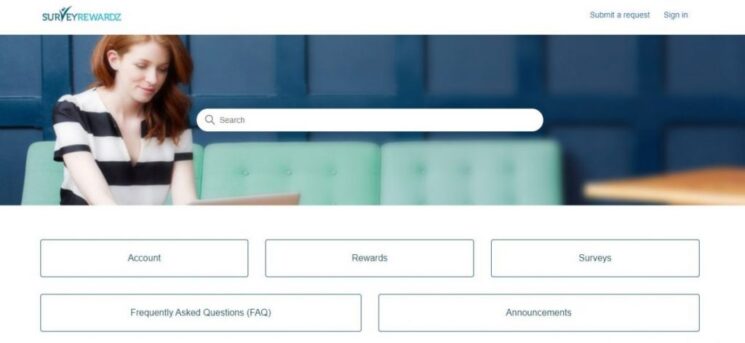 Survey Rewardz is a website where you can earn money for completing paid Surveys only.
This website is owned by Points2Shop which is a legit company and has been operating since 2014.
Key Introduction:
Application – N/A
Founder – Points2Shop
Founding Year – 2014
Desktop or Mobile Platform – Both
Payment rate – N/A
Payout Method – Gift cards and PayPal
How to Join Survey Rewardz?
Joining Survey Rewardz is free and easy. When you visit Survey Rewardz (zendesk.com) you can sign up for the registration form by filling email address and other details.
You can also join Survey Rewardz through your Facebook account.
There will be a set of questionnaires basically demographic questionnaires where you have to be frank as it will be the main focus about what survey you receive.
How To Earn Money on Survey Rewardz?
Completing surveys is the main and only way of earning money in Survey Rewardz.
You will receive a survey based on your answer given in the demographic questionnaire. After signing in, you can see the survey right away.
The survey will contain details, its pay rate, and the time limit. Like any other survey site, you will need to answer pre-qualifying questions.
You will receive one survey at a time so if you do not qualify for the survey, you will receive a new one and if you complete a survey, you will receive the next one right away.
There is not anything other special and attractive about this website. The earning opportunities are less in Survey Rewardz.
The popular survey site is Surveys2Cash and we have in detailed Surveys2Cash Review here.
 How Much Can You Make?
For completing a survey, you will earn directly in dollars. There are not any point systems in Survey Rewardz.
The pay rate is determined in the survey you are taking. You will receive your earnings once you complete the survey.
If you want to make more money from Survey sites then check Survey Squad Review.
Minimum Payout and Payment Method?
You will be paid through US dollars in Survey Rewardz. The payout gateway for this website is through Gift cards and PayPal.
The minimum payout threshold is 12 USD but it varies as per the country.
FAQs:
According to Survey Rewardz, some of the frequently asked are as follows
Will Survey Rewardz send me emails?
Survey Rewardz may contact you through email for market research purposes.
Surveys that are a good match with you as well as high payout follow-up surveys will be communicated to you through email or once you enter Survey Rewardz.
You will be able to opt-out of emails through the unsubscribe button. Make sure to check the website once every few days.
Survey Rewardz will not contact you for marketing purposes or sell your email address to third parties.
Why do I have to answer so many questions about myself?
The more our system knows the better our system can match surveys with you that are relevant and have a higher chance of qualification.
Survey Rewardz will store your information securely and remember your information the next time you visit.
Is there a minimum age at Survey Rewardz?
Survey Rewardz does not knowingly collect personal data from individuals under the age of 16 in the EU and 13 outside of the EU.
Minors 16 to 18 in the EU and 13 to 18 outside the EU are permitted to access the services of the site only with parental permission.
It is the responsibility of the individual and the parent to ensure such permissions are obtained.
It is possible that by fraud or deception we may receive information given to us or pertain to children under 16 in the EU and 13 outside the EU.
If we are notified of this and as soon as we verify the information, we will immediately delete the information from our servers.
How is Survey Rewardz any different from other survey sites?
Survey Rewardz asks you pre-qualifier questions and 'routes' you through surveys until there is a good fit just like other survey sites.
What is different though, Survey Rewardz is more efficient at matching surveys with your profile so that you will not be disqualified as often and earn more in the valuable time you have available.
What is Survey Rewardz?
Survey Rewardz is a survey site that provides you with the best fitting surveys and helps you to complete more targeted surveys.
You will get paid in your preferred currency through your favorite rewards platform.
How can Survey Rewardz pay me?
Market research companies work with large companies around the world that need the consumer's feedback about specific products.
The market research companies pay Survey Rewardz for every completed survey. Survey Rewardz will use these funds to pay you in the currency on your favorite rewards platform.
Does SurveyRewardz only allow respondents from certain countries?
Respondents from ALL countries are allowed. Some countries provide more surveys due to their higher market research needs.
If there are no surveys available for you, we encourage you to check back the next day. New surveys are added every few hours. Chances are there will be something for you the next day.
Inspection of Safety:
SSL Certificate – Valid (Issued by Cloudflare, Inc.)
Owner – Points2Shop
Date of Foundation: 2014
Customer Support – N/A
Contact Link –N/A
Privacy Policy –N/A
Pros and Cons of Survey Rewardz
Pros:
Survey Rewardz is easy and free to join
The pay rate per survey Rewardz is decent
Survey Rewardz pays you through PayPal and gift cards
Cons:
Survey Rewardz has limited earning opportunities
The payout threshold is slightly high
It takes a lot of patience to qualify for a survey
Survey Rewardz Review: Legit or Scam
After a detailed Survey Rewardz Review we found out it is not a scam but you can find better Even though there are decent earning opportunities as the pay rate is a bit higher the earning opportunities are lower.
The way of earning on this website is through surveys only. The payout threshold is a bit higher and it requires patience to reach the threshold.
If your profile does not match or if you do not qualify for the survey then it will be difficult for you to earn anything on this website.
Also, More than 100 users from Trustpilot have rated Survey Rewardz site 3.5 out of 5 stars.
Let's take a closer look at these user Reviews from Trustpilot
User Reviews
Review 1
According to this user Survey, Rewardz is legit and pays money but wishes the surveys are more.

Review 2
This user is completing surveys easily and has already withdrawn the amount twice.

Review 3
According to this user, he has already made $17 In just 5 days and he regards the site as one of the best survey sites out there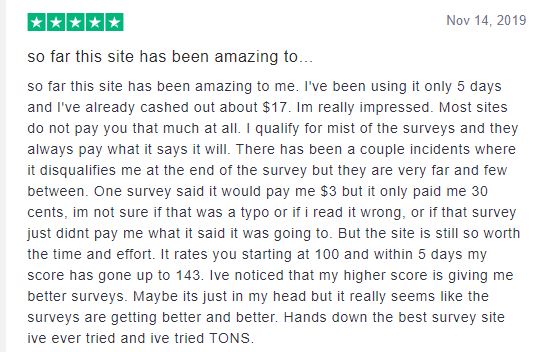 Now let's take a look at some negative reviews
Review 4
This user is not happy that the site has completely stopped providing survey invites and he is not getting any income from the site.

This user is very angry and upset that the site has banned him for no reason without receiving his earnings.

Review 6
This user is not happy that he stopped getting surveys at once and then he never got any anymore.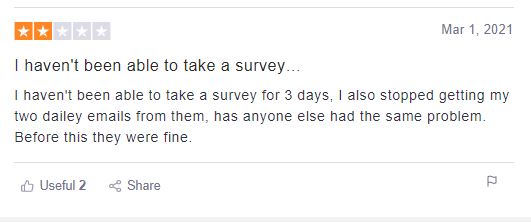 Thus, you can find a better website to join than Survey Rewardz.