In this UserTesting Review, I am going to cover everything about this site in detail.
Best ways to make an extra income! 📌SurveyJunkie Make money doing Paid Surveys online. One of the high rated Survey Site. Recommended (USA, Australia, Canada)
Join Survey Junkie Now

📌ySense: Earn $$$ doing paid surveys. One of the most and high paying suryve sites. (All Countries)
Join ySense Now

📌HoneyGain: Earn passive income just by sharing your internet connection. Set up once and Keep making money forever! Join Now and Earn $5 Instantly (All Countries)
Sign up and Get $5 Bonus now

📌SwagBucks: Earn $3 for free by joining now and Make money doing surveys and offers. (All Countries)
Join Swagbucks Now

💡Pro Tip: Register to all the above sites to maximize your earnings.
So, If you have questions like:-
What exactly UserTesting is?
How to Join and get started on UserTesting?
How much money can I earn on UserTesting?
Is it worth my time?
Is it Legit or a scam?
This review is going to answer all your burning questions regarding this site, so you can decide whether this site is for you or not.
So, let's get started:
What is User Testing?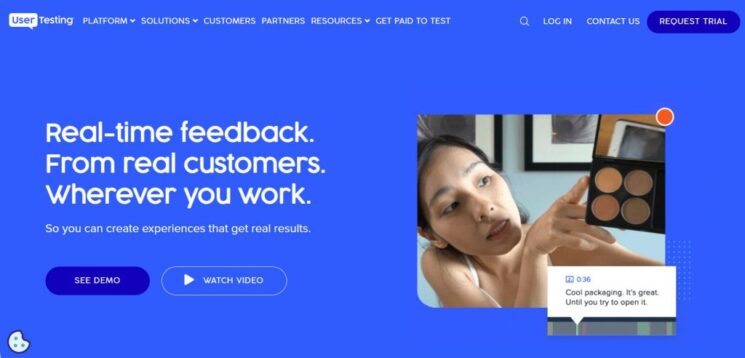 User Testing is a usability customer experience testing platform where users can join and get paid to provide feedback after testing different websites and apps.
In order words, Any authenticity of the products depends on the satisfaction of the consumers that use the product.
Hence, User Testing acts as a bridge between companies that want consumers to try its product and consumers that can act as a reviewer.
Such a mechanism helps the designers or the companies responsible for the product to rectify any errors or mistakes that have occurred before launching in the worldwide market.
User Testing is necessary for companies to gain on-demand feedback and response but also is useful to the reviewers who can earn money online from just giving their honest reviews.
How does User Testing Work?
Many famous companies are scared and nervous to release their product pre-maturely due to their brand names getting tarnished if their products do not satisfy the customers or their products are really buggy and unbearable.
Hence, they contact third parties like User Testing to use their product before a fully worldwide launch.
As an organization, to provide the products to get tested, they have to provide their business name, product name, email address, country, and a number of employees.
The companies then request the User Testing site to test their product or app and if they are satisfied a partnership can be formed between them.
Here comes the part of workers or users on User Testing, who are basically paid for using the products and reviewing them.
The honest review will help the designers to rectify any bug on the product or they can freely launch their products.
If you are looking for the exact alternative of User Testing where you can earn by reviewing products then check our Product Tube Review
How do Users work on User Testing?
Users have to sign up for the website. After signing up via email, users have to fill in the questions as demographics to know the subject that testers are very knowledgeable of.
The questions act as an exam to check if testers are qualified to provide sufficient review with quality language.
After that, the testers are provided with various kinds of tests, that match their personnel and demographics.
To test the products users must have knowledge of the subject they are tasting and must be fluent in English to provide authentic and effective reviews.
Sometimes the tasters must be in direct conversation with the designers of the products to provide that first-hand feedback in order to provide a quality review.
As an Organization, the taster has to submit an application to the website representing the particular organization and provide the reason and traits why they are good at reviewing the product.
After that, the site provides the website of a company whose products are to be reviewed by the testers.
You can also check our HomeTester Club review, where you will receive free products for a product review.
How does User Testing Pay?
User Testing has its particular rates for its workers. The range of pay can be from $3 to even $60 per test. But the average price for every test seems to be $10 – $15.
The tester must not expect a very large payment immediately but keep working and building the profile as a reviewer may become beneficial later on.
But tester has to be wary about each challenging question that is needed to answer for every review.
If the website does not find satisfied by the review, the testers are disqualified and may get banned.
The payments are basically withdrawn from PayPal accounts within 7 days of completion of tests.
Pros and Cons
Pros
The website is legit and pays its user.
The enrollment on the website is transparent.
The website pays more compare to other review sites.
Cons
Anyone cannot join the website, the testers need some skills to earn.
The testers can get ban anytime if their review is unsatisfactory.
The payout is not higher in relation to the stress acquired from the job.
Review: Is User Testing legit?
User Testing is a legit website and it pays its testers based on the reviews they provide.  Users can earn $5 to $15 per test from this website. Moreover, I was unable to find any complaints from the users who have worked here and are very satisfied with the payment.
But it is important to point out it is not easy to get a job as a Tester on the User Testing website and it takes a professional person who can communicate and explain their review authentically and in a well-known manner.
The tester has to perform a sample test on any particular product and that review is reviewed by the member of the website.
If the review of the tester is in a match with requirements asked by the website, the tester is selected to work for the website.
Conclusion
Hence, from the above research, we can conclude that the website User Testing is legit and pays its tester but the tester must be good in the English language and must know the subject they are testing.
But there is a risk of getting a ban if the review is away from the subject or they are unprofessional. We also recommend joining the website only as passive income and not a major source of earnings.