As we know Earning money online has been easier and accessible for everyone around the world.
Most people engage in Survey sites to earn money online as they are high-paying and easy to complete.
Today I have brought you a new survey site known as Ebuno which is very popular among surveyors on the internet.
But is Ebuno legit or a scam.
We will get in a detailed review of Ebuno and find out how you can join and earn from the site.
So without a delay let's get started.
What is Ebuno?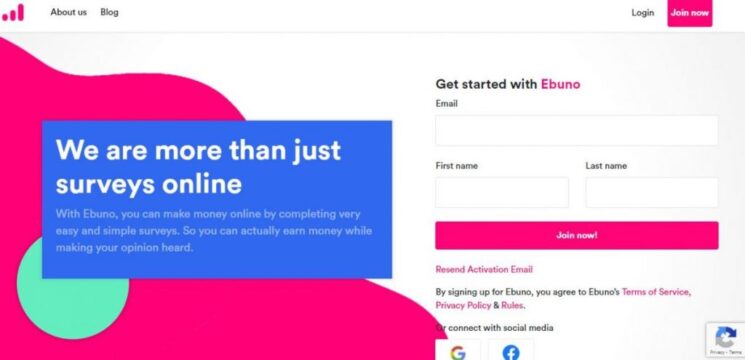 Ebuno is a website where you can earn money for completing daily surveys, earning free points, playing games, and inviting friends.
It was founded by a Swedish company in 2019.
Ebuno is the latest survey site thus it does not have more background but they are working with legit and reliable survey providers.
Key Introduction:
Application – Available
Founder – N/A
Founding Year – 2019
Desktop or Mobile Platform – Both
Payment rate –
Payout Method – PayPal, Payza, and Swish
How to Join Ebuno?
Joining Ebuno is free and easy. When you visit Ebuno | Paid Surveys Online, you will see the registration form on the home page.
It takes only a few minutes as you have to fill up the information asked like email, first name, and last name and then you can click the join now option.
How Does it Work?
After registering your account, you can sign in and start completing daily surveys, earning free points, playing games, and inviting friends.
Completing daily surveys is one of the best and main ways of earning money in Ebuno.
You can find surveys from various surveys providers as soon as you log in. All the available surveys are notified to you via email so you do not have to check up continuously by logging in.
If you do not qualify for your one survey, you can always try the next one but you need to have the patience to qualify.
There are three types of surveys in Ebuno. They are:
Easy to qualify for
Medium difficult to qualify
Hard to qualify for
Easy-to-qualify surveys have a 100% qualifying rate whereas hard-to-qualify surveys have a 2 to 4 percent qualifying rate. Like any other survey site, you have to answer several profiling questions
Ebuno allows you to earn through playing games. There is a limited number of games available but you have to gamble your points to earn more points. You may also lose your point in the process.
You can claim free points every 180 minutes in Ebuno. But you will only earn 2 points per 180 minutes.
You can earn extra by inviting your friends through your referral link to join Ebuno. You will earn 10 % of everything that your referral earns as a referral bonus from Ebuno.
If you like survey sites then check our in detail LE Opinions Review and find out why it is legit and in demand
Minimum Payout and Payment Method
You will be paid in US Dollars for completing surveys. The pay rate differs according to the survey provider and survey type.
Hard-to-qualify surveys to give you a higher pay rate than easy-to-qualify surveys. There is also a time limit in each survey so you have to complete it within the given time to earn rewards.
You will earn 10 % of everything that your referral earns as a referral bonus from Ebuno and earn two free points every 180 minutes.
You can also gamble your points while playing games to earn more points in return.
Check out our RewardBee Review and find out even more options to earn from providing surveys.
How Does the Company Pay?
You will be paid US dollars in the Ebuno account. The payout gateway for this website is through PayPal, Payza, and Swish. The minimum payout threshold is higher that is 10 US Dollars.
Ebuno is available only in the USA, UK, India, Sweden, Norway, Finland, Australia, Netherlands, Denmark, Brazil, Canada, China, France, Italy, Japan, Spain, Turkey, Germany, Malaysia, Bangladesh, and UAE.
FAQs:
According to Ebuno, some of the frequently asked are as follows
What Are Paid Surveys?
A paid survey is simply a regular survey that pays you a reward for completing it. Some companies spend a lot of money every year to get to know what consumers think about their products and services and what they can do better.
How much do I earn?
The value of each survey can differ depending on many factors such as the time it takes to complete it.
Usually, you get around $1 for every 10-minute survey but can be higher. It also depends on how fast you are to answer the questions.
How paid surveys work on Ebuno
Companies are constantly looking for ways to improve their products and services and one way to do that is by asking their consumers for their opinions.
Actually, many companies spend millions of dollars every year on paid surveys to be able to get all the valuable information which is your opinion!
Once a company sets up a survey, we push them out to our users and give them an incentive to answer a few questions.
Once you have answered a few surveys, you will be able to withdraw your earnings to your preferred payment processor. Signup today! It only takes 2-3 minutes before you can jump into your very first paid survey.
How do you earn money with paid surveys on Ebuno?
You can earn money by answering surveys on Ebuno. It's as easy as answering any other survey online, but the difference is that you get paid to do it. How much you earn, depends on how many surveys you take.
Paid surveys help companies develop
Companies can help improve their business by publishing surveys on our platform. After that, we provide our users an incentive for answering these surveys which motivates our users to continue answering more surveys.
Ebuno is a Swedish company that has been around and working in the survey industry since 2017. The platform is unique and with an exclusive design and user interface.
Before you can start to take your first survey, you just fill in some basic information about yourself to help us match you with the best possible opportunities.
It just takes a few minutes to get started and start earning some money.
So, how much can you earn on the paid surveys at Ebuno?
What you can earn by taking surveys depends on several factors. The incentive depends on the depth of the questions, how hard it is to qualify, and how long the survey is.
You won't qualify for all the surveys that you enter as companies are usually looking for a very specific type of consumer.
You can withdraw your earnings to either PayPal or the available gift cards in the withdraws section. If you use a trusted company like Ebuno, you will be less likely to be scammed.
Inspection of Safety:
SSL Certificate – Valid (Issued by Cloudflare Inc.)
Owner – N/A
Date of Foundation: 2019
Customer Support – decent
Contact Link –

[email protected]

Privacy Policy – https://ebuno.net/Auth/terms
Pros and Cons of Ebuno
Pros:
Ebuno is easy and free to join
The surveys and offers are provided by legit partner companies
Expanding their websites in various countries
Promising future
Cons:
Ebuno is not easy to be used on mobile
Ebuno Review: Legit or Scam
Ebuno is not a scam and you can join this survey site. There are decent earning opportunities as the opportunities with decent rewards.
The payout threshold is a bit higher but you can get paid through PayPal, Payza, and Swish. The customer support is also good. It is a new website but it shows a promising future for survey lovers.
Also, More than 20 users from Trustpilot have rated Ebuno site 3.7 out of 5 stars.
Let's take a closer look at these user Reviews from Survey Police.
User Reviews
Here are some positive user reviews
Review 1
According to this user, Ebuno is one of the interesting and reliable survey sites and is legit that pays its users generously and also is customer friendly.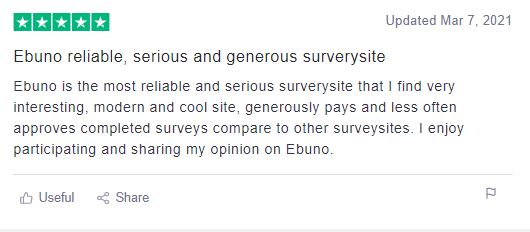 Review 2
According to this user, Ebuno is an excellent survey site, is legit, and is very reliable which makes her very happy.
Review 3
This user is using Ebuno for a long time and the site has been paying very quickly as well.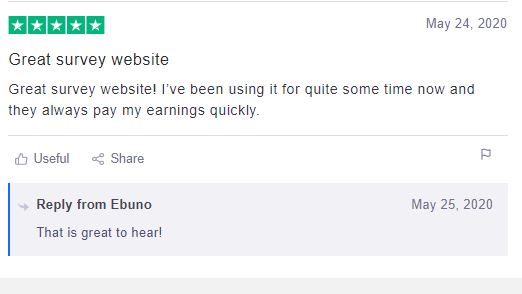 Now let's take a look at some negative reviews
Review 4
This user is not happy that the site blocked his account and believes Ebuno is a scam site.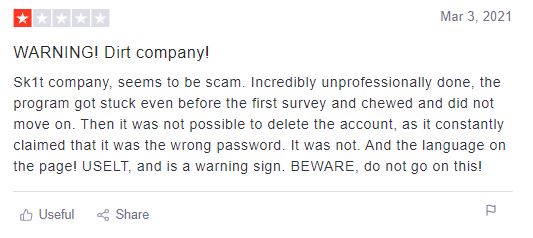 Review 5
This user is very angry that payments are very low which does not provide a similar estimation with surveys.

Hence Ebuno is a legitimate survey site that pays you to complete surveys so I recommend you to join it.