Product Reviews are interesting and high-paying tasks or job opportunities on the internet.
There are lots of sites or apps that provide you cash or free products in return for your amazing opinion and reviews.
So today I have brought you a new site named Smiley 360 which claims to be the high-paying amazing new site for product reviews.
However are they really legit or just another scam.
In this Smiley360 Review, we will find out, how to join the site. who can join the site, how to earn from the site, what you can get in return, and how do you receive your earnings.
The review will be in detail and will cover all the bases required so let's get started.
What is Smiley 360?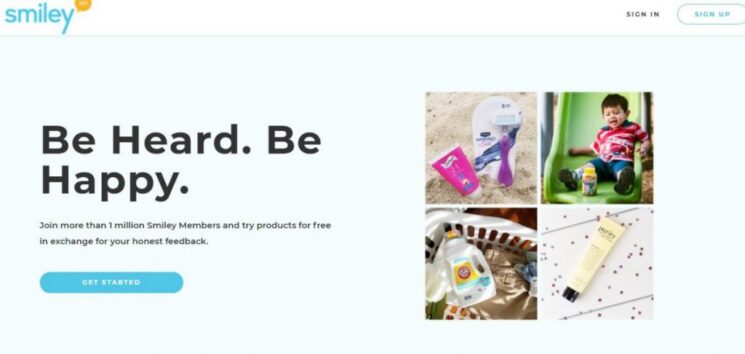 Smiley 360 is an online marketing research platform that rewards people to review free products in their initial stage or before the launch.
Such products are reviewed to eliminate any bugs or errors or provide pre-launch feedback and gaze the analysis of how the products are gonna affect the market.
However, unlike other review platforms, the site can send multiple products to the reviewer at once and they have to review them within a certain framework of time.
So basically the principle is once they receive the product they have to use and review them personally.
After that reviewers can provide feedback and opinions regarding the products on the site.
Key Introduction
Website Name – Smiley360
Founder – N/A
Date of Establishment – 2009
Minimum Payout Rate – N/A
Payment Methods – Free Products
Getting Started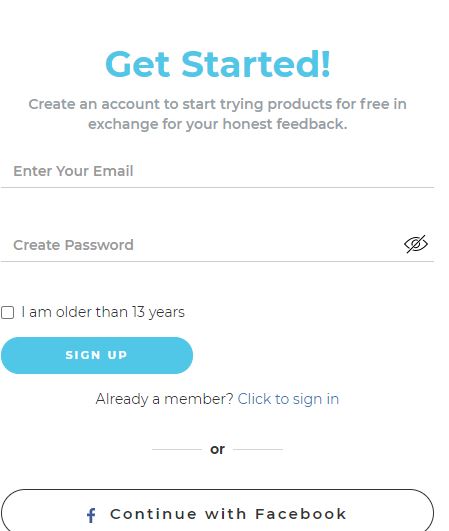 First of all only residents from the USA can join and complete tasks on Smiley360 Review. You have to visit the site Smiley360 and then click sign up.
You can also easily sign up for the site via your Gmail account or from your Facebook account.
Then you can surely start login on to the site and then start working and earning some side income.
How To Make Money from Smiley360?
There are some tasks available on the site to make money from it. Now let's discuss the tasks available on Smiley360.
Missions
Missions are the main tasks available on Smiley 360 and one of the means to earn the free rewards from the site.
Unlike Surveys in the Missions, the site sends you a free product to review for some time, and then you have to provide your feedback and opinions.
As a result of your honest review, the site will let you keep the free samples for absolutely nothing.
Instead of money or cash that is the reward from the mission that you will receive.
But you have to learn that you will not get to work on it straight away instead you have to first complete other surveys tasks on the site.
For each survey task, you complete you will earn points, and when you will gather some reasonable amount of points you will be eligible for missions on the site.
When you accept those missions there is a set of instructions that you have to follow and provide feedback in different ways.
Sometimes you have to take photos or record videos and also share opinions via social media such as Facebook and Twitter.
You can gain more reputation by sharing an honest and professional review during your missions. When your reputation increases you will receive more missions.
This will provide you an extra chance to earn some extra income as well.
Also, you have to keep in mind you have to provide feedback on these missions via the feedback tool of the mission.
These tools will also automatically share your info on social media for publicity as well.
These missions also act as first come first serve basis so you have to immediately react to the mission invites or you will miss your chance.
If you like to check products and earn by providing reviews then check our review of Product Testing USA Review.
 Surveys
Typically surveys are those tasks that will pay you some high-paying rewards for providing feedback or opinions.
However, in the case of Smiley360, you will not get paid for any surveys but it will increase your chance to take part in the missions which are eventually a paid tasks.
These surveys will provide you a chance to earn points. When you accumulate sufficient points now you have a chance to unlock missions.
Also these surveys are comparatively smaller and are easier to accumulate points and once you are qualified to perform missions you can access these missions in your dashboard.
However unlike Smiley 360 if you actually want to earn from surveys check Prize Rebel Review.
How Much Can You Earn from Smiley360?
The exact amount that you can earn from Smiley 360 is cannot be pinpointed but it depends on how many missions that you can complete.
Also to complete the missions you have to receive them so that will also come into the conversation.
So in order to receive more missions, you have to answer all the surveys and accumulate as many points as possible.
Also when you receive those missions you must complete them within time and according to the instructions.
You will also not receive any cash or gift cards but the free products that you will receive to complete the missions.
Minimum Payout and Payment Method
There is no minimum payout on the Smiley 360 site and the payment method is also only in the form of free products.
They will send your products to the mailing address that you have provided during the registration.
Safety Inspection
Accessible Devices
You can run the Smiley 360 site on your desktop and mobile browser however they do not have a mobile application.
The site has excellent mobile optimization so it will run very smoothly on your mobile devices.
FAQs of Smiley360
How do you receive the free products?
First, you have to sign the disclosure agreement, and when you submit it the site will send your free products to your registered address.
How Long does it Take to receive your free products?
According to the site, it may take up to 2 days to receive them.
Do they sell personal information?
No, the site won't sell the personal information without your consent but they can share your personal information.
You can sign the "Don't Share My Personal Information Form" if you don't want the site to share them.
Pros and Cons of Smiley 360
Pros
The customer support is really exceptional.
The mobile-friendly site and the optimization is easy
Cons
The only reward is free products and not cash or gift cards.
Not available all over the world but only in the USA.
Chance of your personal information to be shared on social media.
Smiley 360 Review: Legit or Scam
Smiley 360 is an awesome site that will provide you free products however if you are only interested in cash and gift cards then it is not for you.
However, the missions are interesting and quite fun to complete and receive some awesome products.
Almost 5 users from the Sitejabber site have rated the site 3 out of 5 stars.
Let's take a look at some user reviews from Sitejabber.com
User Reviews
Review 1
This user is very happy with the Smile360 site as he has completed 8 missions already and is very happy with the number of missions he has been receiving.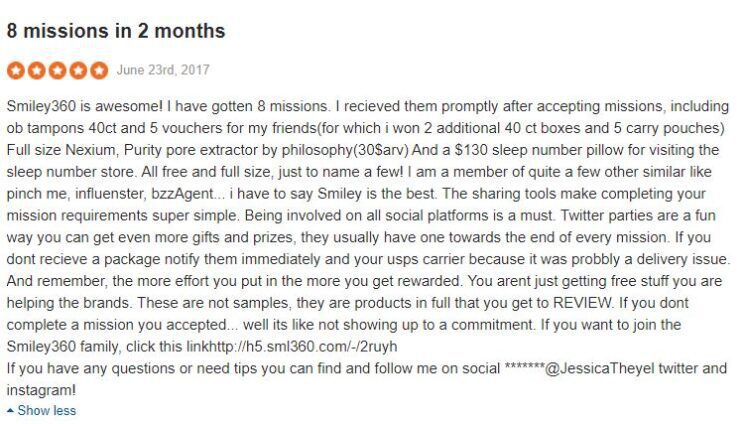 Review 2
According to this user, the site is very awesome and the products they send are also very authentic and easy to use.

Now here are some negative reviews.
Review 3
This user is not happy that he only got 2 missions in a year which is actually really low.

Review 4
This user is not happy to receive only one mission in three months and has specified there are other better sites to work.

Hence the bottom line is
Smiley 360 is a legit site and is fun to work on and also they provide real good products but if you want cash or gift cards then they are not for you.