What Is EasyShift?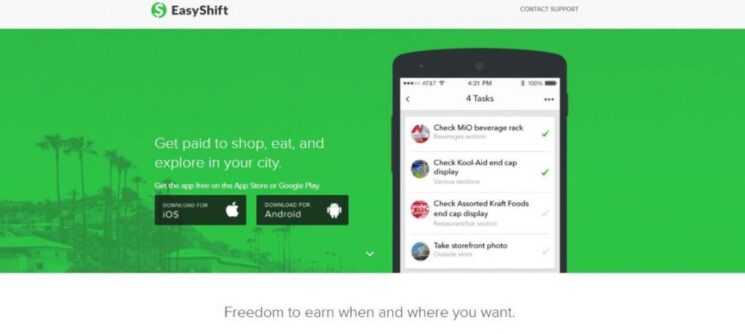 EasyShift is an online networking application that allows users to earn income online by doing different basic quality control tasks which they will find in their area.
The tasks including taking photos of products, also Price checking, and promotion reviews, etc.
In this type of task, it is essential to follow the instructions to an absolute detail otherwise you may not get paid for your hard work.
If you are looking for jobs such as Image Annotation, categorizing things, transcription and so on, then don't forget to check my Remotasks review.
How to Join Easyshift App?
The free application is also available to download on both Android and iOS and jobs can also be found all over the United States and also in the U.K., conferring to the company.
How does it Work?
The application called as EasyShift actually works like this: The users need to complete plenty of jobs and the following application uses a system of points to reward and also score its users based on jobs they complete and how professionally the jobs are completed.
The following application provides jobs such as get paid to shop, also eat and explore in your city,"
Once you download that particular application and then finally sign up, you can view the available jobs in your maps which are in your dashboard.
You have to tap on a green pin just to select a job or "Shift," the site then will show the users more and more information, which includes, four numbers of note:
Also the minimum average completion time
How many points users could gain
How much the site pay for each task
And how many miles away the required job is
You'll also be able to study every job detail and then reserve the Shift. Afterward, the site will provide you with a particular time period to complete it.
When you first start, you'll then be at a Rookie level.
How Much Does EasyShift Pay?
For one shift, this particular application EasyShift first pays from $4 to $20. Some of the jobs that the users perform actually pay from $8 and $6.50 for a particular time period.
Then most of the Shifts in the area are generally at grocery stores and food or dairy markets.
The time period is 24 hours to get the final job done, once you reserve your shift. However, In some occasional instances, you will need to complete the task in less than 24 hours.
Once you finally complete your Shift, then you will have a 48-hour processing period before the site approves your payment.
One thing you must note is that: EasyShift actually reserves the right to diminish the amount if your Shift has a particular pay range.
For example: If the pay range for a particular job starts from $4 to $8 and they can also confirm some of your real answers, the site can pay you up to $6 or $4 slightly than the full $8.
The good thing about it is that rather than wanting your bank account information, EasyShift also pays you via PayPal.
Also read: 10 Sites that allow you to make money by chatting.
Does EasyShift Really Pay?
Yes, Easyshift is the legit website that really pays but you have to follow complete instructions to get paid.
Then, download the particular application and start reserving Shifts right away just to see if it's actually a legitimate way to make real money.
After that, using it finally for a period of time, I can say it without hesitation which is not a scam.
Pros and Cons of EasyShift App
Pros:
You can earn money during shopping.
It's easy to earn once you follow the instructions.
Cons:
Only limited to some countries.
Customer support is not very good.
Conclusion: Easyshift App Review
After the thorough deduction of the Easyshift App Review, we can conclude that the site is not a scam.
EasyShift also pays you for very small jobs, but as compared to other money-making applications, it also stresses a lot more work.
The good thing about this application is, unlike many applications, once you started the Shift, the application industriously walks you through the process and you finally have to click "yes" or "no" just to continue to the next screen.
In this way, the company will finally confirm that you have finally read the following instructions.
Hence if you like shopping and earn some passive income while shopping you can join the site and start earning. If you like to chat and earn money then please check the review of our site Texting Factory.