Where is PTC Share?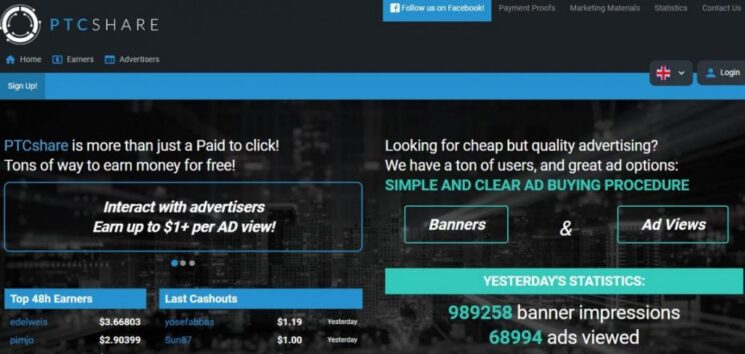 PTC Share is a paid to click website where user gets paid for viewing ads or clicking on any third party links.
Another way of earning additional money is by answering surveys, watching videos, and playing online games as well.
The site is fairly new as it was established in 2019. This site is in operation by the same company which runs the Paidadverts site.
So if you are looking for how you can earn some money from PTCShare then we are providing the details step by step.
Let's get started.
You can also read about JillsClickcorner Review which works just like PTCshare.
How to Get Started?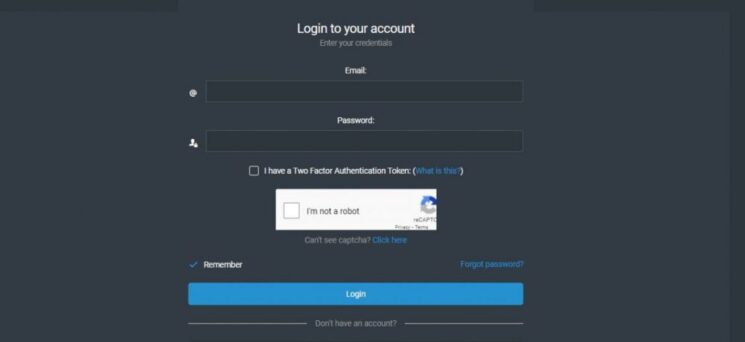 PTCshare is a popular paid-to-click website where you earn by clicking the ads or websites.
The site is global which includes the USA and other international countries. You have to be over 17 years or older.
Once signed up you will receive 1000 BAP which is the currency of the site that can be converted into cash.
Also, read FamilyBux Review
How to Work on PTCShare?
They are plenty of works to be done on PTCshare to earn money. Let's take a look at some of them.
Paid Offers
One of the ways to earn money from PTC shares is to complete paid offers. These paid offers are GPT tasks which means you can only earn by doing some tasks according to the instructions.
Some of the offers are also routed to third-party company so when you click those offers you will be redirected to some other websites to complete the offers.
These paid offers are large in number but they do not pay as much as you want.  However, if you accumulate all the earnings from Payoffer then it can be some decent passive income.
Check our BuxInside Review if you want to earn every 10 seconds and find out if they are legit or scams.
Paid Surveys
You can also earn some money or rewards by answering some paid surveys. Their Paid Surveys are also routed to the third party as well.
On your dashboard, you can find Survey Tab. Once you clicked the SurveyTab you will find various surveys on the site.
Sometimes these surveys will redirect you to a blank page which can be time-consuming and tedious.
It might frustrate you to earn some more rewards when the surveys are blank and they do not pay.
Each survey has a different amount already accumulated to them so you will ultimately find out how much you will earn from each survey on the site.
However, it is not quite easy to earn from all the surveys. When routing to third-party sites surveys you will have to answer a set of questionnaires.
These questionnaires will determine the surveys that you will receive on another site which help you to earn some decent money as surveys are high-paying jobs.
And this site will say if you qualify or not for a survey so your time is not wasted.
Paid Ads
Paid Ads are the ones that you primarily do on the PTCShare site. In this kind of activities what you do is you click on the link of ads and then watch for a certain period of time.
Just like every other activity, you will find the "Paid Ad" Section on the site which you can click to then find some ads that you have to click to.
However you will only be able to earn from watching an ad is if you have BAP, which means Bonus Ads Points. BAP acts as a currency to watch Paid Ads and earn some extra rewards from the PTCShare site.
You can earn BAP by doing some additional tasks such as signing up to the site, answering surveys, and other activities.
You can also earn these BAPs by clicking activation ads which are normally 8 per day. However you will only receive 5 BAP per day which will limit to only 5 ads per day,
You can also buy ad pack to accumulate BAP's but this will reduce you're earning considerably. The benefit of this is you can promote your blogs or website as an ad campaign.
But we recommend you try the daily limit of ads and then wait for the next day rather than investing your earned rewards.
Check the ClixBlue and find out another new PTC site and why it is interesting to work on the site.
Grid Contest
Grid Contest is a fun contest in which you will have to chance to earn high-paying rewards.
You have 20 chances to open a Grid and when you do you will have to watch 10 seconds of the ad. Then the site will show you if you have won the completion or not.
However, once your 20 chances are finished you will have to spend your earned BAPs to take part in the competition.
How Much Can you make from PTCshare?
PTCshare is a PTC and GPT site which means the more active you are the more payment you will earn.
However, the site itself limits viewers from earning money such as limited BAPs, limited Surveys, etc.
Each ad or survey are ranged from 0.05 cents to $1 but you will earn $1 per activity very rarely.
So do not expect to earn millions or even something that you might quit your job.
Hence which is why we do not recommend anyone to join PTCshare or any PTC websites to earn money.
You can also earn some additional money from the mobile apps in which you will find some paid ads, surveys, and some additional tasks.
Minimum Payment and Payout Method
There is no minimum payment on this site as the site has not cleared about it at any time. So you may learn from it if you join the site and start earning some money.
So regarding the Payout Method, you can withdraw via Bitcoin, Bank Transfer, Wire Transfer, and others but Paypal is not one of them which is really inconsiderate.
The earnings from the sites are cash out within 7-14 days. But the amount you will earn is not that much so this timeframe is very large in consideration.
Pros and Cons of PTCShare
Pros
Earning opportunities are several and constant.
You will be paid through various payout options.
The site is global so anyone can join.
Cons
The site pays very little to use as an active source of income.
You will have plenty of time-consuming jobs.
There is not very much customer support.
Conclusion: PTCshare Review
After the detailed PTCshare Review, we can conclude that the site is legit however it pays way less to even consider it as a passive source of income.
You will earn a lot more from lot of other websites which you can check on our site.