Survey sites are the means to earn money online. Nowadays there is no shortage of survey sites on the internet that claims to pay some decent earnings.
One of the popular survey sites is MOBROG who claims to be one of the high-paying survey sites on the internet.
However, On this MOBROG Review  I will provide you the answer to the most important question:
Is MOBROG Legit or a Scam?
MOBROG is a legit survey site and it pays its workers. The site pays through Paypal where you will be paid from $5 to $30 per survey. They provided services to over 75 countries and have employed over 100,000 workers all over the world.
I will provide you a more in-depth review of MOBROG with the process on how to join the site, who can join MOBROG, how you can withdraw your earnings without any hassle, and the details to consider while working on MOBROG to gain maximum revenue.
So please keep engaging with the article below.
If you are looking for another survey site to earn some side income check our Yuno Surveys Review.
What is MOBROG?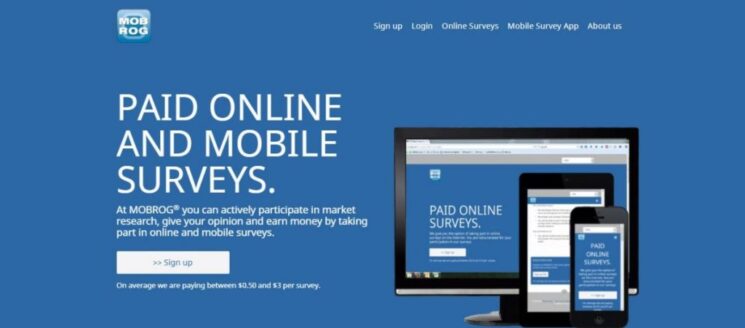 MOBROG is a popular survey site that was established in 2011. They are a market research organization that collects data in the form of surveys.
The primary goal of MOBROG is to help start-ups and other medium-level companies help with market research and feel out the opinion of customers for the successful sales of their products or services.
MOBROG currently has operating in over 75 countries with over 3 billion members among those countries.
There are only limited earning opportunities on MOBROG  with paid surveys are the only way you can earn from the site.
Let's get into the detail on how to make money from MOBROG but first I will provide you with the joining process.
Key Introduction
Website –  MOBROG
Founder – Splendid Research
Founding Year – 2011
Desktop or Mobile Platform – Both
Payment rate – $5
Payout Method –  PayPal, Skrill
Getting Started

MOBROG is only available in the USA as of now despite being in operation in over 70 countries which you can see in the image below. You have to be 18 years older and must have PayPal and Skrill account.
The signup process is quite starting forward and easy. You have to provide some basic information such as date of birth, email address, and your legitimate address.
After you register MOBROG will send you the confirmation email with a link to verify.
Once you verify the email you will e all set to start working. Now you will be accessing your dashboard and see all the available tasks on MOBROG.
How To Make Money From MOBROG?
There are some limited tasks on MOBROG for you to make some side income. So let's check a look at some tasks for you to make money from MOBROG.
#1 Paid Surveys
Paid Surveys are the only actual tasks on MOBROG that you have to complete to be able to get some extra rewards.
After signing up you can now access the dashboard and be able to see all the available surveys that you can complete.
You will be able to see all the surveys from your email as MOBROG will send you alerts for all the available surveys on the site.
Just like other surveys, you have to qualify for the surveys first and sometimes when you apply for the surveys you may not be qualified for it or the survey events are already outdated.
This means you must not get frustrated and be patient also keep checking for available surveys and apply in all of them even if you feel you may not be qualified.
I also recommend you fill in all your demographic profile in detail so that you have the chance to qualify on most of the surveys.
One of the best aspects of MOBROG is that they compensate for applying for surveys and you do not even have to qualify for those surveys as well.
You will also be selected for the monthly MOBROG lottery for a chance to win $100 for a lucky draw if you use your ticket and apply for surveys.
Check our LE Opinions review if you want to know more about a survey site that pays some high-paying rewards.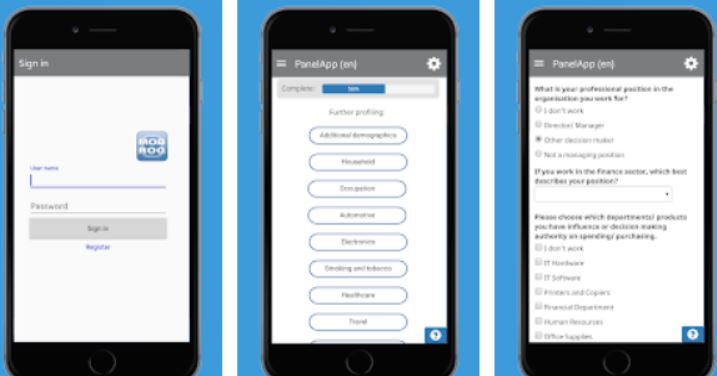 #2 Referrals
The only other way of earning some reward from MOBROG is by inviting your friends and family. The easier way to bring in your referrals is via a unique link and email as well.
When you successfully bring in referrals from MOBROG you will receive various rewards. Initially, you will receive $1 as per the location of your referee is.
However, in order to be a valid referee, your friends have to complete 3 surveys successfully.
Only then you will receive the reward allocated as per the affiliate program.
#3 Contests
MOBROG has also fee contested every month. There is no guarantee who will be able to win the contest as it is purely based on luck.
These contests are not officially announced on the website but you have to frequently check on their social media.
The rewards may be varied from $5 to 10 winners and one grand $100 to one lucky winner. The contest is based on a question-answer where you have to answer one contest question.
The winner will be chosen from all the correct answers drawn from random.
How To Make Money from MOBROG?
MOBROG official site states that you can make up to $5 per survey. These surveys normally take up to 10 minutes to complete.
Also, the chance of earning more from MOBROG depends on how many surveys invite you to get or if you qualify on the required survey in the first place.
Most often you will get surveys worth only $1 and $2 so you won't often get the surveys that are $5.
Minimum Payout and Payment Method
The minimum payout threshold required to withdraw your payment is just $5.
When you earn from the surveys then the rewards will be credited to your MOBROG account.
Later you can withdraw rewards into PayPal and Skrill accounts. The payout threshold is comparatively low however there are not many options to withdraw the earnings.
Inspection of Safety
SSL Certificate – Valid (Issued by Starfield Secure)
Owner – Starfield
Date of Foundation: 2011
Customer Support – Decent
Contact Link –  Help and Support
Privacy Policy – Available
Pros and Cons
Pros
Very low payout threshold
High payment
The site compensates just for participating in qualification.
Cons
Earning potential is limited.
The site is not global.
Surveys are the only way to earn from MOBROG.
MOBROG Review: Final Verdict
MOBROG is a legitimate website where you can earn money by completing surveys.
You can get surveys worth  $5 but the problem such surveys are really rare. The payout threshold is also really low.
The good part of the site is they pay for not qualifying for the surveys as well however you can withdraw your earnings only from PayPal and Skrill.
More than 40,000 users from Trustpilot have rated the MOBROG site 4.5 out of 5 stars.
Let's take a closer look at these user Reviews from Trustpilot
User Reviews
Here are some positive user reviews
Review 1
This user is very happy that MOBROG is legit and has a good amount of surveys available and each survey will provide decent surveys.

Review 2
According to this user, MOBROG is very rewarding and it took them some time to receive the reward but he eventually got them in the end.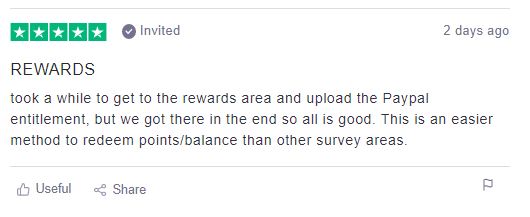 Review 3
This user claims MOBROG is legit as the surveys are paid within a short period of time and surveys are fun and easier to complete as well.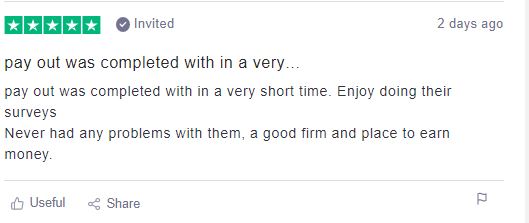 Now let's take a look at negative reviews of MOBROG from the site
Review 4
According to this user, MOBROG is a scam site as they often disqualify the surveyors. Also, this user claims you will not get paid for qualifying surveys. They claim customer support is very poor as they claim something is wrong only from the surveyor site. MOBROG has also banned the user account without any reason.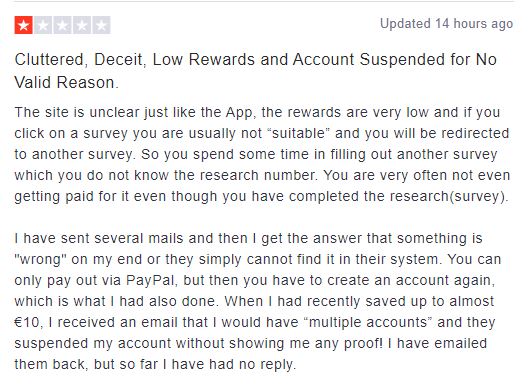 All in all, MOBROG is a legit site with many positive aspects and some negative aspects.
The surveys are easy and fun to complete whereas the payout threshold is also low but you have to qualify for the surveys to get paid.
So I recommend everyone to join MOBROG and give it a try.