Survey sites are the bread and butter of earning money online. There are several survey sites and one of them is Paid ViewPoint who claims to be a high-paying survey.
However, do you really believe if Paid ViewPoint is legit or a scam without finding any reasonable reason?
In this Paid ViewPoint Review, we will take a look at how to join the site, how will earn from it, and what are the methods to withdraw your amount.
What is Paid ViewPoint?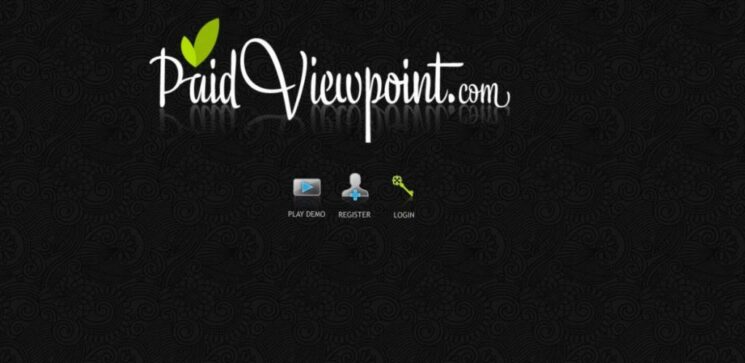 Paid ViewPoint is a website where you can earn money by giving your opinions. Unlike other websites, it does not provide watch ads, games, or any contests.
It is a website where you will just find surveys and you will be paid for completing them.
They are just like a hub for the organization that wants to do some market research that connects with the workers who conduct surveys.
They are an interesting Survey site because they have very good basic principles. Paid ViewPoint basically runs on 4 basic principles on the site.
Never Disqualify for Invited Surveys.
Always Pay for the Invited Surveys.
All Surveys are Interesting and Challenging
The information of surveyors is kept private and safe.
Key introduction
Website – Paid ViewPoint
Founder – N/A
Address – San Francisco, California
Desktop or Mobile- Both
Minimum Payout – $15
Payment Method – Paypal
How to Join Paid ViewPoint?
Joining Paid View Point is free and easy. When you visit Get Paid For Your Opinion – PaidViewpoint, select the register option located in the middle of the homepage.
Fill your registration form with a password and email address. There is also a box for the bonus codes.
Fill it up if you have any code but if not leave it empty. Then Paid ViewPoint will send you a conformational link to confirm your email address.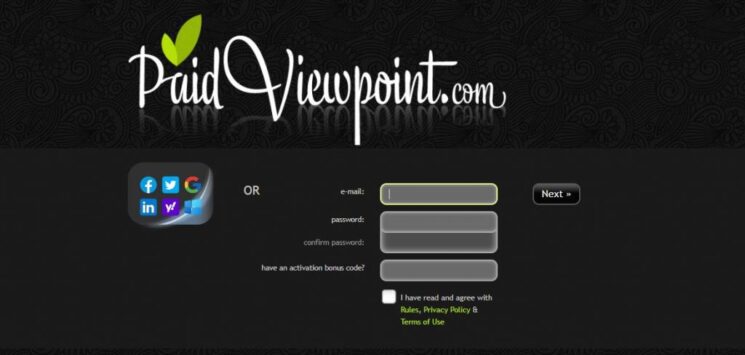 How Does it Work?
After the registration process is completed in Paid View Point, you can start earning money by taking regular surveys.
You just find the surveys in the Paid View Point at the right corner of your screen. All the available surveys are the ones you will be qualified for.
Thus, this website filters the survey that you will be qualified for and offer it to you. You will not be offered any surveys that you will not be able to complete.
There is no notification system on this website so you will have to log in to Paid ViewPoint regularly. The surveys are generally short and mostly contain multiple-choice questions.
Paid ViewPoint offers a daily paid survey which is called "Trait Score". They are very short surveys that take only 1 minute to complete.
Trait Score determines how honest and consistent you are with the website. It helps Paid ViewPoint know you better and due to this, you will get the surveys that match you.
Every time you do Trait Surveys, you will receive points and once you reach 9000 points, you will be one of the trusted survey takers and receive more surveys with higher rewards.
If you like other survey sites to earn by providing your opinions then take a look at our Zap Surveys Review.
Referrals
You can also earn a referral bonus if your friends join Paid ViewPoint through your referral link. The referral percentage of the site is 20%.
However, it is essential for your referrals to be active for at least a year for you to earn some extra rewards.
 How Do you Earn?
The pay rate of regular surveys is not precise. The pay rate is highly dependent upon the trait points and surveys themselves.
Initially, your trait score will be very low and the survey you receive will be limited with a low pay rate.
Once you start to take Trait surveys and earn trait points, you will receive more surveys and your pay rate will also increase gradually.
Also, check our Inspired Opinions Review, if you want to earn from some surveys.
Safety Inspection
SSL Certificate – CloudFare Inc ECC.
Founder – N/A
Customer Support – Debatable
Privacy Policy – Available
How Does the Company Pay?
You will be paid in US Dollars and you can view them in your Paid ViewPoint account. The payout gateway of Paid View Point is PayPal only.
PayPal is one of the most dependable money transfers in the world. The minimum payout threshold is 15 USD.
If you live in countries like the USA, UK, or Australia then the payout threshold is low but if you live in Asian or African countries then the payout threshold is a bit higher.
If you want to check one of the best survey sites on the Internet to gain some income then check our review of Prize Rebel.
FAQs of Paid ViewPoints
How can You Earn Maximum Revenue?
By providing in detailed survey with integrity and intelligence. If you provide these then you have lots more chance of getting more survey invites and more chance to earn.
Can You Have Multiple PaidView Points account?
No there is a strict restriction on having only one account for each account.
Pros and Cons of Paid View Point
Pros:
It is free and easy to join Paid View Point
Paid ViewPoint is available worldwide.
You will be provided with surveys that you will be qualified in
Surveys are short and time-saving
High emphasis on trait score
Cons:
There are not many earning opportunities in Paid viewpoint
The pay rate varies according to the country
Paid ViewPoint Review: Legit or Scam
Paid ViewPoint is not a scam and is recommended if you are interested in taking surveys for earning. You can earn money in Paid View Point for giving your opinions.
The surveys are short and you will be provided with surveys that you can complete.
The pay rate however depends upon your honesty and consistency which is basically determined by trait score.
You can increase your trait score by taking trait tests. The higher the score, the more survey you receive with higher pay rates.
Over 80 Users from the Trustpilot site have rated Paid ViewPoints 3.3 out of 5 stars. Now let's take a look at some of the User Reviews from the site Trustpilot.
User Reviews
Review 1
This user is very happy with PaidView Point and has been for about 2 years. He has received rewards for his tasks and hard work as well.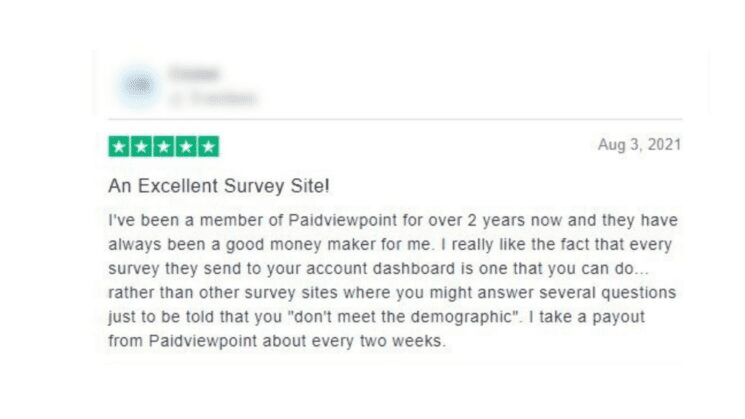 Review 2
According to this user, Paid View Point is a very easy to work and earn site. He has been earning for almost 2 years. He also clarifies the site allows users to use VPN which is really interesting and encouraging.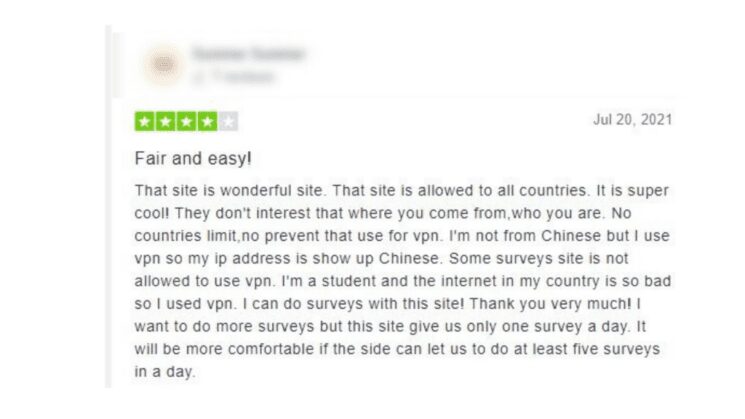 Review 3
This user kept it real and short as he is very happy with the site and the payment from it.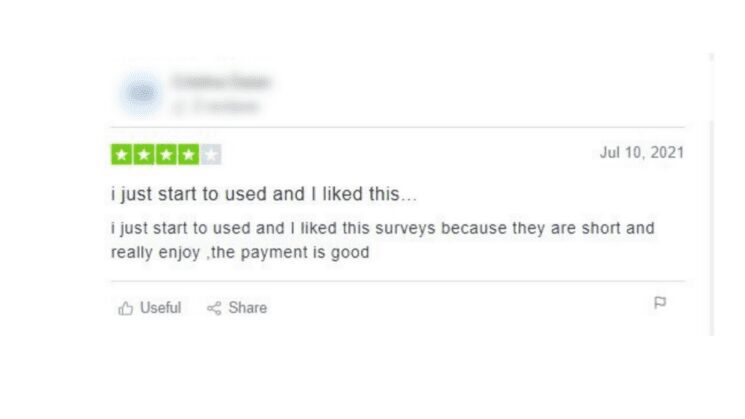 Now let's take a look at some negative reviews.
Review 4
This user is not happy with the lack of available surveys, and also the time it takes to complete a full survey and the corresponding amount from it.

Review 5
This user claims the site is a Scam as his account was closed once he reached the minimum payout rate.

Hence the bottom line is,
Thus, Paid View Point is legit as it provides a great earning environment. There are no excess ads or any spam that may distract or annoy you.
If you live in Asian or African and some European countries then your pay rate will be lower which makes the payout threshold higher.
But if you live in United States, Canada, United Kingdom, or Australia then you will get more surveys with decent pay rates.