What is Prize Rebel?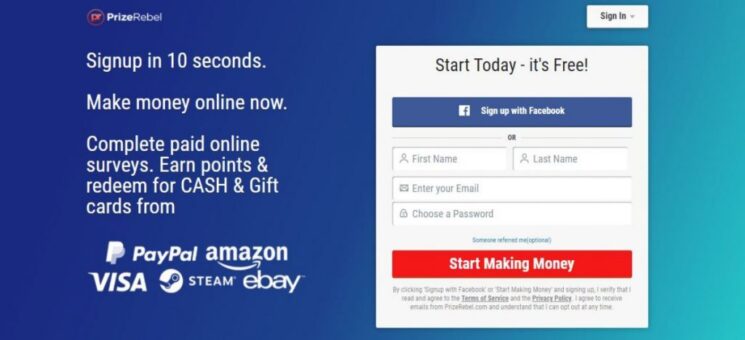 Prize Rebel is an online platform where you can earn money for completing offers and surveys.
This website has more than 8 million users and has been existed since 2007. Prize Rebel has paid out over $17 million in rewards till now.
Getting Started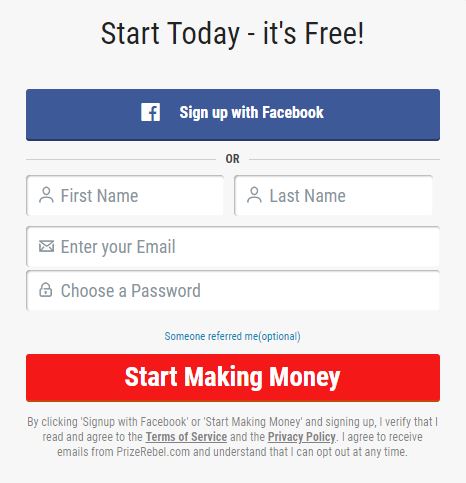 Joining Prize Rebel is free and easy. When you visit Paid Surveys For Money – PrizeRebel, you will find a registration form on the home page itself.
Fill your registration form with asked details like the first name, last name, email, and password or you can join through your Facebook account
How To Make Money from Prize Rebel?
After the registration process is completed in Prize Rebel, you can start earning money by taking offers and surveys.
You can view all the offers in the offer toro tab after signing in to the website. Click the offer you are interested in and follow the given instructions.
The offer may consist of signing into various websites or downloading apps or playing Facebook games.
You can earn profit in the offers as well so even if you have to pay for the offer, you can earn profit plus a signing bonus plus extra rewards if you use the website or apps.
#1 Paid Surveys
The other way of earning in Prize Rebel is to complete surveys. You can view all the available paid surveys in the "earn" tab.
You can see different surveys and different survey providers on your dashboard.
Choose the survey you are interested in but if you are taking a survey for the first time then you will be asked a few profile questions.
There is, however, a time limit in all the surveys so you have to complete the survey in the estimated time. You will also receive a quality score and if it goes below 100, you will receive fewer surveys.
If you are looking for another awesome survey site to earn money then check our review of Click 4 Survey.
#2 Watch Videos
You can earn more rewards by watching videos and ads. There are unlimited videos to watch and you can even leave your screen while your video is running. So, it is a great way to earn
There are various games in Prize Rebel which you can download and play. For doing so you will even get paid and you will also be entertained.
But you have to reach certain requirements asked by the website to earn.
Also if you want to check the site that claims it pays $7 per click to watch the video then check our Seven Dollar Click Review.
#3 Daily Challenges
You can complete daily challenges to earn more rewards but if you complete them 5 days in a row then you will earn a bonus.
There are Raffles where you can spend 10 cents and get a chance to double your money. You can receive gift cards worth $5 to $10 just by spending 10 cents.
You can buy a lottery ticket in Prize Rebel and choose any 4 numbers from 1 to 17.
If your number matches the draw, you will win the jackpot. The lottery ticket costs 20 points.
There are free contests where members with the most surveys completed will win extra rewards. It will be held every two weeks.
You can also earn a referral bonus if your friends join Prize Rebel through your referral link.

Membership:
There is a membership level in Prize Rebel and as usual, you will be at the lowest level.
But you can upgrade your membership level by using points you earned on the website which is great as most of the websites use real money to upgrade a membership.
You will start with bronze membership with a 20% referral bonus but you can upgrade it to silver with 1000 points and the referral bonus will rise to 25%.
For gold membership, 4500 points are required and you will receive a 1% special bonus and prize discount but for a platinum membership.
10000 points are required and you will receive a 2% special bonus and prize discount. lastly, there is diamond membership where 16000 points are required and you will receive a 30% referral bonus and 3% special bonus, and prize discount.
 How Much Do You Earn?
The pay rate of offers and surveys varies in Prize Rebel. The pay rate varies from each offer and survey so they are not constant.
But the pay rates are pretty high compared to other survey websites. Sometimes you may have to spend as well to earn more mainly on paid offers.
You may have to pay $10 to sign up on a website but you will receive $15 in doing so. This makes a $5 profit.
That is not all, you will receive a signing bonus extra plus if you work on the website, you will receive additional earnings.
Referral bonus varies as per your membership level and you can earn 0.55 points for watching three videos.
For playing games, you can receive 1 point to more than 600 points as per the requirements and difficulty level.
You can also use promo codes to receive free points.
Minimum Payout and Payment Method

You will be paid in US Dollars. Here, 100 points are equivalent to $1. Points can be used to upgrade your membership.
The payout gateway of Prize Rebel is PayPal and gift cards. The minimum payout threshold is 2 USD for gift cards and 5 USD for PayPal. The gift cards offer you withdrawal from Amazon
Accessible Device:
They do not have any mobile apps so it is better to use pc browser.
FAQs of Prize Rebels
According to Prize Rebel, some of the FAQs are:
How does this work?
Prize Rebel is a FREE membership rewards site. We have partnered with many market research companies who are looking for your opinion on new products or would like you to be a member of their website.
In return for your time and participation, you will earn points that you can redeem for brand name gift cards, online game codes, Amazon.com items, and PayPal cash!
How do I earn points?
You can earn points from various activities on our website. We generally recommend that you start by completing surveys.
How long does it take to get my reward?
Processing of all reward claims will be completed around 24 hrs from the time of your reward redemption.
If you are gold level or higher, it will be processed within 10 minutes unless the reward is out of stock. To check the status of your reward claim, please see my reward history page.
Please note:
– If you cancel and reclaim a reward, the processing time will reset.
– All timestamps are in Pacific Standard Time.
How do I provide my information for shipping rewards/PayPal
You can update your shipping address and PayPal email on your My Account page.
Pros and Cons of Prize Rebel
Pros:
It is free and easy to join Prize Rebel
Prize Rebel has several earning opportunities
Low payout threshold for PayPal and gift cards
It has a great customer support system
Cons:
There are not many opportunities in some countries
You will not be qualified for every available survey
Prize Rebel  Review: Legit or Scam
Prize Rebel is not a scam and is a very good survey site to earn.
You can earn money in Prize Rebel for completing surveys, completing offers, watching videos, lottery, contests, daily tasks, and playing games.
You have to answer a profile questionnaire before starting a survey which determines what type of survey you will take. There are various earning opportunities with good pay rates in Prize Rebel.
The overall feature of Prize Rebel is good.
Over 200 people have rated the PrizeRebel site 3.5 out of 5 stars. Now let's take a look at some user reviews from the Trustpilot site.
 User Reviews
Let's take a look at some positive reviews
Review 1
This user is very happy that he has received his Xbox reward very easily but he was frustrated for some period of time.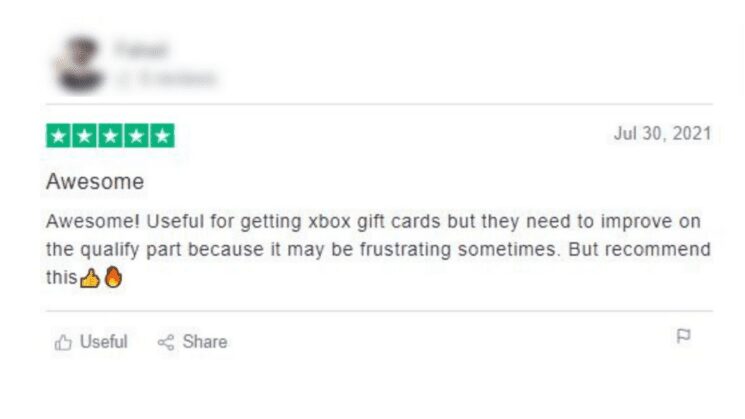 Review 2
According to this user the site is very fast, surveys are good, and payments are also fast as well.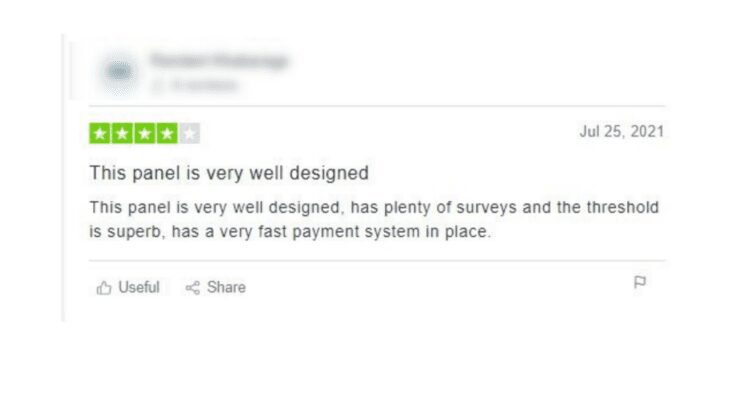 Review 3
The user is very happy for getting his earnings from the surveys that he completed and received his earnings fast.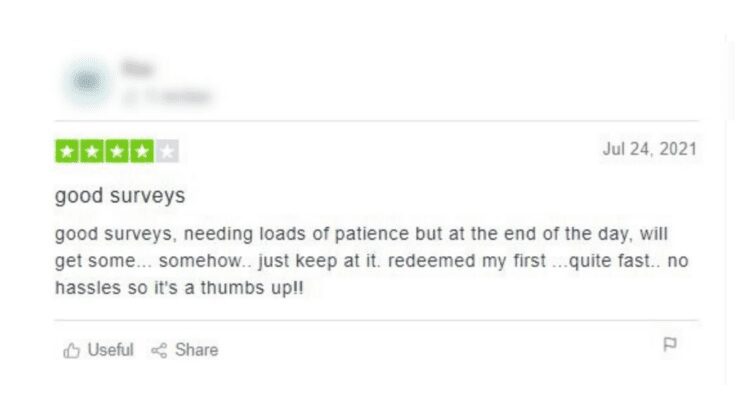 Let's take a look at some Negative views
Review 4
This user is not happy that the site blocked his account during the time of paying up.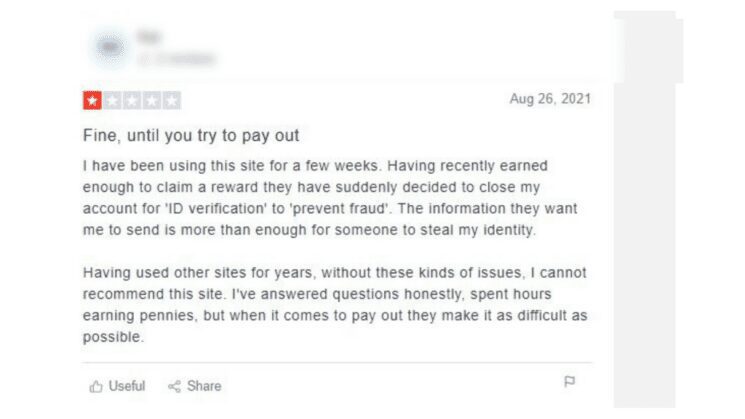 Review 5
The user is not happy that after spending 30 minutes on the survey site he was not paid and the survey was regarded as an error.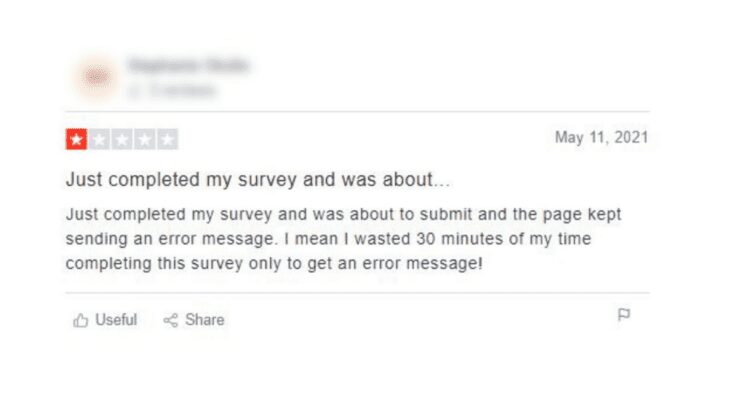 Thus, Prize Rebel is legit and is definitely worth signing up to earn extra cash.