Surveys are entertaining and interesting tasks to make money online on the internet.
Today I am bringing you Zap Surveys Review which claims to be one of the highest paying survey sites.
However is Zap Surveys a legit survey site or just another scammer?
Today in this review, we will find out how to join Zap Surveys, how you earn from them, and what are the ways to withdraw your earnings.
Let's get started.
What are Zap Surveys?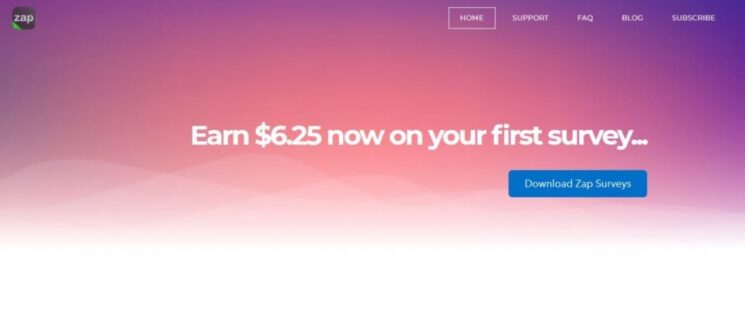 Zap Surveys are the survey app that pays the users for providing opinions or feedback. The app is available for both Android and IOS devices.
The founder of Zap Surveys is AppsthatPlay. AppsthatPlay has not only Zap Surveys but other surveys as well across the internet.
In the Zap Surveys, there are not only paid surveys but daily offers, reading emails, sharing on social media, etc.
These tasks can provide the chance for you to earn some extra income from the site. Now let's take a look at how you can join Zap Surveys.
If you are looking at some other survey sites then please check the review of Inspired Opinions.
Key Introduction
Website Name – Zap Surveys
Founder – AppsthatPlay
Date of Establishment – 2013
Location – USA
Payout Rate – $25
Payment Method – Paypal and Amazon Gift Cards.
Getting Started
Zap Surveys are the application that you can download from IOS and Android devices.
After downloading the app you have to register for the signup process. You can sign up from your Facebook account or from your email address.
During your registration, you have to provide your first and last name, email address, and password.
In regards to who can join Zap Surveys, you have to be a citizen of the USA, UK, or Canada and must be over 16 years old.
How to Work on Zap Surveys?
There are plenty of tasks available on Zap Surveys for you to earn some money. Since the website is Zap Surveys, surely you will predominantly work on surveys.
There are also other tasks available on the site so let's check them out.
Surveys
There are daily surveys on the site that you will have to complete to earn some income. The site also does some charity per earnings.
For every earnings you make the site donates it to a charity related to Child hunger and safety.
However, just as any other survey site, you have to answer some pre-qualifying qualifications which you have to answer to qualify.
For these qualifying questions, you will receive up to $0.50 per qualifying survey even if you don't qualify for the site.
However, if you don't qualify then you have to just move away to the next surveys. However, some surveys are offered from third-party survey sites as well.
These survey sites are  PoolFish for Good, Peanut for Labs, TabResearch, etc.
These surveys are very legitimate sites but they are mainly location-based sites so you may not even get the survey to earn if you are not in the particular locations.
If you also like other surveys sites to earn by providing some feedbacks then join Signature Surveys.
Login Rewards
The unique way the Zap Surveys provide the change to earn is for the new workers. You have to log in for 50 days straight.
If you do that you can earn from 75 cents to $2 as a gift for login rewards.
When you log in to check for surveys you will have the chance to earn the money.
Paid Social Media
Zap Surveys also provide you rewards or earnings for sharing on social media. All you have to do is share about the site on social media such as Twitter and Facebook.
You will receive up to $0.50 cents for share on those social media. However, they are one-time extra jobs only.
How Much Can You Earn from Zap Surveys?
You can earn some decent extra income from Zap Surveys but be careful as this is not a get-rich scheme.
The earnings are limited as they are based on location, opportunities, or the quickness and accuracy of your survey completion.
The bread and butter of the site are surveys but these surveys are only limited to a couple of sites that may not be in your location.
Hence please just keep an open mind and if you can get enough surveys to complete and then also you can earn up to $20 per week at maximum.
Minimum Payout and Payment Method
There are a couple of ways to withdraw your earnings from the site. They are Paypal, and Amazon Gift Cards.
However, you must reach the minimum withdrawal amount of $25 threshold.
This is a very high payout threshold considering the chance to earn is very limited. Hence it will take a long time to earn the required amount and an even more long time to withdraw your earnings.
Also, you won't receive the whole earnings that you earn from the Zap Surveys as over 20% will be donated to the child hunger charity.
Pros and Cons of Zap Surveys?
Pros
The Survey site is easy to navigate and surveys are easy to complete.
Vast options of tasks to earn some extra income.
The site donates to the child hunger charity which is very nice.
You can withdraw your earnings from Paypal and Giftcards which are both convenient.
Cons
Earning opportunities are based on the location makes it limited.
You will have to earn $25 to withdraw your earnings.
Customer support is really hard and they do not provide much.
FAQs of Zap Surveys
Can you Cash out Multiple times?
You can cash out multiple times but you have to reach a minimum withdrawal amount of $25 every time to cash out.
How long with it take to get the earnings?
You will get your earnings immediately according to the site. The maximum takes to get the payout is 24 hours.
Zap Surveys Review: Legit or Scam
Zap Surveys are a very popular and interesting new survey site on the internet called Zap Surveys.
Around 10 people on the site Trustpilot have ranked Zap Surveys 2.5 out of 5 stars.
Now lets a take a look at some User Reviews from Trustpilot
User Reviews
Here is a positive review of the site.
Review 1
This user cannot believe there are many negative reviews of Zap Surveys as he has been using the site for many years with pure satisfaction.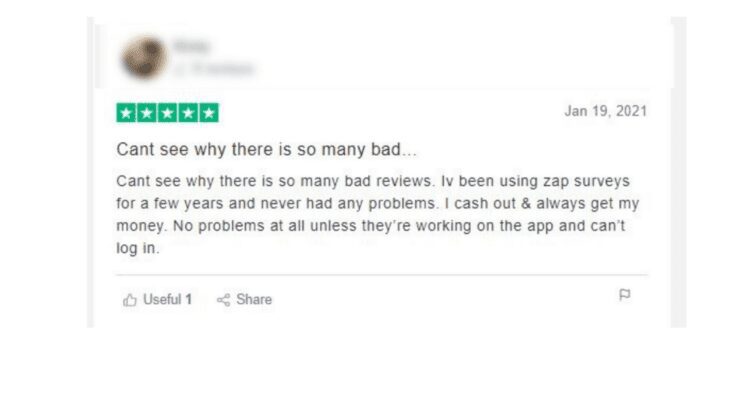 Let's take a look at some negative reviews
Review 2
According to this user, he has never received the 30 cashback program that he never got it.
Review 3
This user is not happy his account got blocked for nothing.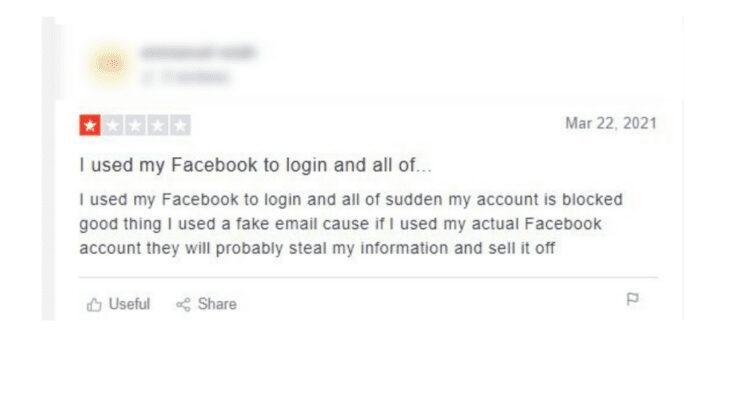 All in all
Zap Surveys are not worth giving your time to. They are a decent survey site but earning potentials are a lot less and the payout is also very high at $25.
So there are plenty of other survey sites to check out and start earning the rewards.