There are plenty of GPT sites on the internet where you will gain rewards for completing some basic tasks as per instructions.
One of the interesting  GPT sites on the internet is Quick Rewards. They claim you can earn up to $100 per day.
Is Quick Rewards really a legit site or is it just another trick to waste your time and money?
In this Quick Rewards Review, we will find out how to join Quick Rewards, how to earn from Quick Rewards, and also the methods of withdrawing payment from Quick Rewards.
What are Quick Rewards?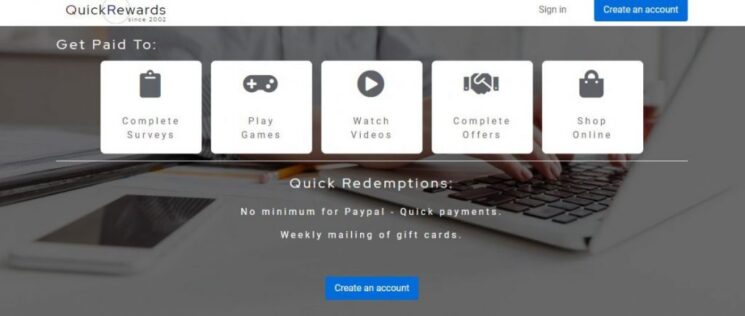 Quick Rewards is a website where you can earn money for completing offers and surveys. You have various opportunities to earn from Quick Rewards.
There are plenty of tasks available on the site that you can complete to earn your rewards.
Like all GPT sites, the earning potential is really limited on the site however if you can accumulate all the tasks then you can earn some decent side income.
Key Introduction
Website Name – Quick Rewards
Founder – N/A
Date of Establishment – 2002
Location – USA
Minimum Threshold – $5
Payout Method – Paypal and Gift Cards
Getting Started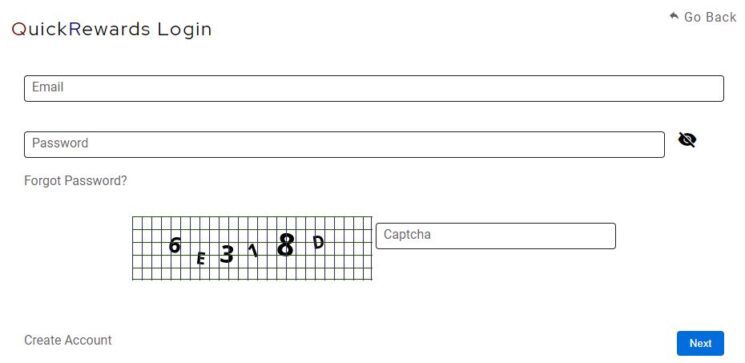 Joining Quick Rewards is free and easy. When you visit QuickRewards, select create an account option located in the top right of the homepage.
Fill your registration form with asked details. Do not leave any information empty or you will not be able to create an account.
Only residents of Canada and the United States can participate in Quick Rewards.
How To Work on Quick Rewards?
After the registration process is completed in Quick Rewards, you can start earning money by taking offers and surveys.
Paid Offers
You can view all the offers after signing in to the website. Click the offer you are interested in and follow the given instructions.
The offer may consist of signing into new websites or perform certain trials or answering a survey.
If all the requirements of the offer are fulfilled then the offer will be completed.
Just like Quick Rewards, if you want to earn by completing paid offers then check our Kashkick Review.
Surveys
The other way of earning on this website is to complete surveys. You can view all the available paid surveys in the member dashboard.
The surveys are of two types. The first one is that is offered by Quick Rewards and another one is that you have to join other websites to complete the survey.
There are also pre-qualifying questions that are asked before joining surveys.
If you are not qualified then you will be notified right away so that you can look into another survey.
Watch Videos
You can earn more rewards by watching videos and ads. Visit the "Daily Views" tab in Quick Rewards and watch videos completely.
There is also an option of Paid Emails. You will be sent a link in your email. Click the link and certain rewards will be credited to your account.
While shopping if you ever come across a website that has partnered with Quick Rewards then you can earn cashbacks.
You will have to click the cashback link on the website in order to earn the reward.
You can also earn rewards by playing games in Quick Rewards. In order to receive the reward, you just have to meet the score requirement of the game.
Paid Emails
This is another way of earning some side income by clicking the link to the paid emails sent by the site.
When you click the link it will verify you reading the mail and in return, you will earn the accumulated income.
Referral Programme
You can also earn a referral bonus if your friends join Quick Rewards through your referral link.
When your referral joins the site and completes the task you will earn 5 % of the earnings of your referrals.
The best part of the site is you will start to earn immediately when your friends start working too.
How Much Can You Earn?
The pay rate of offers and surveys are not precise in Quick Rewards. They actually varies from each offer and survey.
The pay rate is not high enough to make you rich but you can cut off some costs with these earnings.
The cashback offers also depend upon the website and products and watching videos do not provide many rewards and pays you in Quick Points.
Lastly, you will receive a 5% referral bonus for someone who joined Quick Rewards through your referral link.
Minimum Payment and Payout Method
You will be paid in US Dollars and points and you can view them in your Quick Rewards account.
100 Quick Points is equivalent to $0.01. The payout gateway of Quick Rewards is PayPal and gift cards.
The minimum payout threshold is 5 USD for gift cards and there is no payout threshold for PayPal.
The gift cards offer you withdrawal from Walmart, Olive Garden, Amazon, Best Buy, and many more.
Safety Inspection
SSL Certificate – Valid and Issued by R3
Owner – N/A
Privacy Policy – Available
Customer Support – Satisfactory
Contact Page – Avaialble
FAQs of Quick Rewards
What are Quick Points and how much they are worth?
Quick Points are the currency of the Quick Rewards site. 100 QP is equivalent to $0.01.
Do you lose Quick Points for some reason?
When you reach the quick points threshold of over 100 QP then those QP will be converted into dollar cents so it may seem like losing your Quick Points.
Do your Quick Rewards Account get ban?
Yes, if you have more than one account and if you use a VPN to complete your tasks then you will get a ban.
Also if you are careless on your task and make often mistakes then you will receive a warning and then get ban as well.
Pros and Cons of Quick Rewards
Pros:
It is free and easy to join Quick Rewards
Quick Rewards has several earning opportunities
No payout threshold for PayPal users
Cons:
Quick Rewards is only available in the United States and Canada
Low Payrate for offers and surveys
Quick Rewards Review: Legit or Scam
Quick Rewards is not a scam and is a decent survey site to earn. You can earn money in Quick Rewards for completing surveys, completing offers, watching videos, and playing games.
You have to qualify for the survey before taking it. There are various earning opportunities in Quick Rewards.
Almost 11 users from Trustpilot have rated Quick Rewards as rated 4.1 out of 5 stars.
Now let's take a look at some User Reviews from Trustpilot.
User Reviews
Here are some positive User Reviews.
Review 1
This user is very impressed with Quick Rewards for almost 10 years and is happy with their customer support.

Review 2
This user has kept it quite simple and is very happy with Quick Rewards. He claims the site is one of the best survey sites.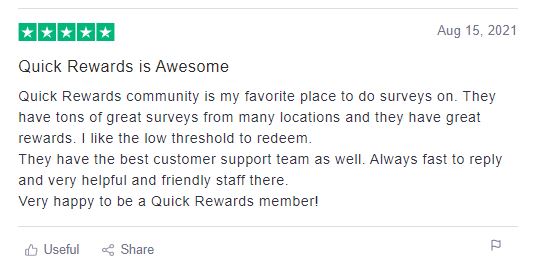 Review 3
This user has provided in detail why he loves Quick Rewards. He is very impressed by the site for earning and customer support is also easy. He has received the earnings.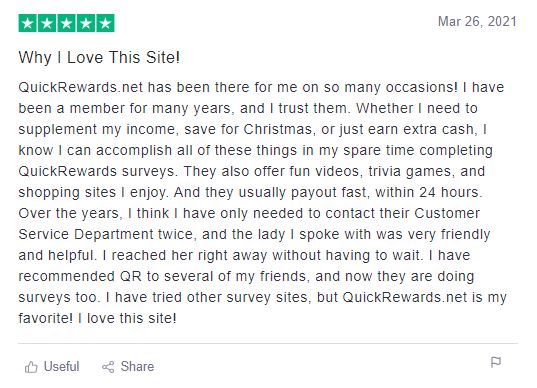 Now let's take a look at the negative reviews of the site
Review 4
This user is not happy as Quick Rewards ban his account and also did not reply to his complaint however the site has responded and has decided to help him.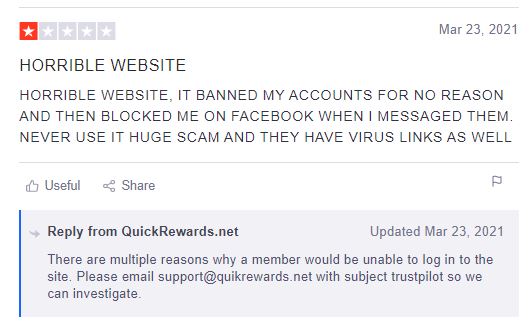 Review 5
According to this user, the site banned his account for no reason and he never got the $5 amazon card that he earned.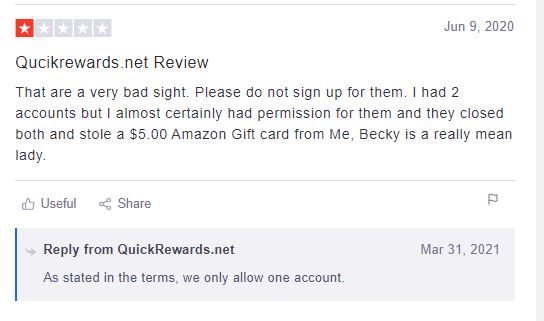 Hence the bottom line is,
Quick Rewards is legit and can be used to earn something at can cut off some of your expenses.
However, it does not make you rich. If you have an ideal time then you can join this website can earn by completing offers and surveys.
If you are bored then you can play games or watch videos and earn rewards simply by doing it so.