Hello and welcome to my honest Lucky Dice App Review.
There are countless ways of earning money online. And there are millions of sites that claim they really pay for doing some work online.
You can make money doing some macro works, answering surveys, chatting to get paid, or even working as a Virtual Assistant for Organizations.
And if you love playing games, then the Lucky Dice app might be your new favorite! Because it rewards its users for playing the game.
Lucky Dice App is a board game where any user can earn money. It is an app that helps you to earn money online.
By playing games you can earn virtual cash, points, coins that you can redeem for actual money. This can be both fun and helpful as you can earn just by playing. But you may be wondering if this site really pays and it's legit.
Well, you have come to the right place for your curiosity.
Today I am going to provide you with detail regarding Lucky Dice App which includes
what really is Lucky Dice App,
how it affects its users,
how can someone join,
how they earn,
how they redeem their earnings, payment methods, and
most importantly it is worth your time.
So, let us get started
What is Lucky Dice App?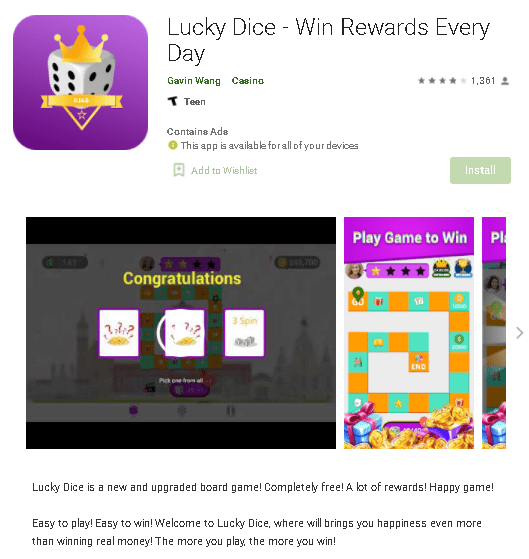 The Lucky Dice app is an online platform where you can earn money just by playing games. You will earn virtual coins and cashes just by tapping the dice to stop the pointer on the game board.
Check out reviews of more apps that allow users to make money:
How to Get Started?
You can download Lucky Dice App on your mobile devices. It supports Android platforms only so you cannot find it in App Store. This app has not been released on the iOS platform yet.
So android users can download this app from Play Store. You do not need your real id to join this app. You can create your different username to play this game. But you do need to have your PayPal account to redeem your earnings.
So, if you are interested in joining this app and earn money, you can create a PayPal account.
How to Work on the App?
You simply need to touch the dice to play this game. It is like a casino. Once you touch the dice, it helps the pointer to move around the board and hit cash spots.
If it hits cash spots then you will earn cash or coins but it does not hit the spot you do not win anything. You do not have to gamble your earned cash or coins to win more.
Once you reach $8 it becomes harder to reach the threshold. Your minimum limit of withdrawal is $10. So, you may be stuck below $10 for months before you reach the threshold.
Your pointer will miss cash spots many times making you frustrated. This app also provides daily gifts and rewards to its users and also gives chance to win big if you are lucky enough.
There are various mini-games in this app. You can play any game you like and earn cash and coins from them. There is no in-game payment so you can play any games for free.
Minimum Payout and Payment Method
To be paid you have to reach the threshold of $10. Then you can redeem your earnings through PayPal. But most of the complaints are regarding the withdrawal of their earnings.
People claim that they could not redeem their earning. Only the people of the USA, the UK, and Canada can be eligible to receive the payment.
Pros and Cons of Lucky Dice
Pros
The app is really fun and entertaining to play.
Cons
The app does not pay.
There is no way of reaching the minimum threshold.
There are various confusing ratings on the internet about the application.
Lucky Dice App Review: Legit or Scam
The rating of this app is also high in Play Store which is 4.4/5 which is pretty good. But the comments given by users are not so good. There are many complaints regarding this app.
There are too many ads in the app and the earnings are not been redeemed. After seeing the public review, researching myself, and consulting various sources I found that Lucky Dice App is a scam.
They make false promises to the people that they can earn by playing games but in reality, most people are not receiving any payments.
You may think that the rating of this app is high but there is a possibility that the company itself gave them a higher rating and asked their users to do the same in exchange for virtual cash and coins.
Basically, this app is a scam and I do not recommend people to use this app. They should not be wasting their time and effort on such apps and if they want to make real money then they should start searching for jobs.
But before you go please check our review of Paid Game Player, and find out if you can earn by just watching ads or playing games.