What is JillsclickCorner?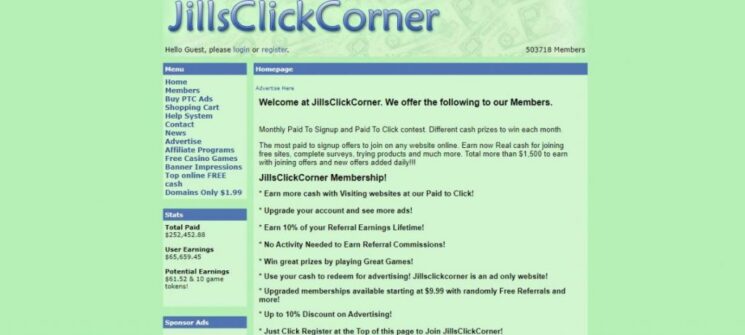 JillsClickCorner is a site that has millions of ads and old design which pays and is a legitimate site.
JillsClickCorner also has a paid memberships which unlock more earnings and gives you more referrals and also make the reward cheaper. Few different levels are ranging from $10-$75 a year. The expensive package also includes some discounts on cashing out.
Today in this JillsclickCorner review we will be checking how to join Jillsclick corner, how to join the site, and how to earn from it. So let's get started.
How to earn at JillsClickCorner?
The main way to earn at JillsClickCorner is by clicking the ads and viewing them. However, it asks you to enter a code to make sure that you are a robot or not.
The process is extremely easy. You will see a page with tons of ads to click on. After entering the code the timer will start. After viewing the ads for a required time you will get a notification that says you've been paid. Keep repeating the process until there are no ads to view. Although it won't be a big income.
Another way to earn money is to sign up, few of you might be familiar with this process, they are usually known as offers. In this, you will see different offers, email lists, survey sites to sign up for.
These often pay from $.25-$2 depending on what is actually required. You may find some offers that say sign up for a free credit card trial. These may pay more but you might be charged.
Jills Click Corner holds a few contests which can help you earn more. They often hold a contest to see who completes the most Paid to Click Ads, Paid To Sign Up, and Referrals. They reward the top 50 members in each category.
The big winners can win up to $100, which is the easiest way to earn more money but there are a lot of people so it's a bit difficult to win.
You can also win money by playing games. On the site, you have to collect game tokens by earning cash at Jills Click Corner. You can also use game tokens to play slots or spin the wheel which gives you chance to win more game tokens or cash. The most you can win here is $.10.
You can also check our PTCShare review which works just like this site.
How does JillsClickCorner pay?
Jills Click Corner offers a few ways to get paid such as PayPal, okPay, Payza, Perfect Money, SensiPay, and Solid Trust Pay. The cash amount to get paid is $1 for PayPal and Perfect Money. Other payment method starts as low as $.10.
Your payment is usually processed within 48 hours of cashing out. It also does look like you can exchange your money for PTC ads only if you're a website owner.
JillsClickCorner Referral Program
The referral program that Jills Click Corner has is much easier to use than other PTC sites. They give you few links and some banners you can put on your website. You can earn 10% of all your referral's earnings. You can also make a small percentage of your 2nd tier referrals as well.
This program is not bad on some similar sites, there are a limits and lot of restrictions on the referral program. Jills Click Corner doesn't have any limitations; it is similar to any survey site referral program.
JillsClickCorner Complaints
After you join the site, you will notice that the site looks like a website in 2000 which is often distracting and navigating. The next thing is the whole site is filled with ads and these ads are not the paying ones.
It also has paid accounts like any other PTC site but it has way too many restrictions in the free account which leads you to the point that you must upgrade.
Pros and Cons of JillsClickCorner
Pros
The site provides various options to withdraw cash.
It is easy to join the site.
The tasks are easy and simple to complete.
Cons
The tasks are simple but monotonous.
The amount you will earn is really low.
You will not earn enough to use as an active source of income.
Conclusions: JillsClickCorner Review
Jills Click Corner is an earning site that is definitely not a scam but I really do not recommend this website to earn money.
As any sites that pay by clicking ads is not going to be a good income and think when you join you will give up before reaching the cashout amount.
Thank you for checking JillsClickCorner Review, check our review of Vocalyz if you want to earn from voicing your survey and opinion.