Hello and welcome to my honest Lucky Dollar App Review.
In this modern age of the internet, earning money online has never been so easier. There are many websites, apps, and platforms that provide many opportunities such as doing macro workers, answering surveys, reviewing products, or even working as a Virtual Employee.
But what if I say you can earn by playing games and completing offers.
Lucky Dollar is a Gpt app that pays its customers for playing games and completing offers. You just have to scratch-off lottery cards to earn rewards. But you may be wondering if this app really pays and if it is not a scam.
Well, you have come to the right place for your curiosity. Today I am going to provide you with detail regarding Lucky Dollar App which includes
what really is Lucky DollarApp,
how it affects users,
how can someone join, how they earn,
how they redeem their earnings, payment methods, and
most importantly it is worth your time.
So, let us get started
What is the Lucky Dollar app?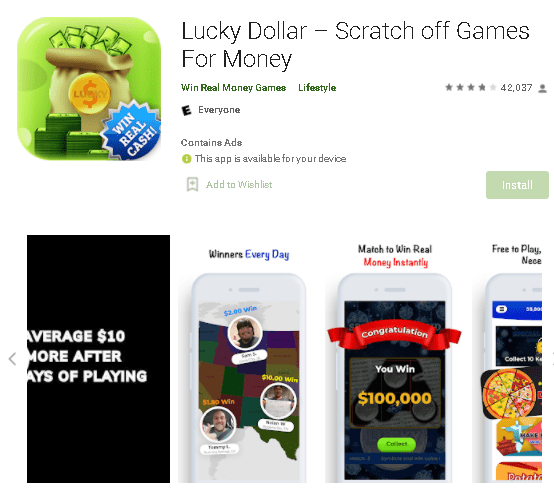 Lucky Dollar App helps to earn you money. You simply just have to play the game. You have to scratch off the lottery cards, watch ads, complete offers to earn coins and dollars in the game.
How to Get Started?
To join this app is not so hard. You have to download the app first. This app is available in the play store but not the in-app store.
To play this game, you must reside in the US, Canada, or the UK to earn rewards and you must be above 13 years old.
You will just require your email address to start this game. And remember if you want to cash out your earnings you should have your PayPal account.
How to work on the Lucky Dollar app?
First, you should create your account. At a moment, this app works worldwide but only people residing in the US, Canada, or the UK can earn rewards. After you register you can start right away.
There are various mini-games through which you can earn rewards.  The most obvious way us scratch cards. You have unlimited scratch cards so you can play this mini-game whenever you like to earn rewards.
You can earn both cash and points from scratch cards. Next, you can earn points by completing offers. They ask you to download different apps or games and complete the tasks. Completing these offers helps you to earn more points.
But be careful of the offer you are choosing. Some may require payment to complete the offer. You can also watch ads to earn coins or cash in the game and you can also refer your friends to earn rewards.
For referring you can get a $1 bonus and earn a 10% commission on every coin your referred friends make for the first 90 days.
How does the company pay?
You should have a PayPal account to be paid. You can earn as much as you like by scratching cards, completing offers, watching ads, and referring your friends. But earning is not that easy.
You need to have 10 million coins to cash out $1 and 50 dollars to cash out via PayPal. Earning this will take a month or more than a month. You can only earn 3000-6000 coins in one scratch card.
This game is a chance-based. Scratching cards offer you various odds for winning various prizes. Some of the odds are:
| | | | |
| --- | --- | --- | --- |
| Games | Prizes | Odds | Max Number of Winners |
| Special Diamond Card | $1000000 | 248890850 | 1 |
| Triple 7, Roulette | $100000 | 48153633 | 1 |
| Enjoy Holiday Beer | $500 | 739654 | 50 |
| Dominos Soccer Winner, Monsoon Season, Snakes stings, Lion, Son, and Fun, Football | $10 | 14793 | 500 |
| Dessert Parlous | $5 | 7396 | 1000 |
| Chocolate Flavors, Paprika | $0.50 | 739 | 4000 |
| Potato Chips, Breakfast | $0.25 | 369 | 5000 |
| | | | |
| --- | --- | --- | --- |
| Potato Chips, Breakfast | $0.25 | 369 | 5000 |
These are the odds according to which you can earn and redeem your earning.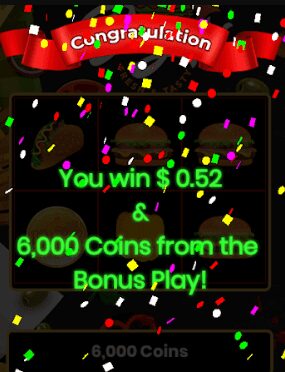 Pros and Cons of Lucky Dollar App?
Pros
It is free to join
Fun to play
You can earn high rewards
Complete various offers
Many ways to earn coins and cash
You can invite your friends
Cons:
Only earn rewards in USA, Canada or the UK
Small odds of winning
High threshold i.e., !0 million coins for $1 and $50 to withdraw through PayPal
There are lots of ads
Lucky Dollar App Review: Legit or Scam
This app is not a scam. Although it takes time to earn money it is not a scam. You have to be patient to earn money. It is a lottery so either you can earn or you cannot.
This is not a fast way to earn money as well. you have to be exceptionally lucky to earn rewards really quickly.
This app is not a scam but I do not recommend it as it may take your lot of time and effort and you may not be able to win even the threshold amount.
We have also reviewed another game Dice Royale and find out if you can earn by just rolling dice.