Hello and welcome to my honest Dice Royale Review.
There are many sites and apps claiming to pay you just by playing games or taking surveys or testing products or reviewing and even earn money chatting. Dice Royale App is also such an app claiming to pay its users just for playing games.
This is a Gpt job where customers are paid to play games. But you may be wondering if this site really pays and it's legit. Well, you have come to the right place for your curiosity.
Today I am going to provide you with detail regarding Dice Royale App which includes
what really is Dice Royale App, how it affects workers, how can someone join, how they earn, how they redeem their earnings, payment methods, and most importantly it is worth your time.
So, let us get started
What is Dice Royale?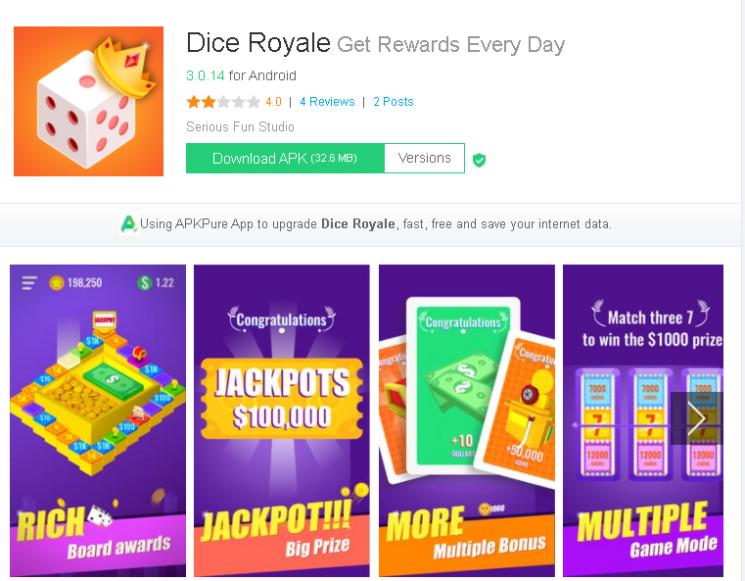 Dice Royale App is the platform where you can earn money just by playing games. You simply have to roll the dice to earn real money. You need to roll the virtual dice and move across the board.
Every time you advance further, you will get a chance to gain cash or coins. This game is available on mobile devices and supports Android and iOS software.
How to Get Started?
Like any other app, you need to download Dice Royale on your device. You can download it on either Android or iOS system devices. Then you need to register your account.
You need to provide your username, email, password, phone number, and other details. Then you will receive a confirmation email to confirm your email address.
You can also sign in using your Facebook account and if not, you can join as a guest. If you join as a guest then you can not cash out your earnings.
How to Earn money?
You just have to roll dice on your gameboard. After registration of your account, you are given 40 rolls. Every thirty minutes you are granted one roll. You can play the game as long as you like but you should have rolled.
You also should require a stable internet connection or enough data plan. There are frequent ads you cannot skip. So, in order to run these ads, you need an internet connection.
If you try to skip these ads then you could not advance in the game. To play the game, you have to roll your dice on your gameboard and your game piece starts moving.
Then depending on which space your dice lands, you will earn points or cash. You can also play mini-games like smashing the egg and spinning the wheel. You can also earn by playing these games.
Smashing the egg is useless but spinning the wheel is based on your luck.
How does the company Pay?
You need to earn points and cash by playing the game.
But gaining these cash and points is not so easy. According to our sources, you can earn up to $9 very easily. Then the game begins to get harder. Reaching up to 10 dollars seems to take months.
You will no longer be landing on winning spaces. You will be stuck at $9.25, $9.36, $9.5, $9.75, $9.99 very frequently. Most people say that the algorithm has been set in such a way that reaching $10 seems impossible.
Playing mini-games also does not help. Smashing the egg is useless and spinning the wheels also does not give you cash. Reaching 5000000 points is also very difficult. This seems like a lot of points to achieve.
You can only earn a few hundred points if you give more time to the game.
Minimum Payout and Payment Method
You need to earn at least $10 or 5000000 points to redeem your money. You can redeem your cash and points through your PayPal account.
Pros and Cons of DiceRoyale?
Pros:
Free to play
Easy to play
Earns you money
Freerolls every 30 minutes
Play as much as you have rolls
 Cons:
Negative reviews
Higher threshold i.e., $10
You will be struck at $9
An algorithm is not random
A high level of patience required
Dice Royale Review: Scam  or Legit
This is not a fast earner app. This app seems to be a scam but it is not. This app pays but you will require more patience to get paid. This may take many months to reach $10 but when you do you will get paid.
Dice Royale has an excellent rating of 4.9 out of 5 in the trustworthy Trustpilot
I do not recommend this app as the primary source of income as you can make only $10 takes your months of time but if you just want to have fun then you can use it.
The games are easy. You can play these games on Android and iOS platforms.
If you want to earn as a product or app tester or reviewer you can check our review of Enroll App in which you can even earn from your mobile.