What is Lucky Popstar?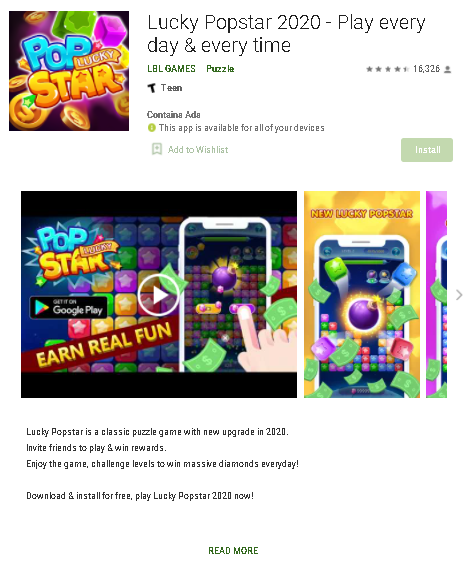 Lucky Popstar is a popular online network that pays its workers for playing games and earning points which can be later redeemed for cash.
You have to link popping stars in order to win the prize and earn points. The game is extremely fun and addicting to play. However, you can only play this game if you have an Android phone.
You can download the game from Google Playstore and play from wherever you are as the game is available all around the world. The game has stages in which each stage you have to reach a target in order to earn points.
Later you can redeem those points for cash and withdraw via your PayPal account.
How to Get Started?
You have to download the game via the Google Play store and install it on your Android device. After installing the app, you have to register your profile. You have to enter your username, name, email address, and password.
After completing signing up you have to enter your referral code. The site will gift you 300 points as a welcome bonus after providing a referral code.
How to Earn from Lucky Popstar?
In order to play the game, you have to earn points by just logging in every day. After completing enough points you can play the game as long as you can until your accumulated points are finished.
You can also watch ads to earn points daily. At the bottom of the page, you can find a banner with Ad return over it which you can click and earn points. You can also find out how many ads you can watch and earn play points that are needed for playing games in this app.
The other way of earning points in this app is doing random tasks available in the app by clicking the tasks button at the bottom of the application. There are two tasks Big Win and Top Tasks.
You can win over 9000 points by completing the tasks according to the instructions. The other section is the Top App section where you can play the games of single developers and earn accumulated points from each game.
The app also provides a spin the wheel game for winning a few extra coins which are based on luck but you will eventually win some coins by spinning a wheel.
How Can You Earn from Site?
Basically, all you have to do is earn coins by doing various tasks on the app.  You can either play games, watch videos, or do some tasks and the points accumulated will be distributed in your account.
You can redeem your collected points in the form of cash after reaching a certain amount of points.
Minimum Payout and Payment Method
You can only redeem your payment via PayPal after reaching 150,000 points which is equivalent to $5 and 250,000 for a $10 payment. The site also has options of redeeming your points through Google Play Card which you can use to buy items from the Google Store.
To withdraw your cash you have to provide your valid PayPal account when you are filling your profile. You cant change your PayPal address so be careful while registering first.
Pros and Cons of Lucky PopStar
Pros
The site is legit and pays its gamers and there are many payment proofs on the Internet regarding the app.
You will love the games because it is very addicting and fun to play.
There are various things to do in the app like playing games, watching ads, completing tasks, etc.
You can redeem your points through PayPal which is easy and accessible for many people.
Cons
The app has complaints of the game abrupting suddenly and losing all your progress.
Sometimes the ads, bonus wheels, etc do not work which makes it harder to earn points.
There are various technical and other errors in the app that constantly hinder gamers' progress.
You have to generate 150,000 points for withdrawing cash which may take an incredibly long time to earn.
The site only has options of PayPal for withdrawing your earnings which is not accessible for everyone.
Conclusion: Lucky Popstar Review
After doing Lucky Popstar Review, it can be said the app is legit and pays through Paypal but there are many flaws in the app. You will have to earn a very large amount of points to withdraw your earnings.
But nowadays some of the ways of earning points in the app such as watching ads, spinning wheels have stopped working completely. You have to play games for a very large amount of time and sometimes your progress won't be saved due to some technical error.
There are many other apps that you can play and earn some decent passive income and not have to worry about losing the progress of your earnings.
Before you leave you can check our review of Opinion city and find out if you can earn cash by just giving opinions or feedback.