Hello and welcome to my honest Dabbl App Review.
Many people are looking for an online job for earning some extra cash. Actually who does not want some extra cash but people often are skeptical about whether to invest their time on those sites.
What if those sites are scam and you have wasted your time.
Well if you are concerned about those things and want to find out whether the Dabbl app actually pays or not, you have come to the right place.
I will provide you the details regarding the Dabbl app so that you don't have to think twice to work on the app or leave it as it is.
Today I am going to cover what the Dabbl app is, how you can join it, how you can earn from the app, how can you redeem your earnings, and the most important part of them all does this site really pays.
So let us begin.
What is Dabbl?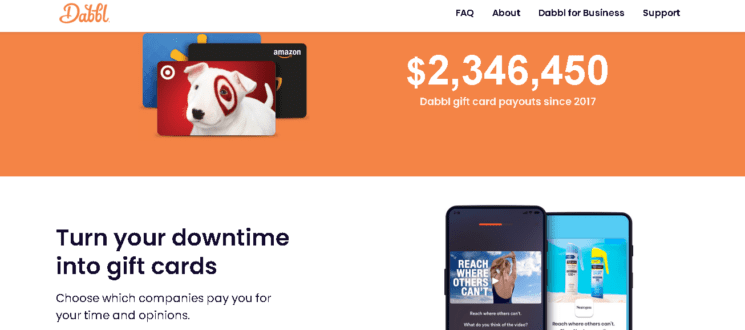 Dabbl App is an online money-making application that allows users such as yourself to make some online cash just by doing some basic tasks like taking surveys, watching videos, playing games, answering quizzes, etc.
This app can be downloadable on IOS and Android mobile devices.
The main drawback of the app is only US citizens can download the app and users have to be 13 years or older to run the app and earn from it. So users with legitimate US phone numbers are eligible to earn from the application.
The application was created by a mobile advertising company called Adjoy. Previously the application was known as Adjoy but all applications under Adjoy's name changed their name into Dabbl.
Dabbl has become one of the most lovable applications because it tended to pay its user for doing certain tasks.
You can also be interested in RadioEarn Review where you can earn money by just listening to some music.
Now take a look at how to join the Dabbl app.
How to Get Started on Dabbl?
Dabbl cannot be joined from its website instead you have to download its application which can be found on Google Play for Android phones and the App Store for iPhones. After downloading the app users can now register in the app by their phone number and their age.
Users have to verify their information before starting the application. The app will send you 4 digits on your registered phone number which should be typed in the screen to verify the phone.
You must be careful before downloading the Dabbl application because other companies use the same name such as radio sites and investment companies. After verification of the phone, users can get various tasks right away to earn the money.
However, I recommend you to enter your full information such as name, email, and password so that it will be easier to withdraw your payout.
How to Earn on Dabbl?
So after verification of the phone, you are now all ready to start earning. Basically, there are 4 ways of earning from the Dabbl app. They are
1. Take Surveys
Surveys are one of the easiest ways of earning from the Dabbl App. Their surveys are easy, short, and can be completed quickly. They also don't disqualify from the survey, unlike other survey websites or applications.
These surveys are called Premium Surveys. Premium Surveys have 3-6 questions which pays $0.01 to $0.05. However, there are also Offer Surveys which pays higher than this amount.
But to earn from offer surveys, users have to qualify for the screening questions which are based on the user's location, sex, or marital status.
There is a high chance of not qualifying in these surveys but the survey app will still credit $0.01 on the account of the users. However not every disqualified survey will credit the said amount.
You can choose the amount and survey of premium and offer survey before completing it and earn according to your wish.
2. Completing Offers
Completing offers is the best way of increasing earnings on the Dabbl app. These offers pay higher than any other tasks in the application.
Some of the offers are downloading and installing the apps on your phone, signing off for a new website, and answering questions after watching videos.
Generally, these offers are up to $1 in value as well as provide users with discount coupons that can be used to buy the items from this application.
3. Watching Videos
The application provides users with short videos to watch which are generally ads or commercials of their clients' brands. The videos are normally 10 seconds to 30 seconds long. Each video provides 10 points that can be converted into cash or gift cards.
4. Referrals
Referrals are also one of the easy ways of earning on the Dabbl app. Each user is provided with an individual referral link that they need to share on their social media or blogs.
If another person signs up via the original users' link, he/ she will receive $0.25. However, to qualify as the referral, the person has to at least complete one task or one offer.
Minimum Payout and Payment Method
Users earn points for every task they complete. Every 1000 points are considered $1.
So users have to earn 5000 points which is equivalent to $5 to redeem the earnings which means $5 is the minimum payout of the Dabbl application.
However, users can only cash out their $5 in gift cards and not in cash or any other wallet.
The gift card of Walmart, Amazon, Disney, Target, etc are offered by the application along with other 20 brands which users can choose from.
Users can apply for withdrawing of their earnings after reaching 5000 points and their gift card will arrive at their respective E-mail address within 24 hours of applying.
Pros and Cons of Dabbl
Pros
The app is legit and pays its users.
Quick and easy to use.
Very good customer service and customer support.
Very beneficial discounts and offers.
Users can redeem their gift cards within 24 hours after reaching a minimum payout threshold.
Cons
Only available to US citizens.
Redeeming of earnings is only available via gift cards.
Amount earning related to the task is very low.
Takes a long time to reach the minimum payout.
Various complaints about banning the users for cheating or proxy.
Dabbl App Review: Legit or Scam
Dabbl App is one of the legit applications that pays its user for just taking surveys, watching videos, and completing offers.
However, as we have discussed earlier only citizens of the USA can earn from the application.
The users must be aware that it takes some time to reach the minimum payout rate to redeem the earnings.
Dabbl is one of the legit and trusted app with 5-star ratings from the trusted Glassdoor website.
Hence I recommend the users to give this application a try but only as a means of passive income and don't make it a primary source of your income.
Other than that if users like a gift card then this application is for you as this app only pays via gift cards.
Why don't you check out our 10 best ways to get paid to chat online before leaving and discover yourself a new way of earning online by just chatting.