Hello and welcome to my Cash Fiesta Review
Earning money online has been easy, popular, and in the trends due to people wanting to earn money easily and from the comfort of their homes.
However, with the growing reputation of earning money online sites, there are inevitably many sites that scam people for their money or completely waste their time.
These scam sites really discourage other people from trying to earn online and send false rapport among general people. So before trying any new earning site on the Internet it is essential to do some important research.
Among all the earning sites, one of the popular earning sites is Cash Fiesta which pays by doing some easy simple macro works.
However, you want to know if the site is legit or a scam so without further ado let us get started.
What is Cash Fiesta?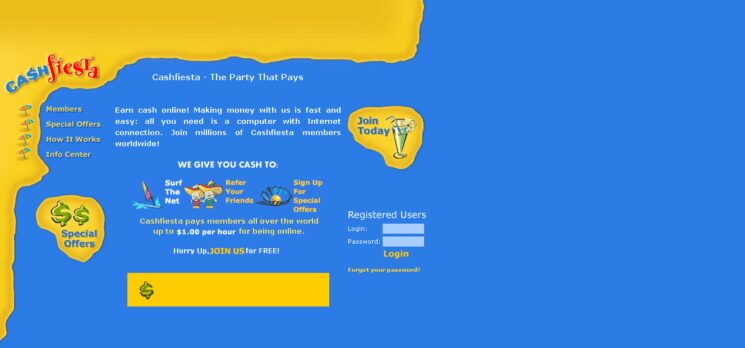 Cash Fiesta is a popular online Get Paid To(GPT)  network where the site pays workers to do some simple tasks. The site calculates the reward for your tasks as points and awards you which you can redeem for real cash.
You can earn points by doing some simple tasks such as displaying ads, signing up for special offers, referring friends, and watching videos.
How to Get Started?
You have to first sign up for the site. You can sign up from their website by providing your relevant information and verifying your email address.
However to earn you have to download and install the program called Fiestabar in your internet toolbar. You can run the program while surfing the internet.
You'll see a small figure on the toolbar walking back and forth which makes it easy for you to understand if the program is running or not. To run the program smoothly, you have to accept all the cookies.
How Does it Work?
After signing up for the site, you can search for various tasks on the site and complete them. Once you complete the task the site will reward you with the accumulated points of the task once the site verifies if you completed the task.
You can also earn from Fiesta bar. When there are ads on the site, the bar turns green and if there are no ads the bar goes into sleep mode. When the bar is green you have to wake the bar by hovering the mouse over it.
Now you can watch those ads. and earn some extra money as well.
How Much Can You Earn?
The earnings from the site depend upon your tasks and activities. There are few ways to earn on the site that you can take advantage of. You can earn from 10 cents to 50 cents per task completed and depending on how quickly you finish it.
You can request you're earnings between the 1st and 15th of every month. However, if you don't it will be transferred to the next month where you can request again.
It is not easy to exactly pinpoint how much you can earn but the site is GPT where you can earn by multiple tasks. However, the site cannot be used as only or active source of income but it can become one of the best options for passive sources of income.
Is there a Referral Program?
There are two types of referral programs that are a direct and indirect referral. The site will pay when you invite a person and he clicks or signs up for the site.
But if your referral invites a person and he signs up you will also earn a percentage of his earnings which is called Indirect Referral.
Cash Fiesta has an unusual 8 tier referral system. You'll earn 15% from your direct referrals, 7% for the second level, 5% for the third level, and the rest of the levels you'll earn 3% from your indirect referrals.
Minimum Payout and Payment Method
The minimum payout that you must earn before withdrawing your earnings is $5. You can request your payments between the 15th of the month and if you cant reach your threshold the site carries forward it to the next month.
The site redeems your payment via PayPal immediately which you can receive after 3 days of processing for the payment. However, you want to receive your earnings via cheque then it can take up to 1 week or 10 days for them to be processed.
The workers will be responsible for tax and other duty so inquire with the company and also your legal advisors after receiving payments.
Things You Should Know About CashFiesta
The site pays some members to show that it is legit but many of its workers are unpaid which really means the site is a scam and will completely waste your time.
It wants you to download and install software that Antivirus or Security does not recommend. The software can be malware, virus anything which in return can damage your computer.
It is unrealistic that the site pays $1 for just downloading the software and installing it to its 1 million workers as it claims. This clearly highlights something about the site that is not good.
Conclusion: CashFiesta Review
After the detailed CashFiesta Review, I can easily conclude that the site is definitely a scam. It pays some of its users to show the legitimacy of the site but they don't pay many other members.
There are many complaints and bad reviews of the site in prestigious rating sites like TrustPilot which has provided just 1 star out of 5.
Hence I strongly urge our workers to avoid this scam site and find other legit sources of earning opportunities online.
If you are looking for more options in regards to earning money online. Check our ideas and guide by clicking the link.