There are lots of survey sites that you can earn money online from. Today I am bringing you a new site called Survey Squad.
Is Survey Squad another legit site or just another scam?
In this Survey Squad review, we will be learning about how to join the site, earn from it, and how you can withdraw from the site.
What is Survey Squad?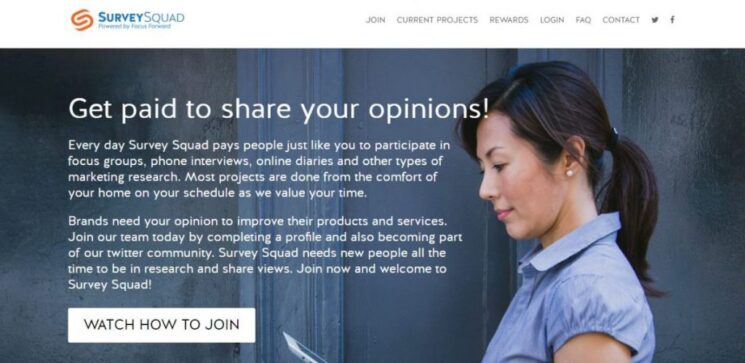 Survey Squad is a website where you can earn money for completing paid surveys and participating in in-person interviews.
This website is owned by Focus Forward which is a legit company.
Key Introduction:
Application – N/A
Founder – Focus Forward
Founding Year – N/A
Desktop or Mobile Platform – Both
Payment rate – 1000 to 5000 points
Payout Method – Check
Getting Started?

Joining Survey Squad is free and easy. When you visit Survey Squad: Paid Surveys, Paid Focus Groups & Phone Interviews you will see the join option on the home page.
Click get started on the join page and it will redirect you to the registration form.
Fill in your email address, password, first name, last name, gender, date of birth, state, and phone number.
You must agree to terms and conditions and privacy policy before starting.
Survey Squad is available only in the United States.
How To Make Money From  Survey Squad?
After registering your account, you can sign in and start doing surveys and participating in in-person interviews.
Completing surveys is the main way of earning money in Survey Squad. You have to create your profile and update it regularly.
You will not be rewarded for completing it and it is a long process as well.
But you must complete it to get many surveys with decent pay rates. You will receive surveys through email.
Your email will contain an invitational link to the survey you will be taking.
But before taking a survey you have to answer a set of pre-qualifying questions and you have to qualify to answer the survey. If you do not qualify just wait for other surveys.
Another way of earning in Survey Squad is by participating in in-person interviews.
You will receive an invitation through email and the interview will take place in their office or over the phone.
This is a great opportunity as it pays a high amount so if you ever receive this opportunity just grab it right away.
If you like a new survey site then check our ViewFruit Review.
How Much Do You Earn from Survey Squad?
For completing a survey, you will earn 1000 to 5000 points. They are basically $1 to $5 per survey. You can also win more rewards through Sweepstakes.
You need to qualify and complete a survey to receive an entry in sweepstakes.
Winners will be selected at random and there is a grand prize of 250000 points, the First Prize of 100,000 points, the second prize of 50,000 points, and a Third Prize of 25,000 points.
If you are selected for an in-person interview then you can earn around $100 to $300.
Minimum Payout and Payment Method?
You will be paid through US dollars in Survey Squad. 20000 points are equivalent to 20 USD.
The payout gateway for this website is through Check. The minimum payout threshold is higher that is 20000 points.
You can also donate your earnings to Michael J Fox Parkinson's Foundation or Susan G. Komen Breast Cancer Foundation.
FAQs:
According to Survey Squad, some of the frequently asked are as follows
I've been a member, but never get picked to participate in a study.
First, we suggest that you increase the number of studies that you apply for by joining our Twitter following and being the first to hear about all projects. Many projects fill very quickly!
Secondly, there are times when your answers will not meet the criteria needed for a particular study.
Our industry clients set specific requirements for each study they conduct, and we rigorously screen participants to make sure that we meet those requirements.
Finally, fill out all applicable profiles on your Member Account page. The more information we have about you, the easier it is for us to find studies where you are likely to qualify.
Why can't I change my answers or complete a survey I started?
Once you have started a screener or survey, it cannot be reset or redone.
This is a safety measure put in place by each client company to ensure that only qualified candidates participate in the studies. We cannot allow individuals to retake surveys.
We recognize that sometimes an answer is chosen in error, computers malfunction, and interruptions occur.
Unfortunately, in these cases, we are still unable to allow retakes. Hopefully, you will qualify for the next study available to you!
How long does a survey take to complete?
The time varies from survey to survey. The average time is 15 minutes.
Throughout the survey, there will be a status bar letting you know what page you are on and the total length of the survey (in pages).
How do I update my personal information or change my e-mail address?
Simply log in and go to the "My Account" page. There you will find the enrollment survey that you initially completed.
Feel free to edit your account and all changes will be saved when you submit them.
Where can I follow up if I did not receive my incentive?
If more than 8 weeks have passed since you finished the project, please reach out to [email protected]. Please include:
Study number
Dates of the project
Amount of the incentive
Your contact information
Also, add anything else that you think might be helpful so we can track down the incentive. You will hear back in 2 business days. Thank you for sharing your opinions!
If I do not pass the pre-screen questions of an online survey, do I still earn an incentive?
No. Only completed surveys will be paid the incentive.
Inspection of Safety:
SSL Certificate – Valid (Issued by GoDaddy.com, Inc.)
Owner – Focus Forward
Date of Foundation: N/A
Customer Support – Decent
Contact Link – Contact | Survey Squad
Privacy Policy – Privacy Policy.
Pros and Cons of Survey Squad?
Pros:
Survey Squad is easy and free to join
The pay rate per survey is high
The customer support is decent in Survey Squad
Cons:
Survey Squad is available only in the United States
The payout threshold is high in Survey Squad
Survey Squad pays only through check and not from PayPal
Survey Squad: Legit or Scam
Survey Squad is not a scam and it is recommended to join. There are decent earning opportunities as the pay rate is a bit higher.
The payout threshold is however high but you can reach the threshold easily if you are getting surveys continuously.
If your profile does not match or if you do not qualify for the survey then it will be difficult for you to earn anything on this website
Thus, you can join Survey Squad as it provides good earning opportunities with a decent pay rate.