Sharing your unused bandwidth to the PacketStream proxy network and making money doing almost nothing sounds fun. Right?
But the real questions are:
Can you really earn money using Packetstream?
Can it really become your passive source of income?
Well, you are in the right place. In this PacketStream review, I'm going to cover everything about this network.
If you are interested to learn more ways to make money online, then don't forget to check more posts on my site. I've shared all the legitimate ways to make money online for my readers.
Now, let's get back to the topic:
What you will learn in this Review:
What is Packet Stream?
How to sign up and get started!
Pros & Cons
Payment Method & Earning Potential
A complete Review of this network
So, without further ado, Let's Get Started:
What is Packet Stream?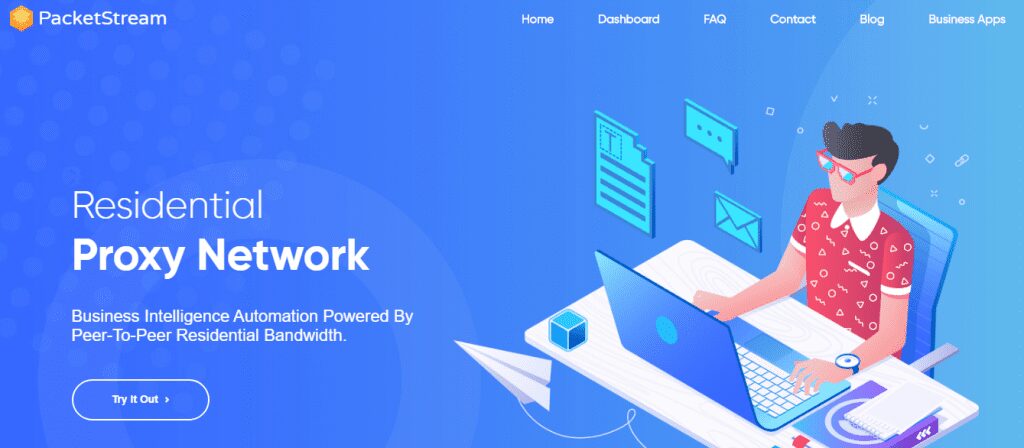 Packet Stream is a peer-to-peer proxy network that allows its users to sell their bandwidth to people who can browse the internet without worrying about privacy.
In Short:
You can sell your bandwidth and make money using PacketStream. One of the alternatives to PackStream is called IpRoyal which also operates on the same business model.
It's easy to make money with PacketStream as all you have to do is install the PacketStream software on your computer and allow it to use your bandwidth.
Sounds cool… Right?
Well, let's learn how to get started with it.
How To Get Started?
In this section, you will learn how to sign up and get started with PacketStream.
First, you need to create an account on PackStream. Click here to sign up.
Once you sign up, then you will be greeted with the page below: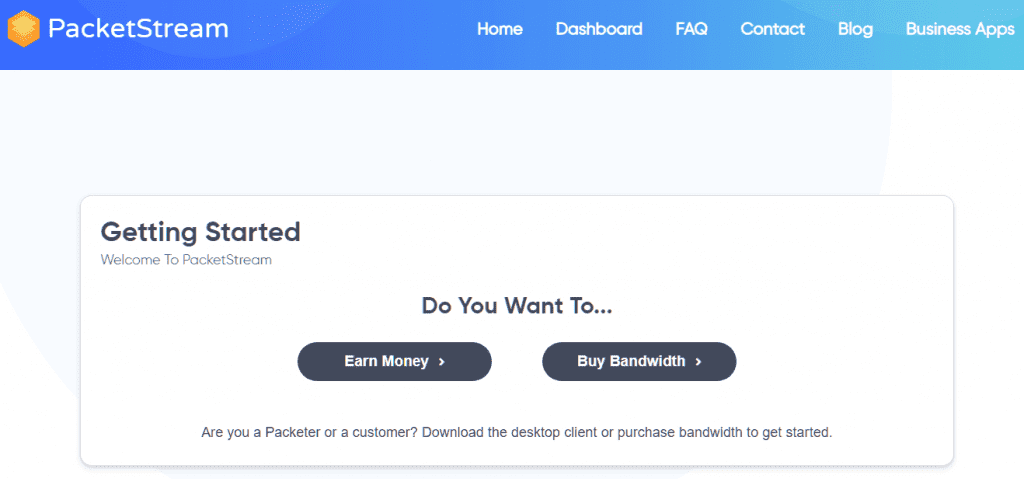 If you want to earn money through PacketSteam, simply click on "Earn Money". And if you planning to use PacketSteam to Buy Bandwidth, simply click on the "Buy Bandwidth".
I guess most of my readers want to earn money through PacketStream, so let me explain how you can earn money through PacketStream.
Once you click on the "Earn Money" button, you have to download Packet Stream software.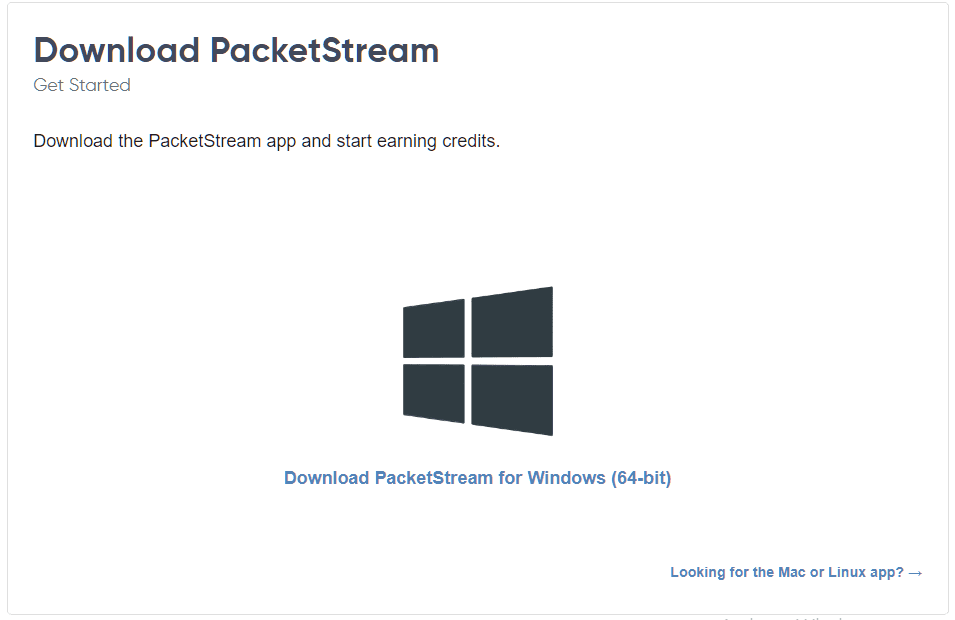 Once the PacketStream app is downloaded, you have to install it on your computer.
Then simply log in with the details you used while signing up for PacketStream.
That's it. PacketStream will start running in the background and sell your bandwidth to its buyers and you will keep making money.
Features
Here are the main pros of PacketStream:
Minimum Cashout threshold, which is just $5.
Available for Windows & MAC users.
Passive Income Model. You don't have to put in any effort. Running the PacketStream app in the background will make you money.
Available worldwide.
Payment Method
PacketStream pays its member through PayPal. And the minimum payout threshold is $5.
How much I can make with PacketStream?
PacketStream pays $0.10 for every 1 GB shared bandwidth. If you have a fast internet speed, you can expect to earn money fast. To make $1, you have to share 10 GB of bandwidth.
If you want to earn more money from PacketStream, you have to keep the PacketStream client running on your computer.
That's the only way to maximize your earning.
During my research period, I was making $0.20 per day. And I think the only factor limiting the maximum earning is less demand for bandwidth.
The bottom line is:
Don't expect to make big with PacketStream, You can earn at least $15 to $30 with PacketStream every month.
PacketStream Review
PacketStream is a legit network which you can use to earn passive $15 to $30 every month simply by allowing it to use your bandwidth.
However, PacketStream may slow down your computer or internet speed as you have to keep the PacketStream client running in the background.
If you are okay with it then PacketStream is the perfect fit for you. I hope you guys get what you were looking for after reading my honest PacketStream review.
If you still want to know something I missed in this post, feel free to ask in the comment section below.