I am always fascinated by the passive income idea or 'make money even while you are sleeping concept'.
After managing several online businesses and so-called passive income sources, I've realized that there is nothing called the passive source of income.
And the reason is I had to spend a good time every day to check if everything is working right
On top of that, I had to do some small tweaks here and there which completely debunked the automated passive income ideas.
But I've stumbled upon these bandwidth-sharing networks that pay money which is technically a passive income.
You can't earn a job quitting kind of money but still, you can earn some passive income which is great.
If you have a good bandwidth then you can just let the app or software do its work and you can, in fact, earn passive income.
One of those sites is called IpRoyal which I a reviewing in this post. I will be sharing everything about this site so you can decide whether to join this site or not.
So, let's get started:
What is IpRoyal?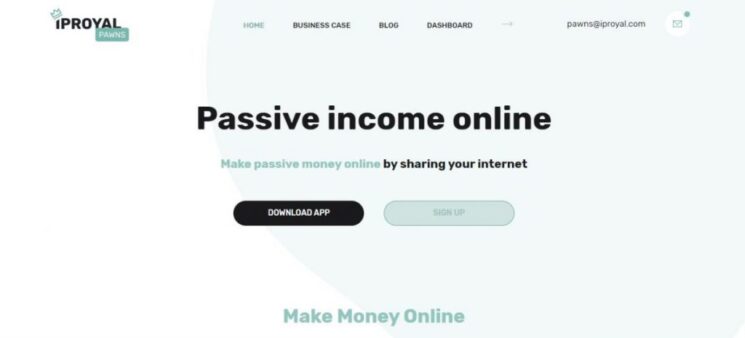 IP Royal is an online earning application that actually allows users to make or earn money online just by sharing several parts of their internet bandwidth.
It is a great alternative to another similar network called PacketStream which also pays you to share bandwidth.
But:
The best part of IP Royal Pawns is that they are quite clear about how their real Website works.
They also provide the details out front on their endorsed website. This is to rent out user's idle network connections to rank partners.
Sign up now & Earn up to $140 per Month
How to join IProyal?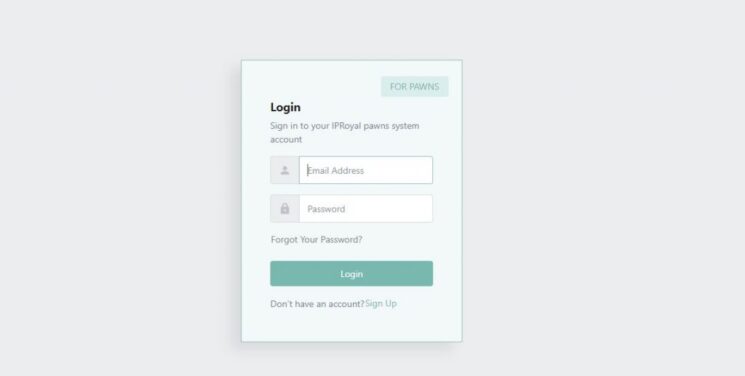 Wherever you live, in whichever corner of the world, IP Royal Pawns is definitely not concerned with your location.
If you have a good or high-quality internet connection, they can easily and happily work with you.
To get started, visit IpRoyal.com and register your account for free.
After your registration on the website, you will finally receive an email, you have to confirm your Email. And then, congratulations your Account is finally ready to earn money.
You can log in to your account and then download the IP Royal Pawns Application on your computer or laptop.
After downloading the application, open the application and then log in to your account.
Who can Join IProyal?
You must be at least 18 years old or more to use it.
You must have a PayPal account otherwise you cannot withdraw the cash you earned.
How to Work in Iproyal?
The people who use this website get money for their surplus data, and the companies also perform their daily online tasks super efficiently.
IP Royal Pawns also acts as an arbitrator which helps the users to earn real money from their partners by charging some charge for themselves first.
How to Earn from IpRoyal?
If you are happy and satisfied with all the terms and are ready to start making money online, this section is especially for you.
Sign up and run the application.
Share and earn Commission from this application.
How do IPRoyal Pay?
This application called IP Royal has a minimum withdrawal of the amount of $1, which you can easily withdraw from your PayPal account.
Then you can finally transfer this money to your actual bank account from your PayPal account.
As you may already know, you can easily create your PayPal account, if you are 18 years old or more.
You can then withdraw your funds as soon as possible when you reach the minimum payment threshold which is $1.
In this application, how much you get paid actually depends on the megabytes (MB) you share on that following platform.
Each MB will earn you some points on this particular application. You can also earn $1 by sharing 5 GB.
It also depends on your bandwidth connection's quality and speed. The application will use about 150 – 500 MB for each day. Also for more advanced users, the internet connection which they share can go up to 1 GB too.
Though, users don't really need to worry about the application draining up all their internet data. This will actually only use up to 10% of their limited data according to what their network is.
This application also charges some service fees, which will actually be abstracted from your real payout amount.
The fee amount also varies depending on your country of origin is. If you live in the United States, the platform will also charge 2% of your actual earnings.
You also don't have to do much except just for signing up and running the application on your device. You don't have to do anything after that.
Pros and Cons of IpRoyal
Pros
  It is very simple to use.
 It has a good affiliate system.
 The minimum payout threshold in IPRoyal is only $1.
Cons
It pays a very low amount of money.
The payment can only be withdrawn through PayPal.
Conclusion: IpRoyal Review
After the detailed IpRoyal Review, we can conclude that the site is legit. However, this application can't and can never make you rich.
But it can give you some pocket money by doing nothing, which is actually amazing.
The minimum payout threshold of this application is very low, i.e. ($1), which also means that you can easily achieve their minimum payout threshold.
If you are super serious about your privacy, I will actually recommend you to just avoid this application.
Sign up now & Earn up to $140 per Month
Thank You for checking our review, if you like to earn some money and stay fit check our SweatCoin Review.