What is LiveMinds?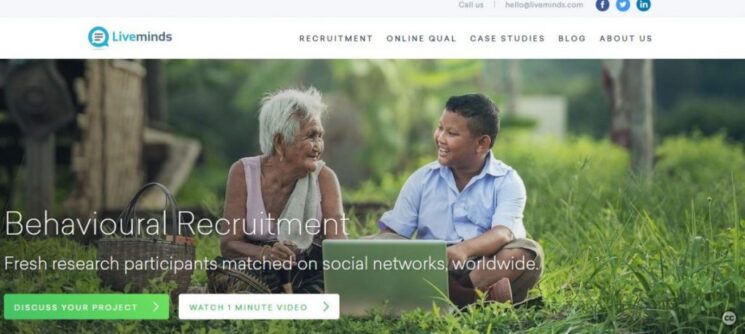 Live Minds is a website where you can earn money for gathering human behavior data. You can earn money by surveying various data.
Normally other survey sites like Bizcoin surveys where the company pays for the opinion and data regarding various products.
However, on the Live Minds site the topic of research in humans and their behavior.
How to Join LiveMinds?
Joining LiveMinds is difficult. When you visit the Liveminds site there are various aspects you can join live case studies, recruitments, online quals, etc. but joining them is not so easy.
You would not find any login and sign-up options in Live Minds. You are through other means like Facebook, Twitter, and other platforms. Just follow their Facebook page and then you may find some surveys.
How Does it Work?
After following the Facebook page, if you see ads frequently then it means that they think you are the best match. The interest in ads also determines the type of survey you will be receiving.
If you find a survey, click on it and you will be redirected to a new page. The page consists of all information related to the survey like what the survey is about, its pay rate, time limits, and other details.
You can also find the 'Go to Questionnaire' button. Click on the button which will redirect you to the pre-screening questionnaire. This is also the basis of your selection so answer it honestly.
At the end of the questionnaire, you will find out of you are selected or not. If you are selected then the next step awaits but if you are not selected, find out the next survey to take part in.
If you are qualified for the survey then you will have to provide all your account details. Also, you have to download the Live Minds App on your mobile device and log in to answer the survey.
After completion of the survey, you will be paid.
There are also other survey sites that you can earn from which we have listed in the article below:
 How do Liveminds Pay?
The pay rate of each survey will be shown in the details of the survey you receive. But first, you have to qualify for the survey.
Once you are qualified then they will be paid in US Dollars but for European countries, they will pay in pounds.  Most of the review has a pay rate of more than 10 sterling pounds. The pay rate varies from survey to survey.
Some of the other popular Survey sites to earn money are
Minimum Payment and Payout Method
You will be paid through Pay Pal or direct bank transfer. But according to the website, the payout threshold will be made directly to your account once the survey is completed.
You will be paid in your PayPal account within 10 working days after the completion of the survey. So, they may ask for information like bank details or a form of identification.
Pros and Cons of LiveMinds
Pros:
There is no payout threshold on this website
You are paid through PayPal and direct bank transfer
Each survey has a pay rate of more than 10 sterling pounds
It is free to join Live Minds
Cons:
There is limited earning opportunity in Live Minds
LiveMinds is difficult to join
You have to constantly check Facebook pages
It is difficult to be selected for a survey
 Conclusion: LiveMinds Review
LiveMinds is not a scam where you can earn money for gathering human behavior data. You will be paid in US Dollars or sterling pounds based on your location.
They do not have any payout threshold and directly pay after the completion of a survey.
LiveMinds is legit but is only recommended for secondary earning. The pay rate is more than 10 sterling pounds for each survey but, the opportunity of receiving a survey is low and also provides you very limited earning opportunities.
This website is not easy to join and you should constantly check the Live Minds Facebook page to earn earning opportunities.