If you are looking for ways to earn free gift cards online, then you may have stumbled upon an app called Rewarded Play.
The app claims that users can earn real gift cards by playing games for free and the app is very popular with thousands of installations.
But is Rewarded App safe to use and does it really pays? Well, I've written this detailed Rewarded App Review to answer all your questions regarding this app.
After reading this review, you will exactly know what actually Rewarded Play app is, how it works, how much you can earn, and my honest opinion regarding this app.
So, let's get started:
What is Rewarded Play App?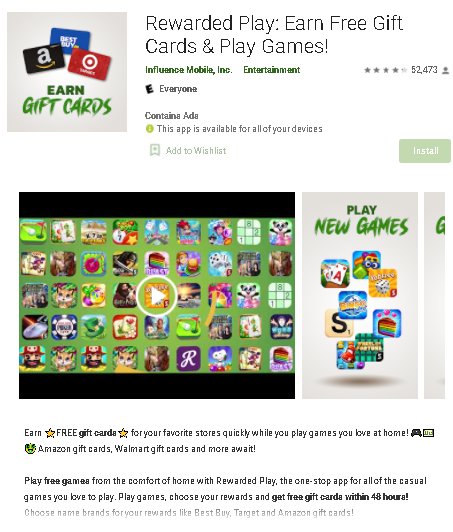 Rewarded Play is a free Android app which allows its users to earn free gift cards for stores such as Amazon & Walmart by playing games.
The app is created by Influence Mobile, Inc who is also the creater of apps like Beauty Rewards, Football Rewards and Racing Rewards.
Rewared App is available only on Android phone and it pays its users for downloading and using sponsored games.
You will earn points for trying the game. The earned points then can be converted into cash and various rewards.
How to Join Rewarded Play App?
First, download the Rewarded Play App on your Android device. It supports only Android OS so you can download this app from Play Store.
But this app is not available in App Store as it does not support the iOS platform.
You can sign up through your email id or Facebook. You will have to verify your phone number to activate the account. Once your account will be activated and you will be able to earn money and rewards.
This app is only available for Canadian and United States residents to earn. You will also have to at least 18 years to join
 How Does it Work?
After downloading the app, you can earn points. The points are in the form of coins in Rewarded Play App. The coin allows you to gain rewards outside of the platform.
After you join the app, you will get access to a dashboard where you will find various selections of games that you can install and play in exchange for points.
Some games require an in-game purchase to complete the goals. After only completing a certain goal you can earn maximum points.
You will not only test new games but also can play different games. You can play Yahtzee, Wheel of Fortune, Mahjong, and Solitaire, and many more and earn rewards. These are free games you can play.
Your coins will be stored in your account until you reach the required minimum. When you're ready to exchange your points then you can exchange them for a wide range of gift cards.
Note: You can only earn points for playing new games. Make sure that you have not installed the app or games through other reward apps. You won't get a reward twice if you have installed the app from another site.
 How do you earn?
Like I already said that you can earn for playing sponsored games on your phone. You will be paid in coins which you can convert in cash or rewards.
You will find varieties of games in your dashboard. Each game offers you different points. They offer you a hundred or thousand points or even a million points.
But keep in mind that these points are the maximum points you can earn by completing all the goals.
You can also earn the daily login rewards. It varies according to the days. Your login bonus increases for logging in Reward Play App for consecutive days.
How Does the Company Pay?
The minimum payout threshold is 45,000 points for Rewarded Play App. $1 is almost equivalent to 9000 points. Thus, to redeem a $5 gift card you will require 45000 points.
You are paid through gift cards of Walmart, Amazon, eBay, and other popular online shops. But you will be paid in coins initially. You can use those coins to buy products at Walmart, or shop for gadgets, snacks, and books at Amazon
Note: Rewarded Play App is available only in the United States and Canada.
Pros and Cons of Rewarded Play App
Pros:
Pays you through gift cards
It is free to download
Rewarded Play App is easy to join
A fun way of earning by playing games
Cons:
It is available only in Canada and United States
The minimum payout threshold is high
Not available for desktop
Does not pay you through bitcoins and PayPal
Low pay rate
Conclusion: Rewarded Play App Review
Rewarded Play is a legit app that pays its users. The app has a whopping 5 million+ downloads and has received 4.3 star ratings of 63k+ users.
It is GPT app which allows its users to earn money and gift cards for playing sponsored games on thier phone.
And making money by playing games sounds fun but you will require a lot of patience to actually earn and withdraw your earnings.
The minimum threshold to convert your points into cash or giftcards is $5 which is equivalent to 45000 coins.
Your earning will not be constant as each game gives you a different number of coins and you can complete all goals to receive maximum coins.
This app is only available in the USA and Canada. So, it is not available worldwide for international users.
You can join Rewarded Play App as it is legit and pays. But you have to be patient so it is useful for side income only.
If you want full-time earning then this app is not for you.
Check out our review of Uniqpaid where you can earn from completing surveys and doing some easy tasks.