Hello and welcome to my honest Hybe.com Review.
There are countless ways of earning money online. And there are millions of sites that claim they really pay for doing some work online.
You can be doing some macro works, answering surveys, chatting to get paid, or even watching ads to earn money.
But you may or may not have heard of the site where you can purchase a mystery box but their value is higher than what you paid. Today I bring the Hybe.com website to you
Hybe.com is the platform where you can purchase goods. This is a fun and authentic way of purchasing goods and any customers from different parts of the world can purchase them.
But you may be wondering if this site really pays and it's legit. Well, you have come to the right place for your curiosity.
Today I am going to provide you with detail regarding Hybe.com which includes
what really is Hybe.com,
how it affects its customers,
who and how can someone join,
how they purchase the products, payment methods, and
most importantly it is worth your time.
So, let us get started.
What is Hybe.com?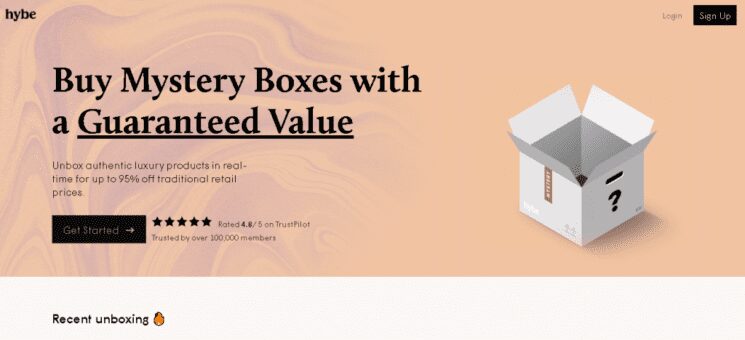 Hybe.com is a platform to shop online. It is available in many countries around the world. This platform allows you to unbox the virtual boxes that contain various products and ship them to you.
This is a fun and interesting way of shopping as the goods inside the boxes are mysterious and will only be known to customers once the box is unlocked.
How to Get Started?
You have to register your account on Hybe.com. It is simple to create your account. You can sign up using your Facebook account or through your Google account.
You can also give your email address and enter your details like username, password, etc. Then you will receive a confirmation email to verify your email address.
You should click the link sent in the confirmation email this will register and activate your account.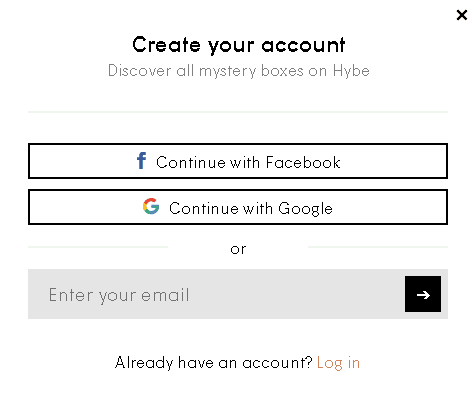 How to Work on Site?
First, create the account and then buy boxes. These boxes are called mystery boxes as there are thousands of products hidden in some virtual boxes.
Since this is a mystery box, all items remain hidden but it is guaranteed that these boxes contain authentic products. You have to pay to buy the boxes.
The value of items in the box will be more than 95% of what you pay. But to buy the boxes, you have to top up your account.
You can use Visa, Mastercard, Amex, G2A, and Pay safely as your payment option to top up your account. After topping up your account you can buy any mystery box and unbox it.
If you like the product you unboxed then you can ship it out but if you do not like it then you can exchange it for credits. If you want to ship out the product then you should first go to your cart and order your item.
Then you have to enter your location. Be careful as once you have entered your shipping location, it cannot be changed. You also have to bear all the shipping charges and taxes and tariffs that may be incurred while shipping.
Your item will be shipped as per the rarity of your product. It might take 3 to 20 days (depending on your location) to deliver higher rarity products and 7 to 90 days (again depending on your location) to deliver lower rarity items.
If you do not like the product then you can exchange them for credits. You can return your product through your Cart and immediately receive credits.
You can also refer your friends and get a top-up balance. For every $25 your friend tops up, you will receive $10. Your friend needs to register and top-up $25 or more.
You will receive $10 for your reward. You can also use promo codes to earn a certain top-up amount. This amount will vary so make sure you will be up to date.
Minimum Payout and Payment Method
Firstly, you have to top up your account to buy the boxes and receive your goods. You can top up using visa, Mastercard, Amex, G2A, and Pay safe.
If you order the app you also have to pay the shipping cost including the tax, tariffs, etc. So, all the costs are on you and nothing will be delivered freely.
You can also be refunded if your product is faulty. You must claim this within 30 days but the product must remain unused and you should keep the receipt of the product.
Pros and Cons of Hybe.com?
Pros:
A fun way of shopping
Contains goods from Gucci, Louis Vuitton, and other top brands
Swap unwanted products for credits.
Easy to join
Cons:
Higher price than market value
The consumer must bear all costs incurred during shipping
Goods are not delivered fast enough
Hybe.com Review: Legit or Scam
This site does not seem to be a scam. As per the users, they are receiving their products. You can shop through this website although the cost seems to be high it will be much more fun.
Shipping will also take more days and you will be charged with all the charges incurred during shopping like tax and tariffs.
Even though this site is legit, I recommend you to shop physically rather than virtually as it saves your time and some money as well.
But if you want fun during shopping you can use this site and it also provides you a range of good from Gucci, Louis Vuitton, and many other brands.
But before you leave, you can check our awesome review of the VeryDice app which helps you to earn money by just rolling a dice.