What is Cashoutpoint?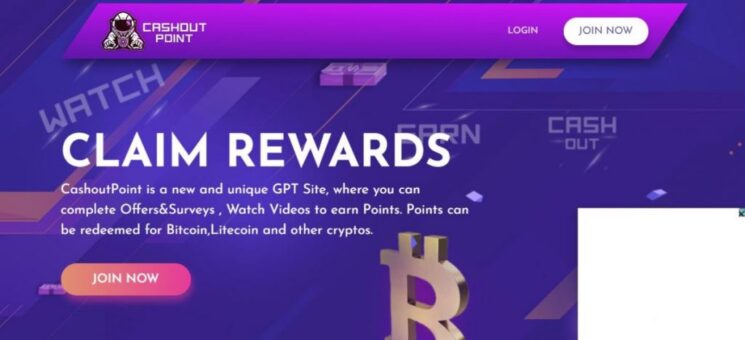 Cashoutpoint is a GPT website that pays its users for completing some tasks, offers, and also answering some unique surveys or opinions.
However, on this site, there is something extra that you will earn if you are at the top of their weekly leaderboard that they run and prize who completes the most tasks and offers.
Like every other GPT site, earning the money is completing more tasks and offers that you receive.
Cashoutpoint is just like another GPT site like DollarClix Review.
How to Join Cashoutpoint?
To join the Cashoutpoint, you have to visit the site and sign up on it. The site is available worldwide, but you have to be over 13 years old to actually perform any tasks on the site.
Once you fill the signup form, you will receive the email verification link. You will have to click the link and confirm your verification.
Once you verify, you can access your dashboard and start earning money.
How to Work on Cashoutpoint?
The basic work on the Cashoutpoint is to complete offers and tasks that have redistributed the amount of rate. Offerwalls are the basic collection of tasks that are needed to be completed to earn money or rewards.
Most of the offerwalls are watching videos, play a game, answer a quiz, provide your feedback or opinion, and signing up for certain websites as well.
You can also earn from Bonus Rave websites by signing up for the new websites.
After you access a dashboard you can view up to 26 offerwalls or tasks and earn a reward from every single task. However, you have to follow the exact instructions on every task to earn your reward.
After completion of tasks, you may have to even provide a screenshot as s proof to the client that you have completed the tasks by following exact instructions.
After completing a task you will receive the reward immediately however sometimes it may take some time to verify your work and earn your reward at the same time.
But you can view your completed offers from the offers hold a section of your dashboard.
Weekly Board
The weekly board is the scheme to win additional rewards when or if you become the week's top earners. The site pays you in the form of points which can be later converted into cash.
If you become third you will receive 3000 points, the second receives 2000 and the first one to be the top earner will receive 5000 points.
How does CashOutPoint Pay?
As mentioned earlier the site pays out through points rather than cash initially. However, you can convert the points into cash.
For every $1 you have to earn up to 1000 points which is the minimum withdrawal amount of the site as well.
However, the policy of the company has changed and you have to earn up to 2500 points to $2.5 for the withdrawal of the Paypal account.
Along with PayPal the site also pays you through cryptocurrency most importantly Litecoin. However, they don't use means of payment such as bank deposits or banker's cheques.
How Much Money Can You Make?
Well, the basis of earnings depends on the rate of completed tasks per day. The more tasks you complete the more you earn from the sites.
In a day there are up to 30 to 35 offerwalls that you can complete. Every task has an amount from $0.10 to $1 as well.
You can earn up to $30 per day if you are lucky however maximum you can earn may range up to $10 to $15 per day.
The site is not available on mobile so you are only limited to earn if you have a desktop and a laptop.
If you want to earn the money from other GPT sites you can join
Pros and Cons of CashoutPoint
Pros
The site has lots of ways to earn
You can earn from any part of the world.
The site also has options of withdrawing via cryptocurrency.
You can withdraw your reward if you have Paypal.
Cons
There is not much customer support.
You cannot earn if you only have a mobile.
The earnings from the site do not pay much.
Conclusion: CashoutPoint Review
CashoutPoint Review is a GPT site that is not a scam however it does not pay as much either. If you want to earn some passive income you can join the site but you cannot replace it with your actual job of income.
However, if you want an active source of income this is not the site for you as it pays way less than you hope.