GPT sites are an easy online site that pays for completing some offers, tasks, and surveys. Appkarma is a popular GPT site that provides different rewards for completing some GPT sites.
However, is AppKarma everything that promises, or is it just another hoax to loot your income?
Today in this AppKarma Review we will find out how you can join the app, how to earn from the, what are works available on the app, and how to withdraw your earnings.
So let's get started
What is AppKarma?
AppKarma is an online network app that pays the users for completing some basic online tasks on the internet.
In other words, AppKarma is a GPT platform however the platform is mobile-only or only has an application to complete the tasks.
The application was founded in 2013 by Andrew Lin who is the founder of another popular mobile app known as CashKarma.
Check out in detail Cashkarma Review.
This makes the process of completing tasks even quicker at any time and any place. They will provide you rewards in the form of Giftcards and PayPal.
There are plenty of tasks in the app so you may have good options to earn a decent amount.
If you are looking for other applications that you can earn some decent side income by completing exciting offers then check our detailed review of Cash Pirate.
Key Introduction
Application – AppKarma
Founder – Andrew Lin
Founding Year – 2013
Desktop or Mobile Platform – Android Mobile
Payment rate – $10
Payout Method – Paypal and Amazon Gift Cards
Getting Started
AppKarma is a popular GPT app on the internet. You can only operate AppKarma on mobile devices and particularly on Android Devices.
All you have to do is download the application and install it on the device to start operating.
After installing log in to the app and then register to the app. You have to provide your Email address, Username, and Password.
So when you complete the registration process then you will receive the small amount as a bonus amount. That bonus amount can be from $1 to $5.
Also signing up process is necessary, for you to access your account from multiple devices and IP addresses as well.
The rewards systems are based on points which you will receive in terms of Paypal cash or Giftcards after you can convert into the cash figure.
AppKarma is among the 35 best money earning sites and apps from the Philippines then check our listing of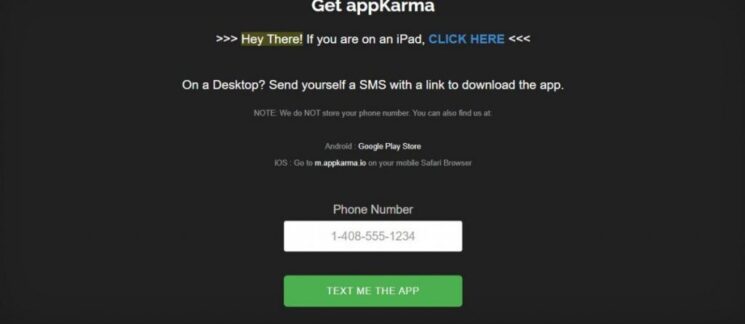 What are the Tasks available in AppKarma?
AppKarma is a GPT app so there are plenty of tasks for you to complete and earn some money.  Let's list all the tasks available on the app and then explain how you can earn extra.
Play Games
In AppKarma you can earn some money by playing games which sounds bizarre. However, it is true.
You have to download the mobile Games from the application and then play it for certain levels. There are certain instructions on each task that you have to complete.
Some may be checkpoints, in some, you have to reach certain levels. After downloading the game and finishing the instructions you can go back to the app and earn your reward.
This reward will be in terms of points which you can convert into rewards which can be Paypal cash or in the form of Giftcards.
The major drawback of these games is they are very ads heavy which can slow down your device and also eats up your storage as well.
Watching Videos
This is one of the easy tasks on the app. You can find the video section on your dashboard that you can access after registering on the app.
When you click on the Video section you will get plenty of videos that you can click and watch.
You have to watch for a certain amount of time normally up to 30 seconds and you will get the accumulated points from certain videos.
However, there are a certain amount of video limits on the app so you will earn some extra rewards
These are the easy way of earning points on the side so if you can get this task then you must immediately complete it.
Referrals
On the AppKarma app, you can even receive the bonus if you join from referral links and if someone else joins from your referral link.
The referral reward of the app is also is quite good as you will get 30% of any income that your referral person will make.
Also, your referral person must be active for at least a year for you to get your rewards without any complications.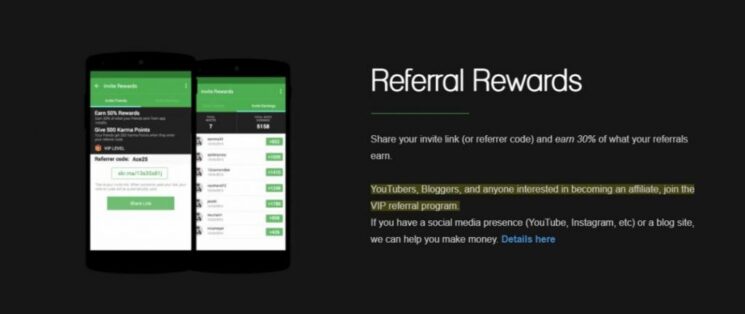 How Much Can You Earn from AppKarma?
AppKarma is an Android app that pays you for completing some easy GPT tasks according to instructions.
For every completed task you will receive points which you can convert later into Paypal cash or Gift Cards.
To get Cash rewards you have to earn at least 12, 500 points whereas for gift cards you have to earn at least 5000 points.
You will receive a generous bonus while signing up for the application after downloading it.  This will motivate you to work even more after installing the application.
There are tons of tasks available on the app where you can earn from 1000 to 5000 points if you follow an accurate set of instructions.
Hence AppKarma is not the best app for earning out there but there is some decent chance of earning some extra income on the side.
Minimum Payout and Payout Method
There are two payout methods on the app which are Paypal and Amazon Gift Cards.
However, you have to earn a certain amount of points to be able to withdraw your earnings from the application.
For Paypal, you have to earn up to 12,000 points and for giftcards, you will have to earn at least 6500 points.
Each payout method is equivalent to $10 for either payout method.
Inspection of Safety
SSL Certificate – Valid [Issued by Cloudfare Inc ECC]
Owner –
Date of Foundation
Customer Support – Excellent
Contact Link – Email
Privacy Policy – Available
FAQs Regarding AppKarma
How Can you Complete Offers from the app faster?
According to the app, the easy way of completing the offers is by purchasing from the application as it will provide you some hefty bonus points and in return help, you complete your offers faster.
What happens when the offers become disappear?
Even if the offers are unavailable you will be paid if you complete the game and reach a certain level on the game.
Offers will often disappear when the campaign is temporarily paused or the reward is currently on hold.
How Long Does it to Receive Payments?
For Paypal, you can receive it within 24 hours and For Gift Cards, it may take up to 48 hours.
Pros and Cons of AppKarma
Pros
Excellent Customer Support
Bonus while signing up and cashing out
An interesting and fun way to earn.
The quickest way to earn some decent side income.
Cons
Less reward than actually mentioned.
Limited earning potential.
Only Mobile version.
Very High Minimum Payout Rate
AppKarma Review: Legit or Scam
AppKarma is an interesting app and looks like a legit application. It has very positive accepts such as easy task and accessible payout variant.
Whereas a high referral prize is also really attractive for the workers. On the other hand, the minimum payout is quite high considering the earning potential.
Most of the rewards are very low so you have to judge both aspects before joining the app and providing your time on it.
Also over 300,000 reviews from Appgroves.com have rated the app 4 out of 5 stars which means the app may be satisfactory.
Let's take a look at some User Reviews from Appgroves.com.
User Reviews
Here are some positive reviews of AppKarma
Review 1
This user expresses happiness as he has earned the money and was also satisfied with the customer support.

Review 2
This user is extremely happy that the app pays and recommends anyone that likes to play games to use this app and earn.

Review 3
According to this using the app is very fun and easy to operate and also pays very well.

Now let us take a look at some negative reviews
Review 4
This user is not believing the positive reviews as he is adamant the app does not pay and the customer support is also really bad.

Review 5
This user is not happy you have to pay real money or buy a real product to complete offers and claim it as a scam.

Hence the bottom line is
The application AppKarma is a very encouraging and interesting application. There are plenty of positive aspects of the app and also there are some negative aspects as well.
But we will recommend everyone to join the application and earn some decent side income by playing games.