What is Product Tube Review?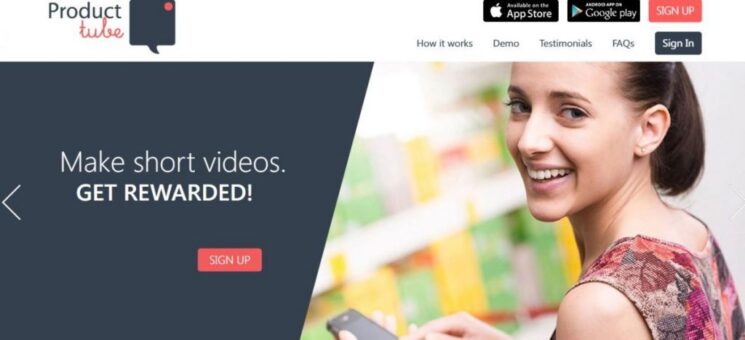 As the name suggests Product Tube Review is an online network that provides review services to many of its clients for unrelated or untested products.
In other words, it is an online hub where companies can get feedback on their products via testing and reviewing of the said product.
The basic gist of it is users have to make 3-4 minute long videos describing the product and reviewing them.
This review can include advantages and disadvantages of the product, undetected bugs, and errors, comparison of price among competitors, etc.
All in all, it is a simple opportunity to earn some cash but you may have to be involved in some only shopping before providing a review.
The shopping expenses will be covered by the site so there is no need to worry about it.
Now lets us gaze on how we can start on Product Tube Review.
Getting Started
Product Tube is US only site so there is a limitation on you can join straight away.
As usual, to get started you have to visit the site ProductTube.com site. You will find the signup button which you click.
You will find the form where you have to submit your short personal information.
On the form, you have to submit your First name, Last name, Email Address, Age, Gender, Zipcode, and Password.
You also have to agree to terms and conditions to finally sign up for the site. However to start working and start earning you have to be above 18 years old.
If you are looking for another website that you can earn by reviewing products and giving feedbacks check our review of User Testing.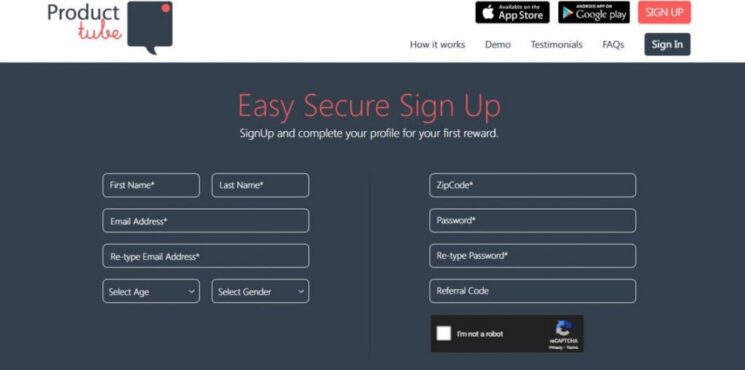 Tasks Available on Product Tube
Product Tube is an online hub to check the products and provide reviews. You have to do it in the video format so let's talk about it.
Video Reviews
Video Reviews are the only way of earning on the Product Review site. After signing up for the site you can see plenty of video projects that you can take to start earning.
However, these video projects have instructions that you have to always follow in order for your review to be deemed complete.
Sometimes you have to visit the store and complete the projects according to the instructions by filming the video.
Once you film the video you can easily upload it on the Product Tube site and wait for the site to verify it.
The other method is to view the available video review projects, buy the item in those projects, film the video giving reviews and upload it on the site.
After review by the Product Tube site, they will be deemed to verify it and if your video is qualified to be a proper review then they will send you your earnings.
These videos are only for reviews purpose so the site won't send your video to other websites or any third-party sources.
Once again I will like to confirm you that follow the instructions to absolute detail or your video will deem disqualified and you won't get payment.
If you are an expert on Product Review and research then check our Clickworker Review and find out how you can earn from the site.
How Much Do You Get Paid?

The amount you get paid depends on the number of video projects available and how fast you can complete those projects.
Their website clearly says you can earn up to $80 per hour however this may be just an exaggeration and point to sell you the dreams.
The earning depends on the project invites so you may not even receive those invites to record video projects.
However, you may earn at least $15 per hour if you are making long product review videos.
Also, keep in mind that you may have to buy some products but not get disqualified on those videos, and instead of earning you may actually spend the money.
You can earn some free samples of products by reviewing products. Check our ShopGala Review.
Minimum Payout and Payment Method
Product Tube has only one way of withdrawing your earnings which is from Amazon gift cards.
The minimum withdrawal account is at least $5 but you can withdraw $10, $15, and $20 Amazon Gift cards.
This is really amazing but the only problem is many people would prefer Paypal or other methods of withdrawing money rather than just gift cards.
If you live in the UK and want to earn by reviewing product check our Product Testing UK Review and find out why the site is in such demand.
Pros and Cons of Product Tube
Pros
Excellent customer support.
The mobile application is well optimized.
Rewards are somewhat high-paying.
Cons
Earnings are dependent on invites.
The only payout option is Amazon gift cards.
Pocket Tube Review: Legit or Scam
Pocket Tube is one of the popular review websites but sometimes you may have to spend your earnings to buy the product for product reviews.
The amazing part of the site is you can earn up to $15 per hour whereas the drawback is you can only withdraw from gift cards.
Now let's take a look at some User Reviews from the internet.
User Reviews
Here are some of the positive Reviews
Review 1
According to this user the site is legit, it pays and it pays well but he is not happy that the site only pays via Giftcards which is understandable.

Review 2
However, this user is happy that the site pays via Amazon gift cards and he already has earned more than $100.

Review 3
This user says the site is 100% real and not fake and the customer support is also really good.

Now here are some negative reviews of Product Tube
Review 4
This user was happy till the update and after that, the site started freezing and despite the completion of tasks, there is no reward which has made him really unhappy.

Review 5
This user also expressed anger and sadness after the latest update where his progress has a freezer and removed all his progress. The site leaves the empty video and the task are not completed eventually.

Hence the button line is
Many users are happy with Product Tube and believe the site is legit and it pays. However, the latest update has ruined it and made it unworkable.
But we still recommend our user to give a try with an open mind and if the site is as problematic as it has been then let us know.