What is Perk Pop Quiz?
Perk Pop Quiz is a trivia app created by a brand called Perk. They are a well-renowned application brand for Google Play and Apple store. There are many Perk apps that provide cash and gift cards that can be redeemed. It is recommended to download every Perk's app to accumulate the earnings earned in each application.
You must be above the age of 17or older and must have a Facebook Account to earn from Perk's app. Perk Pop Quiz is a similar app that asks trivia questions and based on your correct answers, you will earn gift cards and Paypal cash. There are more than 300 trivia games that you can play to earn from Perk Pop Quiz.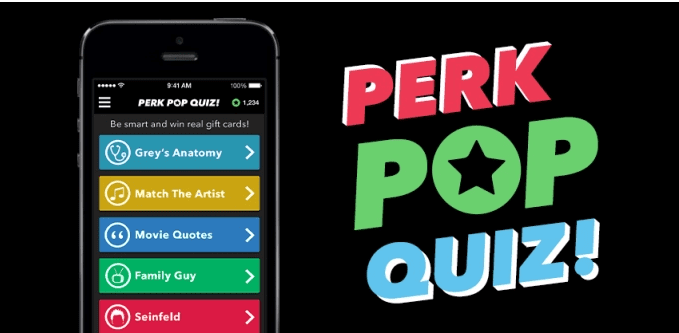 How does PERK POP QUIZ Work?
Perk pop quiz is an application under Perk app. It is essential to have Perk account and Facebook account to earn from the application. You can sign up from their website, download their app and log in from your Facebook account. In order to join the app user must be over 17 years older.
The application is available worldwide but the majority of gift cards available only for citizens of the USA. So users outside the USA are recommended to use PayPal cash for redemption.
How to Earn Perk Points?
Initially, you have to select from 400 different categories. You can select the trivia that you like or is familiar with from the different categories available in the application. During each game, there are 5 questions so you must answer them correctly. Total points depend on the number of correct answers you have given.
You have to solve each question within 10 seconds. Failure to do so will consider the answer being wrong and you will be moved to the next question. Now, the most important part of the application is ads as ads are the way the respective apps earn their revenue. Hence you will be shown a 30-sec advertisement after each game, you have to watch that add otherwise the game will be regarded as void and you won't earn any cash from that game.
You can answer 3 out of 5 questions right in order to progress and there is a different mode for a quiz called lightning mode where the timer is only 5 seconds which makes the game more challenging. The procedure is easy and fun as well as it can improve your general knowledge.
Points are divided according to questions you can correctly answer. You can get 1 point without answering question by just watching ad. 2 points are earned when you answer 3 questions correctly and have watched ad. 4 points for 3 correct answers and ad and finally 5 points for all correct answers and if you have watched ad at the end of the game.
How to earn more points?
You can earn more points by challenging your friend. If you can answer more than your friend then you will earn 3 additional points.
You can earn more cash by using their referral program where will earn $0.50 every time a person signs up from your referral. The cash will be directly deposited into your PayPal account.
How are you Paid ?
It is essential to make your own Perk Wallet. Perk have various applications that gives cash but it is accumulated in Perk Wallet. Minimum payout for $1 gift card is 1000 perk points and similarly for PayPal cash you need 1250 perk points respectively. Users outside USA are recommended to use PayPal Cash instead of gift card because most of gift cards are eligible only in USA.
Pros and Cons of Perk Pop Quiz application
Pros
Perk Pop Quiz app is legit and it pays.
It is worldwide and easy to download.
It is fun to play and learn something new.
There are varieties of gift cards to choose from.
The payout of the app is reasonable.
Cons
The time it takes to gather the required points are too high.
It is not recommended for an active source of income.
Sometimes servers of the application are not friendlier to the user.
Conclusion
Perk Pop Quiz is a legitimate and highly interesting application. Although the cash you will earn is really not that high, you can earn a sustainable passive income. It's not like other boring apps but is interesting and quite fun to actually play and answer all the quiz and trivia questions. We recommend to try this application but only for entertainment and you can earn some money while being entertained as well.
Do you want to know about another cash-paying application? Read our Viggle review and find out if this application really pays or is just a scam.