What is GPTBox?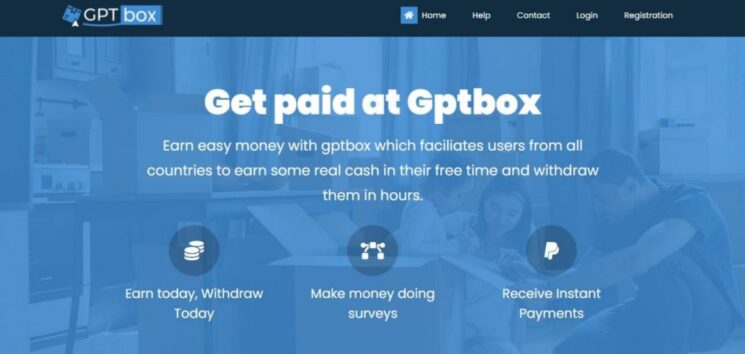 GPTBox is an online network that pays its user to do some basic macro tasks such as watching ads, clicking on videos, or signing up for the accounts.
You will find many different tasks on the site that have their own income range, which you will obtain once you complete the tasks.
Today, we will discuss how you can work on GPTBox, how you can join, and how much you can earn from the site.
So let us begin.
How to Join GPTBox?
To join the site you have to visit the site and register to sign up for the site. You will have to fill in your name, address, and email id to start working on the site.
After signing up you have to verify your email address or phone number to finally get started. Once you have completed the registration you can access your dashboard to start working.
How can You Work on GPTBox?
Since GPTBox is a GPT website, you can find many different tasks to earn money. Some of the tasks are as follows.
OfferWalls
Offerwalls are the tasks that the users need to complete to earn the designated earning distributed in the offers. The offers can be among
signing up for an account,
liking or disliking videos
Watching videos of YouTube
Subscribing the channel or sharing the video
Liking or Retweeting Tweets of the client company and many more.
In GPTBox, there are up to 33 offerwalls that users can choose from and complete. Each offerwalls have their own rate which the user can earn after completing each offer.
However one of the biggest drawbacks of the site is that these offerwalls pay very little than any other GPT site. To complete the offer from the site you have to follow the exact steps that the offer requires.
After completing the offers you have to provide a screenshot to highlight your completed tasks.
Surveys
Another way you can earn from the site is by answering the surveys. The users will receive surveys from various third-party survey sites such as Yuno Routers, Yuno Surveys, and many more.
The site sends you some questions to guess your demographics so you have to answer the question accordingly. After that, you will be qualified to answer some survey questions.
However, the reward you earn on the GPTbox survey is considerably low on value compared to another site.
Paid to Sign Up Offers
In this offers you have to sign up on the various websites to earn some earnings. When you click Paid to Sign Offers you will be directed to various websites.
On those websites, you have to sign up and follow clear instructions to earn the distributed or separated income.
After completion, you have to click submit button on the PTSU page and wait for verification of your task.
How does GPTBox pay You?
Every task on the GPTBox site provides you with points and also some cash as well. All of your earnings would be sent to the GPTBox account.
However, to withdraw your amount, you have to convert points to the value of cash. On the site, 1 point amounts to $0.01 but you have to earn 100 points to withdraw minimum requirements of $1.
If you want to earn some decent earnings from a GPT site then check our review of Keep Rewarding Review
Minimum Payout and Payment Method
There are various methods you can withdraw your money from such as Paypal, Perfect Money, Payeer, Perfect Money, and many more.
The minimum payout method that you will need to earn to withdraw from the site is  $0.04 for Payeer and $3 for Paypal and another payment method.
Pros and Cons of GPTBox
Pros
There are various payment methods such as Paypal, Payeer, or Perfect Money.
Everyone can join the site and it is rewarded globally.
There is a lot of opportunities to earn from the site.
Cons
The site is very shady looking and FAQ does not look convincing.
You will not earn sufficient income to earn as an active source of income.
Conclusion: GPTBox Review
As the detained GPTBox Review, we can conclude that the site is legit however you won't earn as much as you like from the site.
Hence if you want to earn some passive income by doing some real hard work try working on GPTBox. However, if you love shopping and love cashback check our review of Piggy Cashback.