You can earn money online easily if you have different skills and talents. They are also attractive due to high-paying tasks and flexible schedules.
Most of the earned money online jobs are GPT, PTC, or survey tasks which pay comparatively lesser and can be used as side gigs.
However, there are some tasks where you can get paid really well and earn some decent money.
Such tasks are reviewing unreleased products, websites, and apps.
Today I am bringing you one of the popular sites called Appcoiner and provide a step by step detail on how you can earn from it.
We will also discuss why the site Appcoiner has many fans and equally many skeptics as well.
Let's get into it.
What is AppCoiner?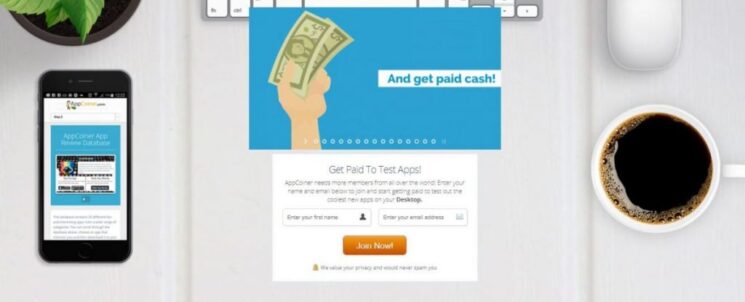 AppCoiner is a popular site where the site hires users to test products, applications, and websites.
These products, apps, and websites are mainly unreleased and are provided for testing and eliminating the last few errors and bugs.
Most large companies would want to eliminate every little error, mistake, or bug in their unreleased product to get ready for their big release day.
However, since the name mentioned "AppCoiner" it mostly focuses on unreleased Apps.
Hence the site "AppCoiner' reviews the new and unreleased and provides feedbacks and reviews either to release them or they have some work left.
On this site, all you have to do is write the reviews of these apps and get paid.
Sounds easy right but it might not be as easier as you think. Now let's take a look at the signing up process of this site.
If you are looking at other mobile apps in which you can work all GPT and PTC tasks such as Cash Pirate App
Getting Started
First of all, to get started on the site you don't have to search for anything.
You just visit the site Appcoiner.com and then provide your email address to get started.
However, the biggest lack of clarity of the site is you have to pay $27 just to get started and use the app of Appcoiner from where you will start testing apps.
You will only find this out when you first sign up and provide your email so there is no going back.
And then the site will constantly provide emails regarding their products etc even if you don't want to work on the site.
Hence immediately we have come across one of the big red flags.
Appcoin does not practice what they preach and has lacked clarity and viable information on their advertising.
Check our Cashkarma Review, if you want to earn from completing a task and earn some side income.
How to Earn from AppCoiner?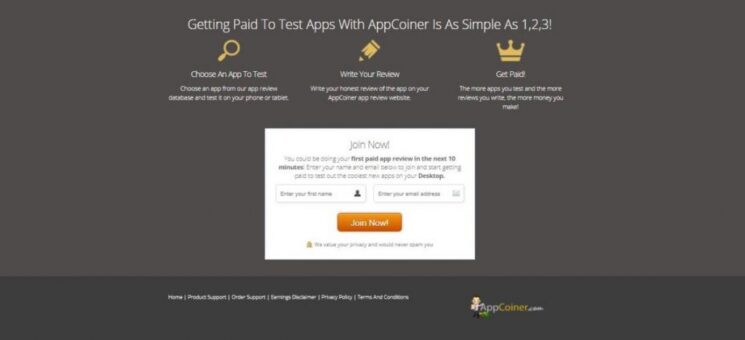 AppCoiner is the website that basically pays for reviewing unreleased apps from the biggest companies and organizations.
You can earn up to $15 per review of the apps and also from the generated traffic and affiliate program as well.
However, there is not any exact information and clarity on how the site works and how they actually pay.
While doing some research we found out that you will be provided the link to write some reviews.
Also, these links are evaluated by the reader and will vote your review under the link. If you have written an excellent and genuine review your reader will increase.
This will help you earn some extra income and increase your reputation as well.
Just like in the Appcoiner app you can earn money by playing mobile games.
Let's check our list of  35 Ways to Get Paid to Play Games.
How Much can you Earn from AppCoiner?
AppCoiner is a website that claims to pay up to $15 per review but the red flag you have to pay up to $27 just to get started.
However, the basic way of earning money on this website is by building your affiliate link from the reviews.
The more affiliate traffic you have the more you will earn.
So as the theme of this website is, it is very unclear how much you will exactly earn from this site.
This is also the bigger drawback of the site as it does not have any clear information regarding anything.
Minimum Payout and Payment Method
There is not any information that you have to earn a certain amount on this site to withdraw the amount.
So it seems there is no minimum payout threshold. AppCoiner pays you with three methods they are Bank Deposits, Checks, and via Payoneer.
On the AppCoiner site, there is no option of Paypal which is considered the best online means of withdrawing your earnings.
Still, there are not many workers who have confirmed that they have received the payments from the site.
Pros and Cons of AppCoiner
Pros
You have the chance to earn money from the site.
Some good options of withdrawing money in bank deposits and Payoneer.
While purchasing the app item you can get your money back.
Cons
You have to pay actual money to join.
The site is misguided and does not reveal much information.
Only benefits if the user has more traffic on their website.
AppCoiner Review: Legit or Scam
So after the detailed AppCoiner Review,  we can confirm the site has lots of red flags and is using misguided techniques to lure many reviewers.
They do not reveal you have to pay before joining the site and also have much key information missing from the site.
Now let us take a look at some User Reviews
User Reviews
There are plenty of negative reviews of the site. Let's take a look
Review#1
According to this user, the site does not pay and you have to pay before getting any sort of income which is not clarified by the site.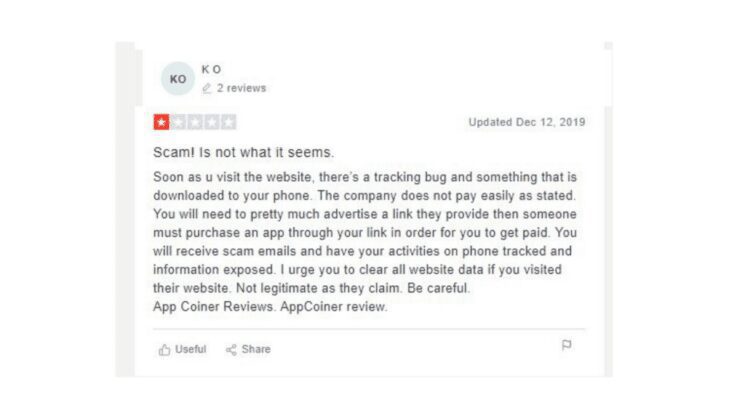 Review#2
According to this user, you will not make any money but they will return any in-app purchases which you have done. But the most important part according to this user is the site won't pay anything.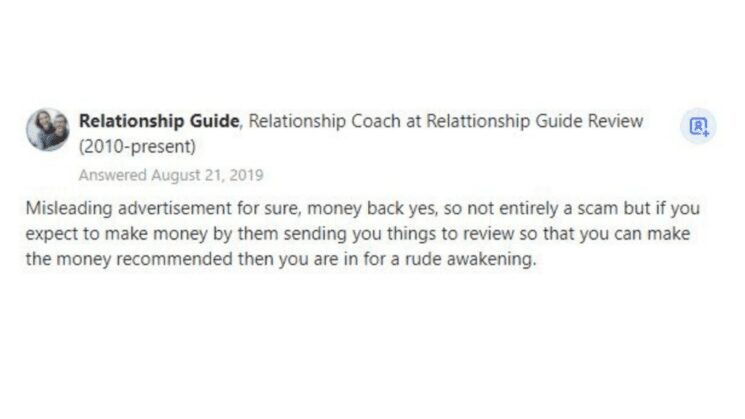 Review#3
This user has made it absolutely clear that the site is fake and spam.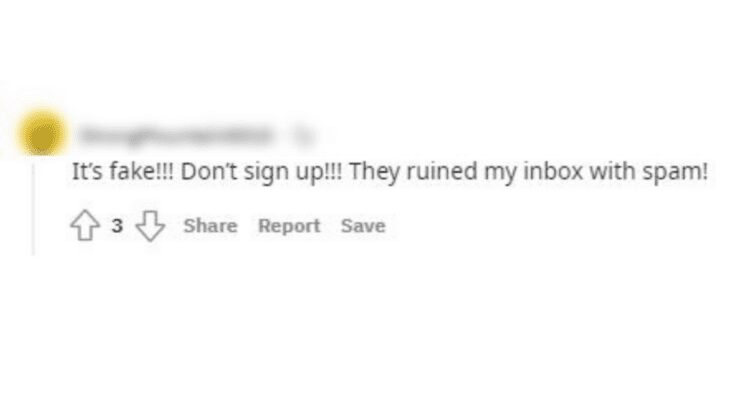 So the bottom line is 
App coiner has lots of red flags and has always misguided its users. Hence we recommend not to be involved with this site and look for any better alternatives out there.