In this post, I am going to share some actionable methods to make money using a Facebook fan page.
In fact, I have been managing several pages for some years. And I am making money using those pages by implementing different methods.
Here is one of the screenshots of my AdSense account where I made over $300 in a month using the power of Facebook pages: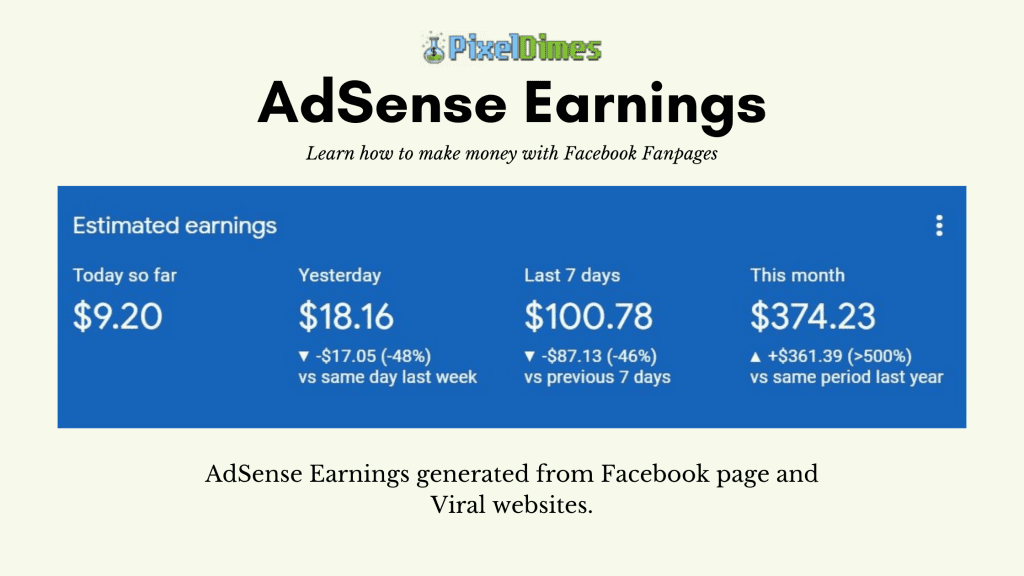 But let's be honest:

Growing a Facebook page and monetizing it sounds like fun but it does require hard work to manage them and keep them active with fresh content.
I've my own strategy to grow and manage Facebook pages which I will discuss in a new post someday. (Let me know in the comment section if you want that post).
But overall, the main strategy is to create a new page and share its content on Facebook groups. And just repeat this step and keep your page updated with the latest images, memes, or whatever on your niche, that's one of the ways to increase Facebook page likes.
Once you have a page with a good amount of likes or I will assume you have one, let me share some of the best ways I am making money with my Facebook page.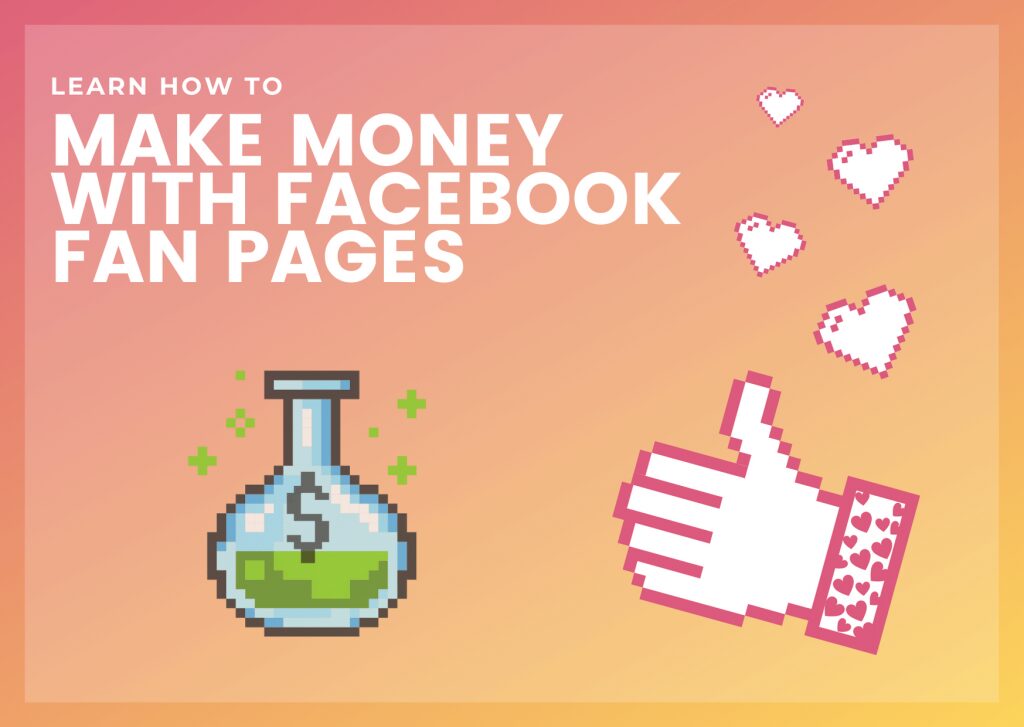 So, without further ado let's start:
Affiliate Marketing
If your page is about a specific topic, then there may be an affiliate program about the topic or niche.
All you have to do is make a quick google search to find the affiliate program related to your page.
Search "your niche + affiliate program" on google and you will find a lot of affiliate programs for your page.
For example, I had a Facebook page about People who were born in January. So, I searched for products related to it and found a great site called SunFrog with tons of products such as T-shirts & Hoodies for people born in January. (Currently, SunFrog no longer allows affiliate marketing.)
I signed up for SunFrog and just posted an image and my affiliate links of T-Shirts and hoodies and I was able to generate $500 just using Facebook fan pages.
Here is my earnings proof: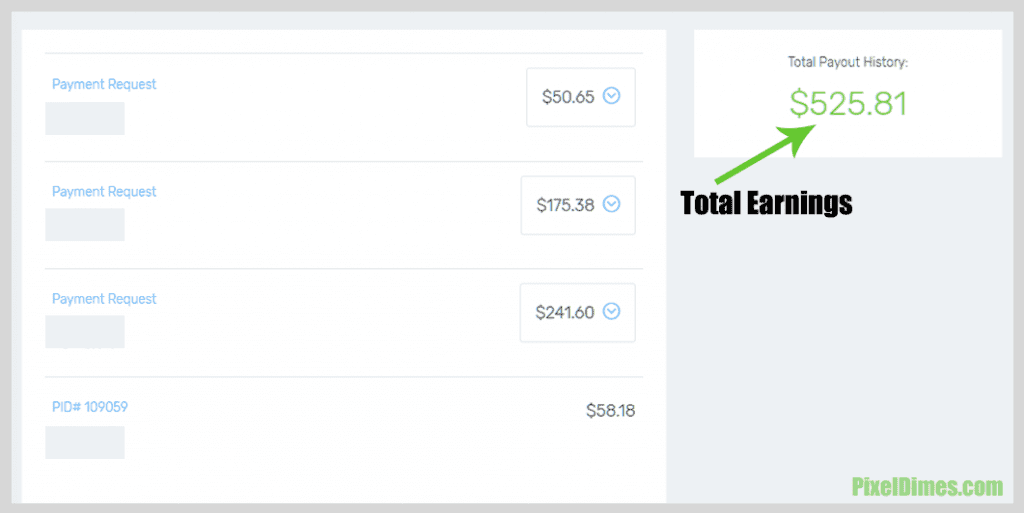 Though SunFrog has removed Affiliate Marketing, you can still read how I made $500 with SunFrog selling T-shirts and implement those ideas on different print on demand sites to make more money.
So, Find a quality product and learn everything about the product.
When you are sure about the quality of the product, then you can recommend the products to your fans.
When you recommend a good product, people will buy it if they find it useful.
You can also join the Amazon Affiliate program where you can find a lot of products that you can recommend to your fans.
The affiliate program will give you a tracking link and when your fans purchase the products through your link, you will receive a commission.
Pro tip: To maximize your earnings, you can create a simple website and write an honest review about the product and add your affiliate link while recommending the product.
 Then you can post the article link on your fan page & send traffic to your website.
People like to read full reviews before purchasing a product. So, this will help you to maximize your affiliate earnings.
Affiliate marketing is one of the easiest ways to make money from your Facebook page.
Selling Your Own Products.
While affiliate marketing gives you a commission for selling other's products, selling your own products will make you even more money.
The bottom line is:
Why sell other people's products for a commission if you can sell your own product and enjoy the full profit.
You may be wondering:
Making our own product then selling it can become a daunting task.
Then let me tell you:
Selling your own product has become easier than ever before. You have all the fancy options available like print-on-demand sites, Amazon FBA & Drop Shipping.
In fact, you can start your own product & set up your online store & start selling within a day.
You can send your Facebook fans to your store and make some good money using this method.
Facebook Fan Page + Website:
Almost every Facebook page is making money by sending traffic to their website.
And you can also do the same and make decent money from your Facebook page.
Here's how to do it:
Visit Hostgator to get a domain & hosting, then install WordPress on the site.
If you need a step-by-step guide, then read my blog post: How To Start a Blog?
After you complete setting up your blog, then you need to write trending or entertaining content on the blog.
Then you can put ads on your blog through Google Ads, Content.ad, or other ad networks.
To make money from ads you need real people to visit your website. To get traffic, you will utilize your Facebook fan page.
Share 2 – 3 articles link on your Facebook page every day, you will start making decent money.
This method is one of my favorite ways to monetize a Facebook fan page.
And when you publish hot and trending news, chances are "Your article will go viral on Facebook".
You can make huge money using this method, you just have to stay consistent.
If you have any questions, write them in the comments, I will be happy to answer your queries.
Sell your Fan pages.
There is a lot of marketplaces to buy/sell Facebook pages. If your page is in a hot niche & has potential reach, then you can get a good price.
I even know some people who grow Facebook pages and sell them as their business.
You can find some website which buys and sells fan pages, but I haven't used any of them. So, I don't recommend them.
There are also some groups on Facebook itself, where you can sell your fan page by using the admin of the group as a middleman.
Please use your sense while making a deal to avoid getting scammed.
Facebook Ad Break.
One thing that's hot right now on Facebook is videos. It's very easy to make videos viral on Facebook. As everyone loves to watch videos.
And with Facebook's video ad breaks, you can make good money from your Facebook fan page.
Ad breaks are short video ads that you can place in your content. Your video must be 3 minutes too long to show ads.
According to Facebook, here are few more requirements to become eligible for a video ad break:-
You must have 10,000 followers on your page.
You must have 30,000 one minute views in the last 60 days
Facebook ad breaks are only available to these countries, So you must be from one of these countries to become eligible for ad breaks.
If you are passionate about creating videos, you can make a good amount of money from the fan page using Ad breaks.
Conclusion:
These are only a few of the ways to monetize your Facebook fan pages, you have to be creative to monetize your pages.
Keep trying and experimenting with these methods and stick to one which works for you.
Always provide value to your fans instead of just pushing money posts to them. Make a balance between good content and ads and it will be a long-term way to make a good income.
Don't be afraid to fail, all you have to do is create a Facebook page which is free to do and you just have to push new content and share them on relevant groups. You will start seeing the growth from day 1.
Then, just keep the ball rolling and you will have a huge fanbase that you can monetize.
If you have any questions, feel free to leave them in the comment section below.