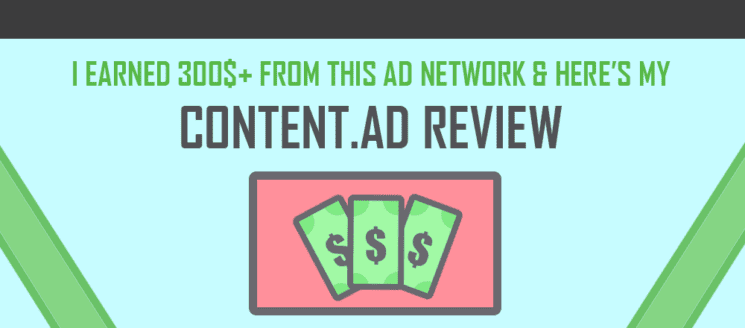 Do you want to earn more revenue from your website? If yes, then the Content.ad might be the ad network that you are looking for.
And In this Content.ad review, I am going to cover everything about this ad network in detail.
So, let's get started:
Content.ad Review
Content.ad is a legit native ad net worth that pays its members on time as long as you reach the minimum payout threshold of $50. You need a good amount of traffic to get accepted into the net worth.
The CPC rate usually varies from 0.01 to $0.05. You may get higher CPC according to your niche, traffic source, and location. If you are looking to monetize your site only with content.ad, then I think you should doublethink because other ads network like media.net and Adsense pays much higher.
But if you want to add content.ad along with other networth then this will be the best fit for an addiction source of income from your blog.
I would recommend this ad network to my readers as I have received over $300 from this ad network.
P.S Content.ad has started to implement a strict website approval process where they look for traffic source, niche, and volume to approve the sites. S0, you must have a minimum of 10k traffic per month at least to apply.
What is Content.ad?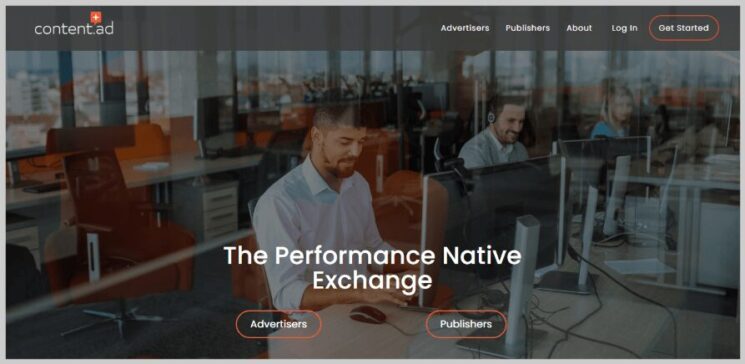 Content.ad is a native advertising network that displays sponsored content from the web.
And native ads have become a huge deal now because of their exceptional performance.
If you want to learn more about native advertising and why it's becoming popular, then here's an awesome post by Neil Patel.
In short, Ads served by this ad network blend perfectly with the contents of your website and don't feel like a regular image or a video ad.
Which means more CTR and more Income for you.
In fact, I've earned an extra $300 by using Content.ad ads on my website.
Here's my earning: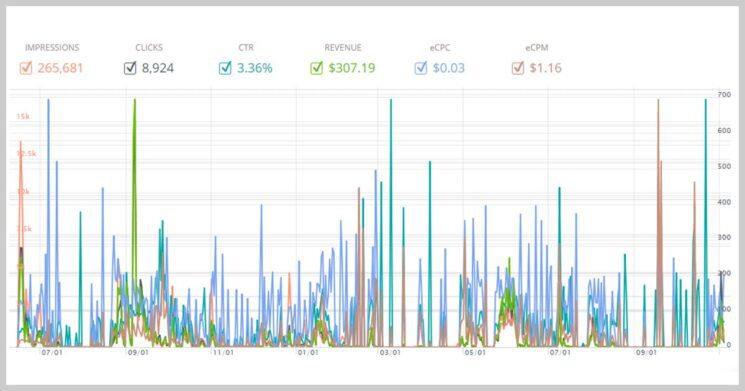 Best part?
You can use this ad network along with other ad networks.
And you can also make an extra income from your blog using this ad network.
In this Content.ad review, I will drill down all the information about this native Ad network.
So, you can decide whether it's a perfect fit for your website or not.
So, take a cup of coffee and enjoy reading this review.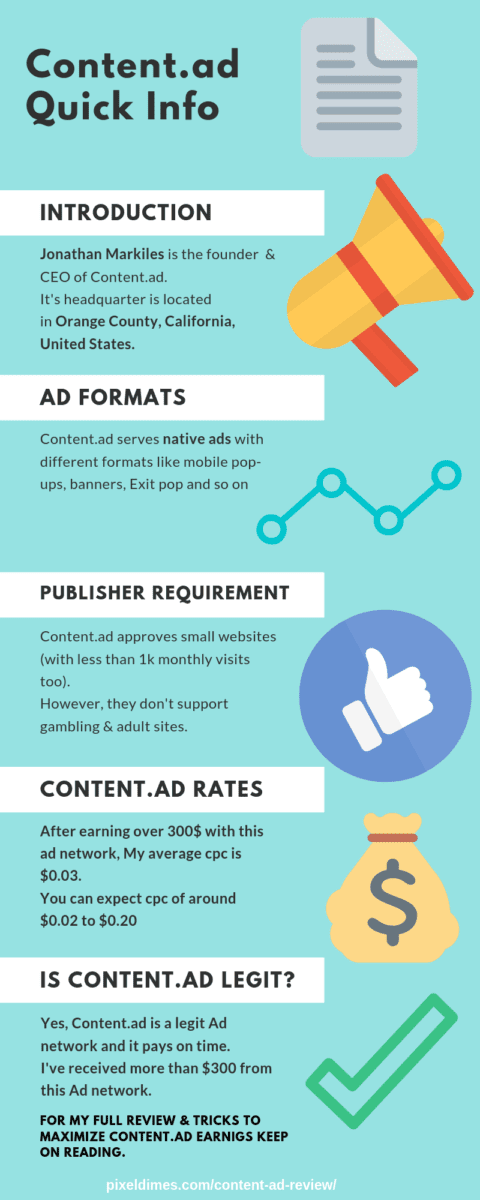 Content Ad – A little Introduction:
Jonathan Markiles is the founder  & CEO of Content.ad. He has grown Content.ad as one of the successful & respected native advertisement networks.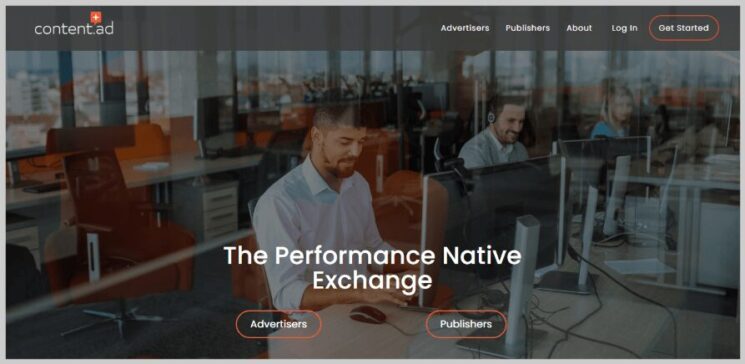 Content.ad was founded around 10 years ago. And it has emerged into one of the finest native ad networks leaving all its competitors behind.
Content. Ad's headquarter is located in Orange County, California, United States.
Who should use Content.ad?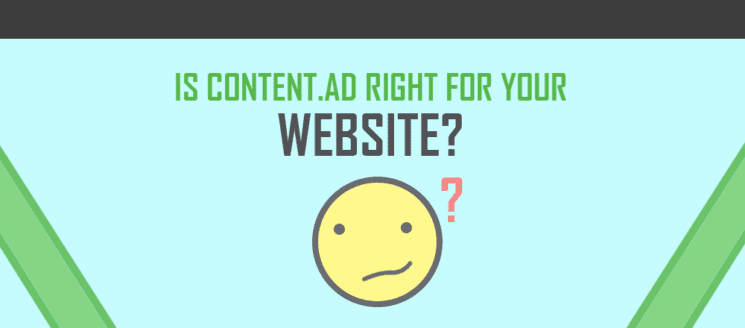 If you are not satisfied with the performance of your current ad network or you want to earn some extra revenue from your website, then you should use Content.ad on your blog.
Well, who doesn't love some extra income? Right?
As I've mentioned earlier, you can use Content.ad along with other Ad networks if you don't want to remove your current ad network from the website.
Content.ad ads widget looks like the regular contents of your website so you don't have to worry about making your visitors feel irritated because of too many ads.
The ad widgets integrate seamlessly into your websites which results in an increase in revenue and doesn't hurt user experience.
So, there's no reason for not using this ad network.
Content.ad Publisher Requirements:
Content.ad works with all kinds of publishers from small to large branded publishers.
In fact, if your website doesn't have any objectionable content like Gambling, Adult content, Hacking, then you can easily get accepted into this network.
Each of the websites is manually reviewed by content.ad team and may take around 2 business days to get approved.
The bottom line is :
If your website doesn't have any objectionable content, then content.ad will be happy to have you as a publisher.
Content.ad For Advertisers
If you are looking for high-quality traffic, then Content.ad can fulfill your need.
This ad network monitors & filters out invalid clicks and bot traffic resulting in high quality & conversion-driven traffic.
Content.ad minimum deposit for advertisers is $250. You can deposit through debit card, credit card & PayPal.
And if you don't wish to advertise anymore, you can also withdraw your remaining balance easily.
You can target different countries, locations, devices & OS. Their customer support is very friendly & fast.
Overall, this ad network is a good fit if you want to buy high-quality traffic.
Now, let's roll back to Content.ad review for publishers.
Content.ad Requirements:
There are not any minimum traffic requirements, I've got my newly created websites with some contents approved within 2 days.
Even a new website with some traffic can apply and get approved.
Content.ad approval process is quick & easy which makes it one of the first choices of new bloggers.
Content.ad Rates:
This is one of the important factors every publisher pays attention to. And they should pay attention…
After all, we have worked countless hours producing the finest contents and we want to monetize it with maximum output.
Right?
Content.ad provides a decent Rates and considering its widget placement, you will receive more CTR than the traditional image ads which will increase your revenue.
Content.ad works on  eCPM & CPC model. Your earning will also depend upon the niche of your content, traffic location as well as widget placement.
For example, If your website is in a niche that attracts more number of Advertisers, then you will see an increase in revenue. As well as the widget placement and the visitors' location also affect your rate.
Normally, you can expect $0.4 to $0.10 or sometimes even more per click.
In fact, the highest CPC I got recently is $0.13.
Take a look!

At the end of this article, I am going to share my method to make the most out of the Content.ad. So, please keep on reading.
If you want to earn extra income on the side while working on your blog, then you can earn money on Fiverr.
Features:
These are the features that you can expect from Content.ad.
In fact, some of these features forced me to remove another native ad network from my website and use content.ad.
I guess you will do the same after reading these features.
It offers a 100% fill rate.
Ad widgets are easy to create & responsive which adapt to the web pages on a wide range of devices like Smartphones, tablets & PCs.
The dashboard is clean and you can check your reports easily that update frequently.
Doesn't show nude or objectionable sponsored content.
Their support is excellent. You can chat with support staff from your dashboard.
Sign up process is fast, there is no minimum traffic requirement.
You have complete control over the ads, you can customize the ads as per your needs.
Ad recommendation updates automatically, so you can just paste the ad code on your website and let the algorithm display relevant and high-quality ads for you.
You can use Content.ad with AdSense as well as other ad networks.
Ads blends with the content of your website which doesn't hurt the user experience.
Its algorithm ensures that ads are relevant to the content which helps you to maximize your revenue.
Cons:
If there are no advertisers in your niche, you will see irrelevant ads.
Doesn't have an affiliate program.
The CPC is very low.
Content.ad Ad Formats:
Earnings will depend vastly on the widget customization and placement. Content.ad offers different modern ad formats which helps to increase your revenue while taking care of user experience.
Content.ad offers the following formats of Ad Widget:-
Mobile Slide up ads
Exit pop Ads
Banners
Links
I have experimented with different formats of ads on my website and the ad widget format which performed well are Mobile slide up and 3*4 content ads placed just below the content area. So, I highly recommend these ad formats and placement.
Ad Widget Creation & Placement :
Creating an Ad widget is quick & easy. To create an Ad widget:
Login to your Content.ad publisher account.
On the left sidebar, click on 'Widgets'
Then, click on 'New Widget'.
Customize it as per your needs.
Paste the JavaScript code on your webpage where you want the ads to appear.
You can also install the official 'Content.ad' WordPress plugin to create and place ads right from your WordPress dashboard.
Payment:
Content.ad provides different payment methods for its publishers like PayPal, Payoneer, ACH/Direct Deposit, Wire Transfer, & Check. It pays on a Net 30 basis. And the minimum payment threshold is $50.
What's more?
If your earnings haven't reached $50 yet, Content.ad knows how much effort a content creator has to make to earn every single penny so they pay the outstanding money to the publishers whose earnings haven't reached the minimum payment threshold once every year on January.
This is a rare feature most of the ad network lacks.
How to Maximize Your Content.ad Earnings?
One thing I learned from using Content.ad on my websites is that the niche of your website can affect your earnings.
While I was using the ads on one of my music blogs, I  found that my visitors were not much interested in the sponsored content displayed by Content.ad.
In fact, they were on my site to read music-related content and due to a lower number of advertisers in this nice, the sponsored contents were random. So, my CTR was very low.
On the other side, my website with trending and viral content was getting high CTR. Because the sponsored content had blended with the niche of my website.
I was getting sponsored ads that look like my content. (i.e Title that makes the visitors want to click on it with an interesting thumbnail.)
So, what we can conclude your earnings depends upon the niche of your website.
Another way to increase your CTR & earnings is to include actionable content on your website like quizzes, polls, and so on. In fact, one of my quiz sites has the highest CTR and has earned maximum from Content.ad.
You can also experiment with the placement of different ad widgets in different locations.
As you have complete control over the looks & content of the ads, you can experiment with colors, size, and different header texts and go with which performs well on your website.
Final Words:
Choosing the right Ad network can become a daunting task. And the only way to find out the right ad network is by actually using it on your website and analyzing if it's performing well or not.
You can try out Content.ad and who knows if it's the perfect fit for your website.
While Content.ad can't be compared with OutBrain & Taboola, but it is improving its features & growing rapidly.
Content.ad is a great alternative to MGID & AdNow.
If you don't have tons of traffic or if you want to earn some extra money from your blog, then I strongly recommend this Ad Network.
If you want to earn more money without using your website, then you can sign up for SlideJoy which helps to earn money from your smartphone.
I hope this Content.ad Review provided you all the information you need. If you have any questions, please let me know in the comment section.