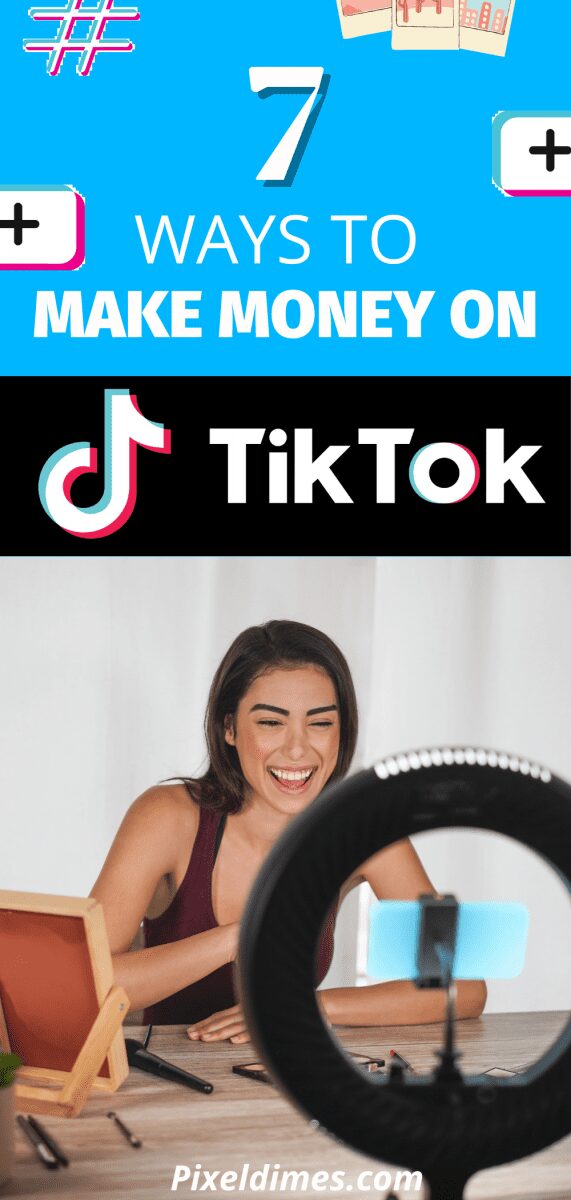 TikTok has become a sensational short-form video sharing platform recently and there are a lot of opportunities to make money online from this app.
Most people use TikTok just for fun and quick fame. But, you decided to do research on ways to make money on TikTok which is praiseworthy.
And Congrats, you have landed on the perfect resource. In this post, I'm going to share exactly how to make hundreds if not, thousands of dollars using the video-sharing app.
And yes, it's possible and it all depends on the number of followers.
More followers mean more money. And fewer followers means less money.
(Either way, you are going to make money)
In fact, Popular TikTok star Addison Rae makes over $5 million and Charlie D'Amelio makes $4 million using TikTok.
So, If this excites you let's get started right away.
Introduction
TikTok is a popular video-sharing app that lets anyone record videos, add effects, and upload right from the TikTok app.
Most of the users on TikTok are teenagers who make funny, voice-overs, and sing along kind of videos.
Many people have become an online sensation overnight after getting their videos viral on TikTok and other social networks.
Here is one of the TikTok Compilation videos:
TikTok is available to download from PlayStore & AppStore. After you download the app, you can start creating videos and share them with the world.
Can you earn money on TikTok?
Unlike other video sharing platforms like YouTube & Dailymotion, TikTok doesn't offer ad revenue to the content creators on the platform.
Many people just use TikTok just for fun and don't really have any idea that it is possible to earn money from TikTok.
With the rapidly growing popularity of TikTok, many brands and people are actively looking for influencers on TikTok which means there is an endless possibility to make money.
In fact, Top TikTok stars are making millions of dollars using the platform. They make the majority of the money through brand endorsements or selling their own merchandise and products to their TikTok audience.
According to Forbes, here is the list of top seven highest-earning TikTok stars:
Addison Rae – $5 million
Charli D'Amelio – $4 million
Dixie D'Amelio – $2.9 million
Loren Gray – $2.4 million
Josh Richards – $1.5 million
Michael Le – $1.2 million
Spencer X – $1.2 million
So, it is definitively possible to make money on TikTok. There are tons of ways to make money using this video sharing app which are given below:
How To Make Money On TikTok?
There are a lot of ways to make money from TikTok. 
But first, you will need a good amount of followers. I don't want to make this post longer with how to get more followers quickly on TikTok now (a topic for new guide) But in short, what you are going to do is post funny or entertaining content regularly on your TikTok account and follow the latest trends: what kind of videos are going viral, what other TikTok stars are doing and so on.
Have some patience, your followers will grow.
Once you have a solid following – at least 5k – then the possibilities to monetize those followers are endless.
I suggest you read all the methods and only apply  2 to 3 methods until you see some outcome.
I will be updating this massive list of TikTok money-making methods frequently, so it's recommended to bookmark this page for future reference.
Here are the best ways to make money on TikTok:
Cross-Promotion / Shout-outs
This is one of the easiest and full-proof way to make money from TikTok.
If you have thousands or millions of fans on TikTok, then you can easily earn money from TikTok by promoting other's channels.
Suppose you have 100k fans on TikTok, then other content creators with a small following will reach out to you for promotions and collaboration.
You can charge them $xxx to even $xxxx or more depending upon how many fans you have.
Brand Deals.
When you have a good number of followers on TikTok ( at least 10k), then you will be eligible for brand deals. If you have gone viral recently, chances are some of the brands that have already noticed your popularity.
So, many brands will contact you for a deal, where you will be promoting their products.
Better than waiting for brands to find you and contact you for promotion, you can contact the brands
And make an offer with them.
Affiliate Marketing.
When you have a loyal fanbase, you can recommend them different products and ask them to buy
Using your link. When someone buys from your link you will get a small commission from the affiliate
Network without having your audience to pay more. You can also offer discount coupons.
If you have around 100k fans and even 1% buys the product and let's assume the commission for each sale is $10, you will earn 1000 * 10$ = $10,000.
Brand deals make you only fixed price…But with affiliate marketing earning potential depends on
How many fans you have and you can even scale your earnings. Affiliate marketing is one of the best ways to make money by using TikTok.
Selling Products & Merch.
You can make your own products like T-shirts, singed arts & so on and sell them to your fans.
You will be able to keep 100% of the sale which was not possible with affiliate marketing.
But you do have to pay & handle stuff like packing the products shipping & customer care.
Social Media + TikTok
You can ask your fans to follow you on social media like Instagram, Twitter & Facebook.
When you have more followers & likes on those social platforms, you can monetize them with brand deals, sponsored posts
And so on.
YouTube + TikTok
You can drive your TikTok audience to subscribe on YouTube and start making content for YouTube too.
Then once you start getting more views, you can monetize it with Google ads, sponsored deals, and so on.
Blog + TikTok
You can start a blog and write content on it. And ask your fans to visit the site to read interesting articles. Then you can use ads, affiliate links in the blogs to monetize your TikTok audiences.
Conclusion
These are the best ways to make money on TikTok. The amount of money you'll make using this platform depends on how many followers you have. The more people you can reach, the more opportunities you will have.
So, I recommend you to start monetizing your TikTok account once you have at least 5k to 10k followers. And also make sure to keep posting entertaining videos on a daily basis and don't spam your  TikTok account with a lot of advertisements or endorsements.
 In my opinion, what works best is to d advertisements or brand endorsements once a week which most of your followers won't mind for daily entertaining contents.
Let me know which of these strategies are you going to use to make money on TikTok.