When you work online, you cannot just rely on one income source.
Because what works today may not work tomorrow.
Therefore, I always hustle here and there to make an extra income.
One of the sites I was working on to make some extra money is Sunfrog which is a print on demand site.
You can make money on the site by promoting your own design or by selling others design.
Today, In this Sunfrog review, I will share my honest experience about the platform from both Buyers & Sellers perspective.
( If you want to check out my review from a buyers perspective, then you can read here. )
Plus..
I am going to share the exact Sunfrog strategy that I used to make an extra $500 ( $525.81 to be precise ).
And all without investing any money.
I will also share a method where you have to invest some money to make some sales and make money.
But first…
I will walk you through the know-how of the platform so it will be easier for you to get started.
I will share my strategy later in this post. ( So hang in there for a few minutes. )
So, without further ado, Let's dive right in.
What is SunFrog?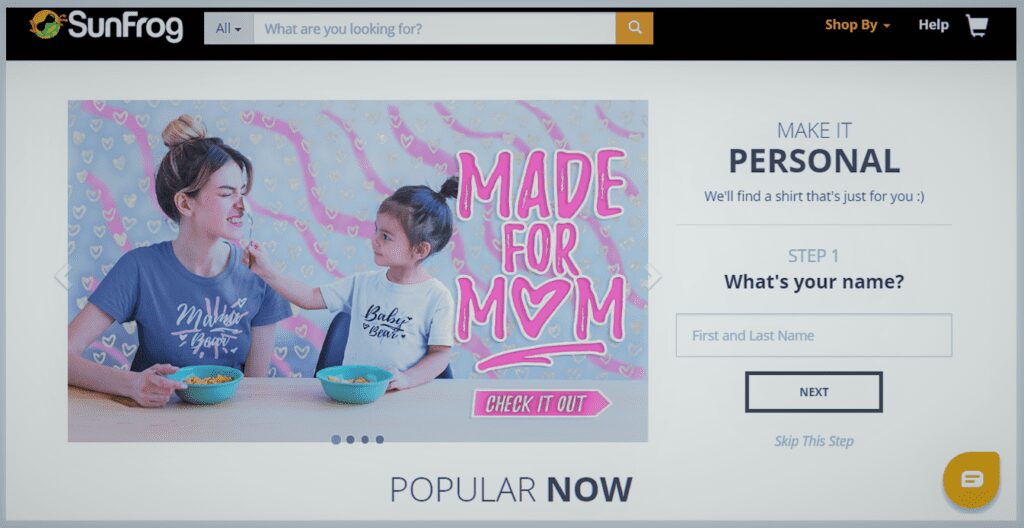 Sunfrog is a print on demand site which specializes in custom-print apparels like T-shirts, Leggings, Hoodie and so on.
They also have products like mugs, wall art, leggings and more.
Sunfrog was founded in 2013 by Josh Kent and is located in
Gaylord, Michigan.
SunFrog has a 4 start rating on TrustPilot.
SunFrog Pros:
What are the features of Sunfrog? If you want to find out the pros of this platform, I've listed them out below:
Every shirt you sale gets printed and shipped. You don't have to hit a minimum sale goal to get the products printed.
The print quality of the shirt is good and all the shirts get printed and shipped from The United States.
There is a featured artist section on the homepage which is a great feature for talented artists to showcase their design and make more sales.
Sunfrog provides a great environment for both artist and non-artists to make money selling the products.
You will also get access to custom templates which will let you edit the pre-made designs and promote it.
The dashboard is easy to use and provides real-time data like traffic, sales & conversion.
Customer care is excellent. You can email or call them to get support quickly.
There is an engaging Sunfrog Community on Facebook where you can get help and support too.
You can customize every detail of your products like color, size, style, title, description, and price of the product on SunFrog.
SunFrog academy helps new sellers to learn about the platform and increase their revenue.
SunFrog Cons:
Here are some cons of SunFrog:
You need to earn at least $50 before you can withdraw it. Some people may find it hard to reach the minimum payout.
You have to do all the marketing of your product yourself. Organic search sales are hardly possible.
I feel like the product page is not optimized properly for sales compared to other platforms. But we can't complain much about it as thousands of people buy T-shirt from the platform everyday.
If you want to learn more about SunFrog , watch this video:
How To Make Money Form SunFrog?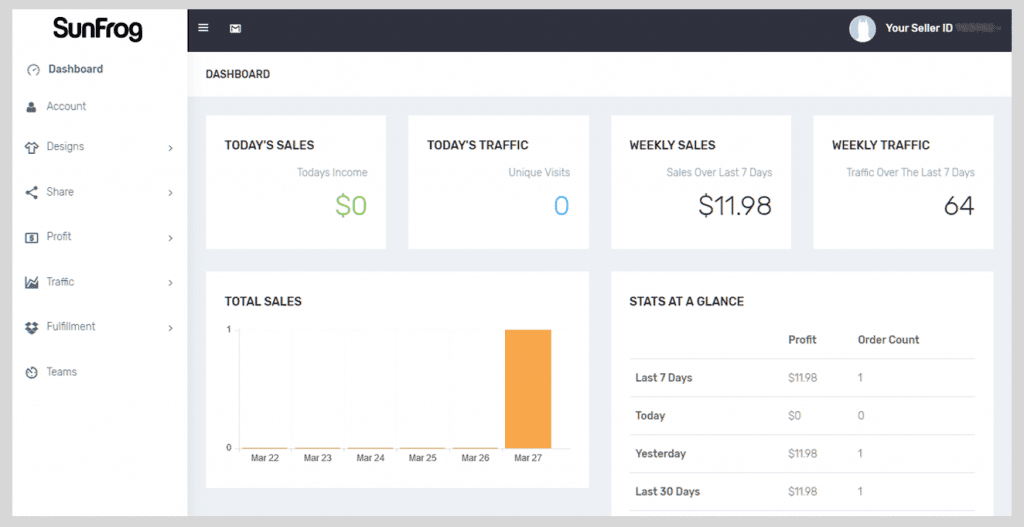 Sunfrog offers two ways to make money from the platform:
Artist– As an artist, you will be uploading your own custom design on the platform and promoting the custom printed apparels & mugs to make money.
You will receive a 30% Seller Commission + an extra 10% Designer Commission when you make a sale.
If other affiliates promotes your shirt and makes a sale, you will still receive a 10% Designer commission from the sale.
Great..huh?
Affiliate – As an affiliate, you will have access to thousands of high-quality designs uploaded by other artists.
For every sale you refer using your affiliate link, you will receive 30% comission.
The owner of the design also receives a 10% commission from the sale. So, it's a win-win for everyone.
SunFrog Payment Method:
SunFrog provides 4 different payment methods for it's Sellers.
Paypal
Direct Deposit
Payoneer.
Wire Transfer
SunFrog Review: Is It Legit?
SunFrog is a legit site. You will get paid on time if you have reached the minimum payment threshold. (i.e $50 )
You have to generate sales in order to get a commission.
If you have graphic design skill then you can upload your arts on SunFrog product and market it to make money.
They also provide custom templates for non artists.
Whats more?
As an affiliate, You will get access to millions of designs to promote and make some decent money.
I've always get paid on time. And they also allow you to buy your own shirt and receive a commission.
This is useful when you want to wear the shirt designed by you. And you will get back 40% of the money into your account.
Or you can buy your own shirt if you have less than $50 earnings and you want to reach the minimum payment threshold and withdraw it.
But I suggest you to contact your affiliate manager to avoid the sales being marked as spam.
Bottom line is:
SunFrog is a legit company. They really care about their seller and artists and pays them on time. I like the friendly affiliate managers who will you with any questions you have.
I have never encountered any problem with the platform. So, I recommend you to join SunFrog.
SunFrog Payment Proof
As, I've mentioned above I've earned more than $500 with SunFrog. I am not saying it's a huge amount.
But I spend very less time & effort working on SunFrog, So It's a good side hustle.
So here's my SunFrog Earnings & Payment Proof: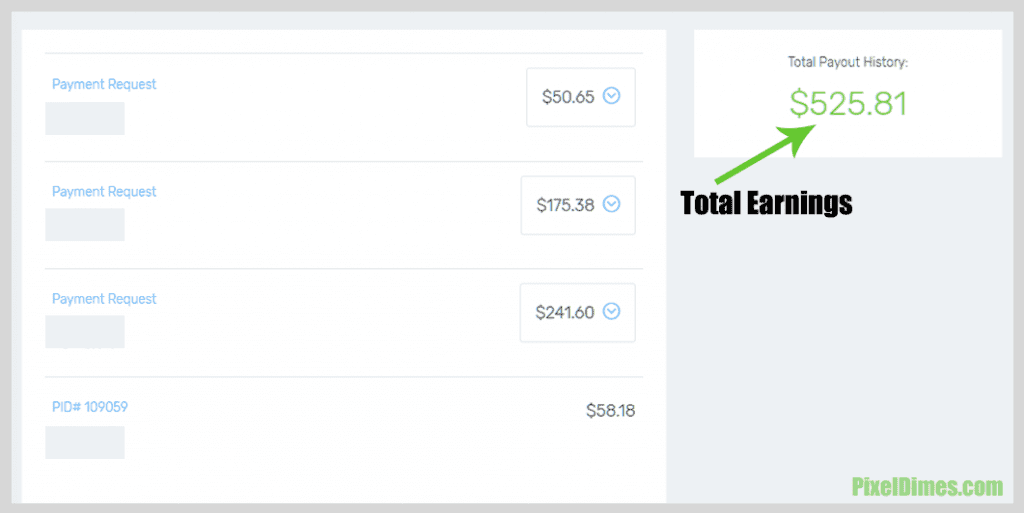 How I Made Over $500 with SunFrog?
Most people try to sell print-on-demand products using Facebook ads.
Some people make tons of money and some don't.
I wanted to make money with SunFrog but at the same time I didn't want to spend my money on Facebook ads.
So, I started experimenting with different ways to drive traffic on my Sunfrog affiliate links and make sales.
From Facebook pages to Youtube videos, I experimented several platforms to generate sales.
And I am going to share what worked for me.
If you start taking action after reading this guide, I am sure you will make your first sale and more in near future)
( But don't expect huge sales anytime soon, you will need some patience and hardwork. )
So here it goes.
Facebook Method

We all know – we can throw some money on Facebook ads – and wait for the sales.
But we want to make sales without spending a dime on Facebook ads.
So, how is it possible.
One of the best ways to generate sales is through Facebook fan pages.
Once you build a Facebook fan page around a niche, then you can promote Sunfrog shirts there and generate sales.
You may be wondering:
How do I grow my fan page without running Facebook ads?
It's very simple.
There are a lot of Facebook groups. You can share your page's content there from time to time.
If your content is good, members of the groups will like your page for further updates.
But don't over do it. You will get penalized by Facebook for spamming.
Once you build up a loyal fan base, you can promote shirts related to your page and make good money.
Keep in mind:
You have to keep your audience engaged to generate more revenue.
If you just keep pushing affiliate links on your Facebook page, your audience will run away.
The best way to keep your audience engaged is by posting memes, images, news or videos related to your page.
When you post contents what your fans enjoy, they will interact with it, share it and the page growth will skyrocket.
Once you have at least 1,000 fans on your page. You can promote your SunFrog shirts from time to time.
I had grown tons of Facebook pages. And I keep on promoting T-shirts on those pages. Usually, once in a week and it works best for me.
Another way, I was making sales was by creating Birthday pages.
For example: January Birthday T-Shirts.
How does it work?
Facebook recommends pages to people who may be interested in it.
I was surprised I was getting over 200 likes without even promoting it.
If a people born on January see the page recommended by Facebook, they feel connected to it and like the page.
People are excited about their birthday and who doesn't want a shirt which says "Strongest Men Are Born In January". Right?
Actually, It's the best gift you can give it to yourself on your birthday.
I eventually got a sale from the page. Bingo!!!
So, when I made my first sale from the page, I started making Birthday pages for each month.
I did all the hard work initially by scheduling all the images with an affiliate link on all those pages.
All of them started growing slowly.
I would see some occassional sales when the month related to page starts.
Not huge sales but 1 or 2 sales a month.
And don't limit yourself with birthday pages, start a page for a specific group of people…
For example, You can target cat owners with something like "Proud Cat Mom Shirts".
When a cat lady see your page, they will check out the page contents and probably buy a shirt if they like it.
Blog Method

This is the exact strategy I used to make the majority of the earnings on Sunfrog.
You need a little investment of $1 for buying a domain name from godaddy.in.
Then you either host it on HostGator or use blogger to host the site for free.
If you don't want to spend any money at all, then you have 2 options:
Freenom – It provides free domain extensions like .tk, .ml, .ga ( Most of the Freenom domain gets marked as spam quickly, so this method may or may not work using this domain name provider.)
Subdomain – You can get a subdomain for free and work on this method.
Either way, It's possible. But I recommend you to go with $1 investment.
Here's how it goes:
When you promote a direct shirt links on a Facebook page or a group, only a few numbers of people will see it.
Worst case Scenario :
They don't feel like clicking the links because it looks like a spam.
I was testing different ways to promote SunFrog shirts and find out this incredible yet simple method.
I was making insane sales.. around 300$+ with this method alone.
So, what was I really doing?
As we know, we will reach less people on Facebook if we promote direct affiliate link on Facebook.
To overcome this problem, I started a viral news site where I was writing contents targeting fans related to shirts I found on Sunfrog.
For example, I would write an article like, "Top 10 Batman Quotes which will give you an Instant motivation".
And at the middle and end of the article, I would carefully place a "Batman Shirt Image" with a buy button.
Now, I could share the article on Facebook pages and group related to Batman.
When someone visits the site, they would see the T-shirt ad. If they like it, they would buy it.
I started getting a lot of sales when one of my articles went viral on Facebook.
If you can write latest and trending news quickly, then there's a lot of chance it goes viral on Facebook.
Find a shirt related to the news and place your ad carefully on the article.
The more targeted fans visits your blog, the more sales you will generate.
Of course, you won't get sale if you promote your Batman article to marvel fans.
( You know the Marvel vs DC stuffs…Right? *wink* )
SunFrog Review For Buyers.
SunFrog has over 1 million designs on their site. You can choose shirts from different categories like music, pets, holiday and so on.

I will assume you've already found your favorite product on Sunfrog but you want to make sure If Sunfrog is legit or a scam… Right?
I am an active seller/Artist on this platform for a few years. I have also bought a few products from SunFrog.
And from my experience and research, I will share my honest review about this platform.
Is Sunfrog Legit?
Yes, Sunfrog is a legit print on demand site. SunFrog has got a 4 star rating onTrustPilot.

They print and ship the products from the United States.
if you are living in The United States, you will get the products shipped within 72 hours.
If you are living outside The United States, then the shipping time may take a little longer.
Shirt Price – Price of the shirts vary from $19 to $35 which we can't complain about.
Conclusion:
SunFrog is a legit Apparel company. They provide great customer care and you can reach out to them if you have any questions/ problems. The print quality is really good and you don't have anything to lose with money back guarantee.
As an affiliate or a seller, you can make good money by selling your own design or by promoting other's design.
You can earn up to 30% if you are promoting other's design. If you are selling your own design you will get a whopping 40% per sale.
But you may find it hard to make a sell if you are not investing in the ads.
If you give a shot to the strategy I used to get free sales, you will hopefully make some sales.
But At the end of the day, It all depends on how much effort and time you put into the strategy.