There are tons of earning money online. Earning money online has been the new norm or trend for many people all around the world.
They are easy to complete and you can work on your schedule.
The pay is also decent however sometimes you can get lucky and get some high-paying projects.
Some of the options of working money online are GPT sites, PTC sites, product review sites, etc.
However today I am bringing you a new way of earning money online and that is renting your unused internet.
The app name is Honeygain and in this Honeygain Review we will find out how you will earn by renting your unused internet.
We will also find out if Honeygain is a legit or a scam site so let us begin.
What is Honeygain?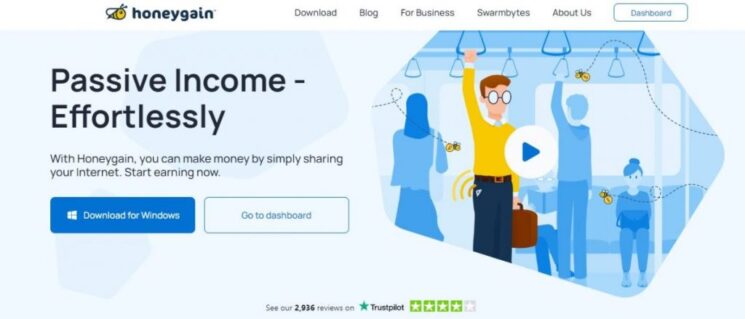 Honeygain is an online network where the site pays the users who contribute by providing unused internet for their network.
The company provides payment to anyone who lives in any part of the world that provides the unused part of the IP address.
Honeygain suggests receiving the best possible earnings to use one device per IP address. The maximum Honeygain can use is 2 GB per day.
Also, they will use the bandwidth up to 10% of your total bandwidth. Hence the main part is to let the app run in the background which will earn you money.
Now let's talk about how you can join the app.
Getting Started
To get started visit the site Honeygain.com and download the app for either Windows, Mac, or Android.
After installing the app, you will now have to register in it and create your Honeygain account.
The personal information includes email address, password, payment method, and IP address.
After signing up you will receive $5 as a sign-up bonus.
How To Work on Honeygain?
Now that you are ready to earn you have to accumulate how much data bandwidth you will provide on the application.
Honeygain will only use 10% of your data plan so you have to configure the data plan you will give Honeygain to use.
Also, you won't have to do anything as the app will run in the background and you will not complain about a drop in your connection as it does not hinder the connection.
If you want to earn more you can also leave the app for 24/7 or add on more devices.
How Much Can You Earn From Honeygain?
The Honeygain is an online site that pays for your unused internet. So immediately the more devices the app runs the more you will earn.
You will get paid for each KB of data and also it will accumulate the number of hours the app is running and the number of devices it is connected to.
Honeygain uses Online Calculator to calculate each KB used and also the number of devices that they are connected to.
Once calculated if you provide 720 Hours of your data for the month then you can earn approximately earn $50.
So it is recommended to connect the app on each device and let it run in the background to earn more.
Minimum Payout and Payment Method
There are two payment methods on the Honeygain App and they are Paypal and Bitcoin.
These are great accessible payment methods as most of the workers who work online uses  Paypal and Bitcoin to withdraw their income.
Also, you have to earn a minimum of $20 to withdraw your earnings. The conversion is based on KB or MB so for each 10GB of data, you will earn $1.
So if want to earn $20 then you will have to provide 200 GB of your data to the application.
What is the Risk of Sharing Data on Honeygain?
The only way of earning money from the Honeygain site is by providing your data to them so you have to wonder is it safe?
Well, the app guarantees your personal data won't be leaked and there is absolutely no risk of sharing the data.
According to them, the company will not save your data but only your IP address, email address, and the traffic your IP generated for the month.
Also if you are suspicious then you can turn off your data anytime. There is also no risk of your slow internet connection cuz they will only use 10 % of your bandwidth.
Pros and Cons of Honeygain
Pros
The site is available globally and is easy to use.
You can earn by simply installing apps.
There is no risk of stolen data.
The customer support is also excellent.
Cons
Honeygain uses your mobile battery which could slow down the device.
Have to be careful while getting your mobile data plan.
The minimum payout of $20 is very high.
Honeygain Review: Legit or Scam
After the detailed Honeygain Review, we can conclude that Honeygain is a legit site and a unique way of earning money online.
There are good aspects of the site as you can earn money by just installing the app and also bad aspects as well since your mobile device can be slow.
The site legitimacy is emphasized by the valid SSL certificate issued by CludFare INC ECC.
However, there is no information on the owner of the domain.
Also, almost 3000 users from the Trustpilot site have rated the site 4.2 out of 5 stars. Now let's take a look at some user reviews from the Trustpilot site.
User Reviews
Here are some positive user reviews.
Review 1
According to this user, Honeygain is the best app to earn money passively. However, he mentioned it will take time and you have to be patient.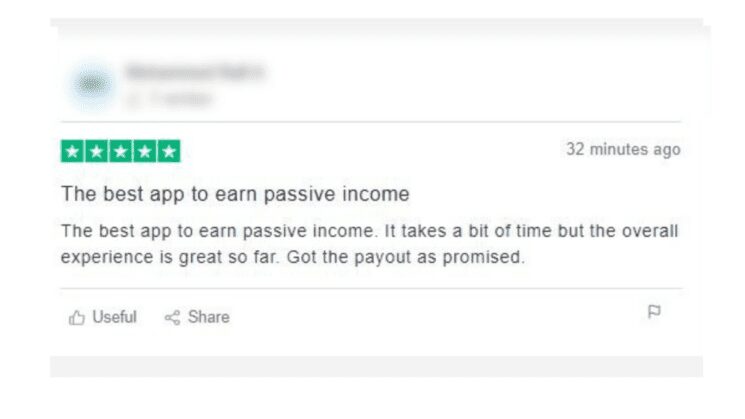 Review 2
This user says the application is great and he received his Bitcoin without any hassle.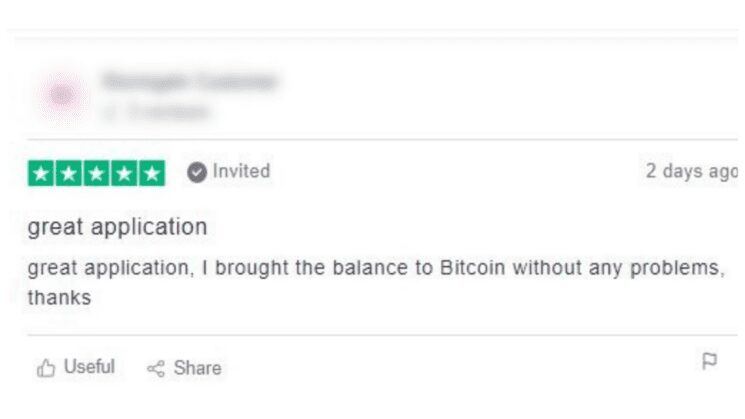 Review 3
This user kept it short and simple also compliments their excellent support.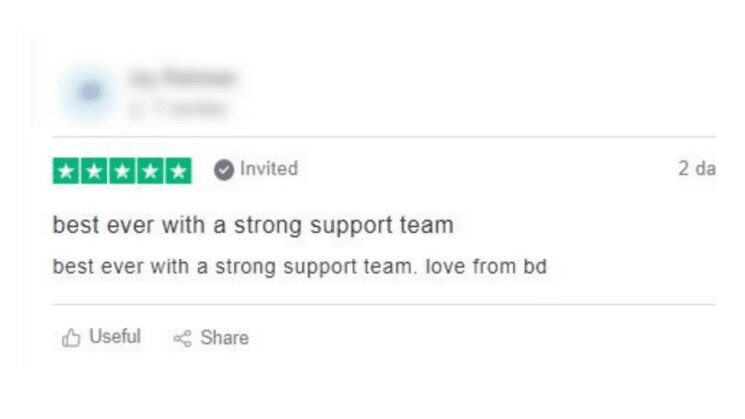 Now let's take a look at some negative reviews.
Review 4
According to this user, he did not receive the $20 he earned and he is not happy. However, Honeygain has requested him to get in touch with customer support for resolving the issue.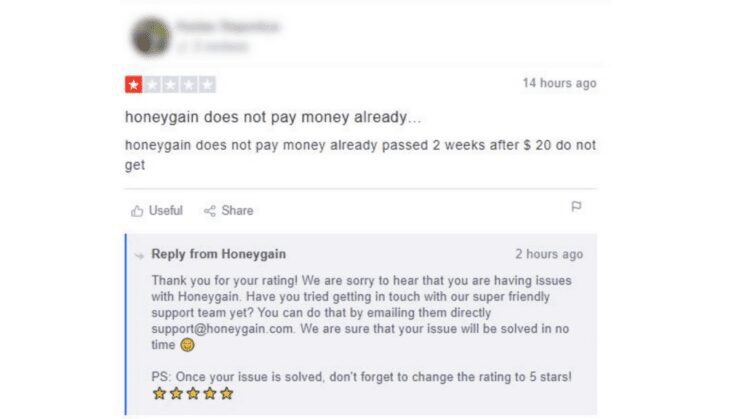 Review 5
This user is not happy and claims it will take a long amount of time to earn $20 as the app pays really low to use your data.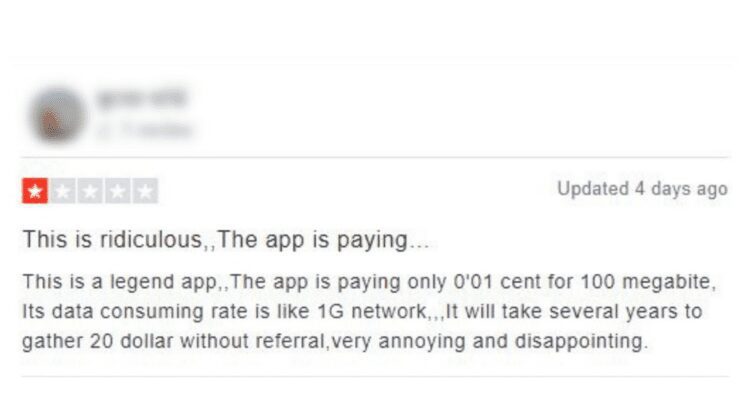 Review 6
According to this user, you may have to pay the hidden fee after reaching the threshold of $20 which is unethical of the site.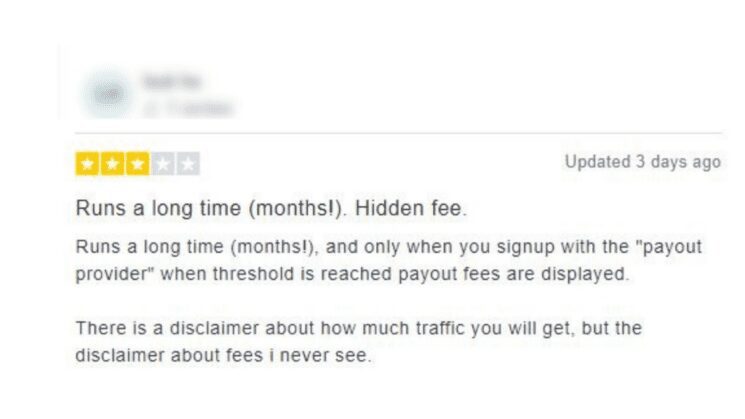 Hence the bottom line is
Honeygain is a unique website that pays for your unused internet connection. There are plenty of positive aspects of the site as you can earn passively.
However, you may have to pay some hidden fees which may distract you from the site.
But we do recommend you do give Honeygain a go and start earning from your idle internet connection.