Hello and welcome to my honest One Day Rewards Review.
One Day Rewards is a Gptplatformwhere you can earn money by completing various offers and surveys. You can choose offers as per your interest and complete them to earn money.
You can also get paid for completing surveys, watching videos, and referring to your friend. But you may be wondering if this site really pays and if it is not a scam. Well, you have come to the right place for your curiosity.
Today I am going to provide you with detail regarding One Day Rewardswhich includes
what really is One Day Rewards,
how it affects users,
method of joining the site,
how they earn,
 redeeming their earnings, payment methods, and most importantly
if it is worth your time.
So, let us get started
What is One Day Rewards?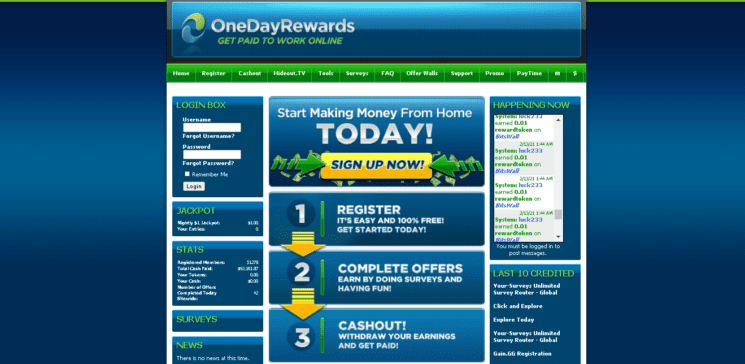 One Day Rewards is an online platform to earn money through work from home. You will have to do jobs like completing offers and surveys. This website has more than twenty thousand members.
How to Get Started?
First, you have to register on this platform. You do not require any special skills or qualifications to join One Day Rewards. So, visit the site and fill up the registration form.
You will be asked your name, user name, email id, password, current location, and other information. Once you fill this in, submit it. You will receive a confirmation email to verify your email address.
Be aware, using the wrong address or using a proxy location will lead to banning your account. Then once you are verified, you can complete tasks and get paid.
How to Work on One Day Rewards?
After registering in One Day Rewards, you can do different types of tasks and earn money. This site offers your various jobs like paid surveys, click advertisements, offer walls, free contests, watch videos, and jackpot contests.
Paid surveys are easier to find through the main menu. You will survey websites, applications, and other products furthermore you can also earn money by watching ads.
You will be given the different option in paid to click section. The ads will be for about 10 sec but it will also give small rewards. Offer walls also provide you an opportunity of earning money on the One Day Rewards website.
You can complete various offers to earn rewards. These offers consist of taking free trials, signing up for various websites or newsletters, downloading an app, buying certain products or services, and many more.
You can also earn rewards by participating in contests. A free contest is free to join and earn good monetary prizes whereas a Jackpot contest is not free to join.
Jackpot contest is a daily contest where you have to pay an entry fee to enter this contest but you can only earn around $1. It is not a good option.
You can also earn by watching a video of your won choice and referring your friends.
How can you Earn from One Day Rewards?
You can be paid by doing various tasks in the One Day Rewards system. You will be paid in a point system which later can be converted into cash, bitcoins, or gift cards. The points you will earn will vary as per the task you do.
For completing a survey, you can earn up to 50 points. But if your survey is not qualified you will not get any points. You can earn various points at offer walls.
The points you will earn is determined by the offer you complete. Entering the contests allows you to earn direct money.
You will only earn around $1 in a jackpot contest whereas you can earn up to $15 to $20 in a free contest.
You will get $0.001 for clicking every advertisement and earn 0.7 points for every three videos or ads you watch. For referring your friend, you will receive a 10% commission for every reward your referred friend earns.
Minimum Payout and Payment Method
You are paid through PayPal, Bitcoins, and Skrill. To withdraw your balance through PayPal or Skrill, you must have at least $0.10 in your account and your payout threshold for Bitcoin is $0.50.
Note: 1 point is equivalent to $0.01
Pros and Cons of One Day Rewards
Pros
Free to join
Available worldwide
Low threshold
Various ways to earn
Cons
Low rewards
Must pay to move to new membership level
Not available for mobile platforms
Conclusion: One Day Rewards Review
One Day Rewards is not a scam. You can earn by completing the tasks like paid surveys, click advertisements, offer walls, free contests, watch videos, and jackpot contests.
This is a worldwide platform; so, if you want to join this website you can join. You will not get a high reward like other websites.
Although this site is legit, you can try different websites for side incomes as various platforms pay you more for doing these tasks.