Hello and welcome to my honest Cutie Garden Review.
There are countless ways to make money online through websites and apps that pay you to do different tasks.
For example, you can get paid to do tasks like transcribing audios and image tagging on Remotasks websites or there are apps like Coin Pop which is good for some quick money.
Likewise, there is an app called Cutie Garden that pays you for playing games and merging animals to make a more rare and exclusive animal.
But you may be wondering if this app really pays and if you can earn up to $100 for just playing games.
Well, you have come to the right place for your curiosity. Today I am going to provide you with detail regarding Cutie Garden which includes
What really is Cutie Garden,
How does it work,
Joining the site,
How the company pays,
Earnings, payment methods
And most importantly if it is worth your time.
So, let's get started:
What is Cutie Garden?

Cutie Garden is a game available for Android and iOS where you have to merge identical animals to create a new stronger one. It is available on both Android and IOS platforms and recently has been regarded as one of the most addicting games.
Heads up:
You might be interested in another similar app called Big Time Cash which allows you to make money playing games just like Cutie Garden. Make sure to check out my Big Time Cash Review to learn how much you can earn.
Back to the topic:
In Cutie Garden, The point of making the new animal is you will receive a virtual cash reward into your game wallet which can be withdrawn to your Paypal account if you ever reach a threshold of $100.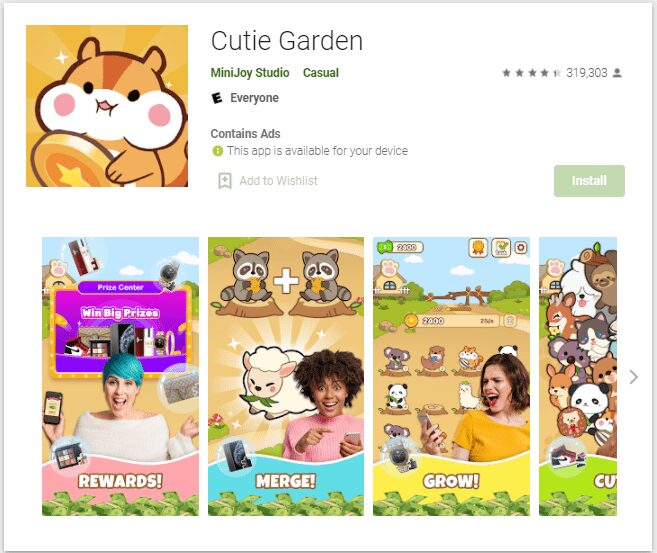 You can also receive other gift cards such as gift cards, coupons, and even Versace watches. The annoying part of the game is constant ads that are the clients of the game itself.
Those ads are mainly dedicated to making people believe you can earn online but those ads are mainly scammed so do not install or sign up for anything.
💡 Learn how I made $25 by writing a single blog post. [P.S Anyone can do it]
How to Get Started on Cutie Garden?

To get started on the game you must first download the game either from Google Play Store or the IOS App store.
After installation of the game, it asks for some permissions.
The game asks you to have permissions for making calls, sending SMS, and recording videos or cameras. You should press deny in the options button.
The game also asks for your location in which case also you should deny it because the game does not require these things to activate.
After the permission, the game starts and you have to match the same level animals to upgrade them.
For eg combining two Koalas will merge into a Squirrel. The player will earn a virtual coin if his animals merge and upgrade their levels.
The higher the level of animals, the more coins the player wins.
Once you reach $100 you will be able to withdraw your earnings from your registered PayPal account.
If you love doing surveys, then check out 10 best survey sites that pay $5000 monthly.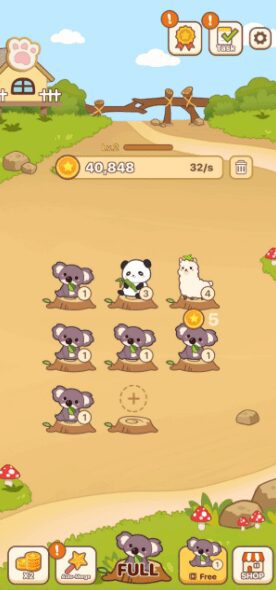 How Does Cutie Garden App Work?

Well, it is very easy to play this game. All you have to do is play the game by merging the animals.  Once your animals level up you earn money.
You will be shown a tutorial about how to play after downloading the game. The player will earn a virtual coin if his animals merge and upgrade their levels.
The higher the level of animals, the more coins the player wins. As the game progresses, you will require to buy more animals from the 'Shop'.
To buy you will use the same earned virtual coins.
For example: when you merge two Koalas, you will get a squirrel. When you merge two squirrels, you will get a panda and so on.
The coin given by a squirrel will be greater than the coins given by a Koala.
You will also be receiving mystery gifts in the game. The gifts normally contain animals.
The game has also stated that you will receive some much larger rewards for collecting rare and exclusive animals like a rainbow unicorn.
But you will not receive money because when the time to pay arrives they just keep saying the person who has collected needs more.
You will be paid in virtual coins initially which later can be converted into monetary value. The monetary value will be automatically converted by the app.
It will be shown in the top left corner of your mobile device. You can also earn various prizes from Bubble of Puzzle and Lucky Spin. You have to watch videos of course.
How does Cutie Garden App Pay?
Well according to the game makers the process is really easy. You play the game, you merge the animals, you level up your animals you earn money.
The more you level up your animals, the more you earn the money.
And once you reach the $100 you can withdraw your amount. But the real fact is there is no chance of earning $100.
The fact is it looks like there is no chance of earning even a single dime.
You cannot upgrade your animals all the time and later down the game it becomes impossible to earn.
The game has also stated that they will be giving dividends up to $200 for collecting rare and exclusive animals just as a rainbow unicorn but when the time to pay arrives they just keep saying the person who has collected needs more.
The iPhone prize that they claim is also a hoax and they have not paid anyone anything.
There is no other way of earning by watching ads, writing reviews, etc and you cannot earn, or even if you earn you cannot redeem your earnings.
Minimum Payout and Payment Method

The minimum payout threshold of the game is $100. And the only way to redeem your earnings is by PayPal account.
But as I have stated earlier there is no chance that you will be able to earn $100 to even redeem your earnings.
The minimum Payout of $100 is ridiculous and casts major doubt on the game's integrity.
There is also a limited option of withdrawing your earnings which is also not appropriate or attractive regarding the game.
If you want to earn free Amazon Giftcards, then check out my post and learn how to get Amazon gift cards for free.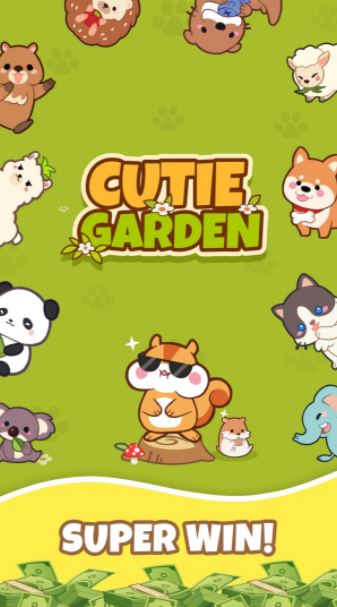 Pros and Cons of Cutie Garden

Pros
The only good thing about the game is it is quite entertaining and helps to pass time.
Cons
You may never earn a dime on the game because of an impossible puzzle.
The $100 minimum threshold is quite ridiculous.
There is no evidence of players getting paid from the games.
Many annoying ads to deal with which might become too much for many players.
Overheating and draining of battery due to constant background data consumption.
The only way of redeeming your earning is PayPal which does not apply to everyone.
What do the People say about Cutie Garden?

Many unhappy people on the internet claim the game is a scam and does not pay but others are adamant they have received payments from the application.
However, there is no proof of anyone receiving the payment from the site.
One player had collected 12 rainbow unicorns but instead of paying dividends they simply told her she needed more.
The vast majority of players are annoyed by relentless ads and have stopped playing the game.
The internet is split on the legitimacy of the games and no one can prove anything else.
Cutie Garden Review 2023:Legit or Scam


As much as there is a split on the internet about the legitimacy of the game,  it is safe to say the game is a scam. You cannot earn anything from the game.
You cannot complete the last puzzle because it is impossible to find the last puzzle and even if you complete it, you will never reach the threshold of $100.
At first, you will earn a significant amount but later when you get near the threshold you will start earning really less and get stuck before reaching it.
Hence I request our user to only play this game for entertainment and do not expect any earnings or cash whatsoever.