Is Big Time Cash a good app to make some extra income? or is it just another scam App? And Is it really worth your time?
These are the main queries about this app.
And In this Big Time Cash review, I will share exactly how much you can earn, if it's worth your time or not, and all the details.
So, if you want to earn money using this app, then this review is a must-read.
Let's learn what exactly is Big Time Cash!
What is Big Time Cash?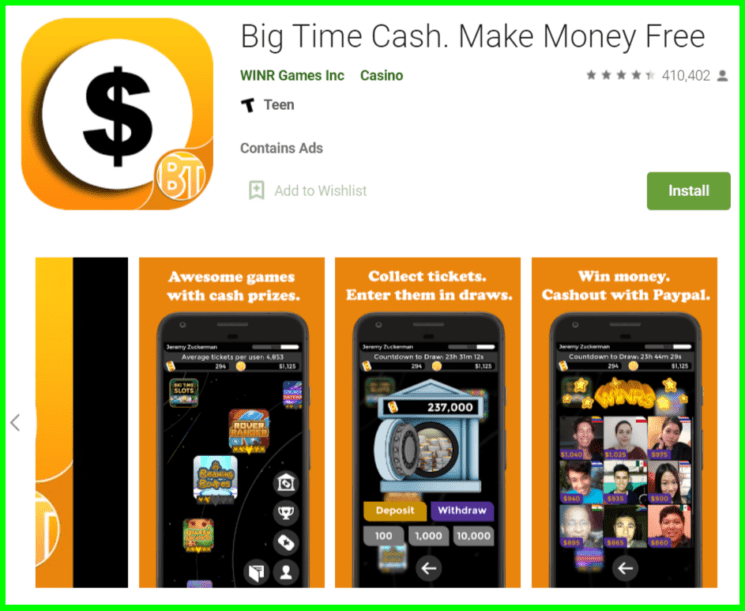 Big Time Cash is a Get-Paid-To (GPT) application that will reward you just for downloading and playing free mobile games.
The app is developed by WINR Games Inc and it has a whopping 10 million downloads as of July 2023.
But does having over 10 million downloads make it legit? 
Well, I will come to this point later in this post.
But first, let's learn how to get started with this app.
How to Join the Application?
The application is available worldwide which is a plus point.
And it means:
You will be able to download and install the application irrespective of where you live.
But you should be at least 14 years of age to do so.
Here's how you can use this app to make money:
To sign up as a member of the following application, you can use your Facebook account or just sign up with your email address.
Once you complete the registration, you will then receive a confirmation email from the app.
You should make sure to click the link in that email because by doing so, you will also get to receive a joining bonus of 1,000 tickets.
It's not a lot, but still, you get something right from the beginning.
Now that you've downloaded and created your account on the app. (Well done! 🥳)
It's time to learn how can you earn from this app.
How to Earn on Big Time Cash?
Big Time Cash provides 4 main ways to earn money. So, if you want to start earning from this app, then make sure to check these 4 ways to make money on Big Time Cash:
#1 Playing games
One of the most fun ways to earn from the application, Big Time Cash is just by playing the games they offer. By playing the games, you will earn tickets that can be used to join their prize draw or you can easily convert them to cash
When you first log in to that particular application, you will proximately see all the games you can play. The best thing about all these games that the application offer is, you actually don't have to install them on your mobile device.
They are already pre-loaded in the application. So, you just need to choose the game you really want to play. Each game consists of a tutorial which you need to go through first.
Just follow the instructions that it provides to finish the game. After you've finished the tutorial, you just need to play the game normally.
At the end of every game, you will get to know how many tickets you've earned by playing the game. One thing you should note is that you will definitely earn more tickets if you've set a new high score for the game.
So, if you really want to earn more, always make a target to get the highest score. You can also play the games as many times as you want and you will definitely keep earning tickets.
But I would obviously recommend that if you haven't got the highest score in quite some time, you must move on to another game so you can set another high score and earn more tickets in another game.
It would be a more efficient way of earning tickets.
#2 Daily bonus
In this application, you can also claim a free prize once a day. This is actually their daily bonus. The prize you will receive will be anything as you can say it will be random.
To claim your daily bonus in this application, you just need to go to their daily bonus section and have to pick a pod to open.
The typical prize you will receive through it will be a ticket ranging from 100 to 1,000. You can also get a ticket multiplier that can be used to multiply the number of tickets you've earned/gained from that particular game.
#3 Paid offers
Another great way to earn from the application, Big Time Cash is by completing their paid offers.
A paid offer is mainly a short task you can do to earn rewards. The majority of tasks you found on this application, Big Time Cash will just be about installing the mobile games and playing them.
Many other tasks will ask you to visit social media pages or watch different videos. When you see an offer in the application you are interested in, just press it and it will open a new window.
If you chose an offer that asked you to play a game or games, it will redirect you to the corresponding app store page so you can download the application.
Once you've finally completed everything the offer asked you to do, you will definitely receive the reward that was promised to you.
Their offers are comparatively simple to the offers you will find on other GPT sites and applications. Nevertheless, the number of offers they have does pale in comparison to other popular GPT sites and applications.
#4 Referral program
Lastly, you can also earn additional rewards only by inviting other people or your friends/family to download and install the app for a referral program.
To invite any person, all you have to do is just share your referral code with them. Then, you need to make sure to remind them to input the code during their registration process.
Once they have installed the app on their following device, you will then receive 2,500 tickets and $0.10.
It's a moderately simple process and the good thing about this is, there are no other additional requirements you need to claim the reward.
How do you get paid?
If you already know, the tickets which you've earned will be used as an entry for the application's prize draw. You can then convert the tickets you've earned or gained to cash if you want an assured way to earn.
Once you've converted your tickets and have at least $10, you can easily withdraw through PayPal.
To convert your tickets into cash, you have to go to their payment section and deposit the tickets which you earned.
Also, remember to do this before the app prize draw happens because every ticket which you don't deposit to your account will be used as an entry for the draw.
There will also be a timer displayed showing when the prize draw will take place.
The other thing you should know is, you can only deposit tickets in increments of 100, 1,000, and 10,000. As for the application's conversion rate, 10,000 tickets is equal to $0.10.
As for how this application's contest works, if you win their grand prize, you will be alerted through email. The email you will receive also contains the instructions on how to claim your prize which you have received.
Pros and Cons of Big Time Cash?
Pros:
Big Time Cash offers a fun way to earn rewards
It offers payment via PayPal
The app is available globally
Cons:
It limits earning opportunities offered for a GPT app
It offers low rewards
Conclusion: Big Time Cash Review
Big Time Cash is a legit app but If you really want to earn a decent amount of money then this application is definitely not for you. It does take a bit of your time to earn a little amount of money.
It doesn't really pay well. If you win a grand prize in the prize draw then it may help to earn a good amount otherwise, it doesn't pay well.
But, if you are just looking to pass your time then this app may be for you. Thank you for checking Big Time Cash Review, if you have a large number of Spotify Playlists and want to earn some money from them please check our review of Playlist Push.