What is Adyoume?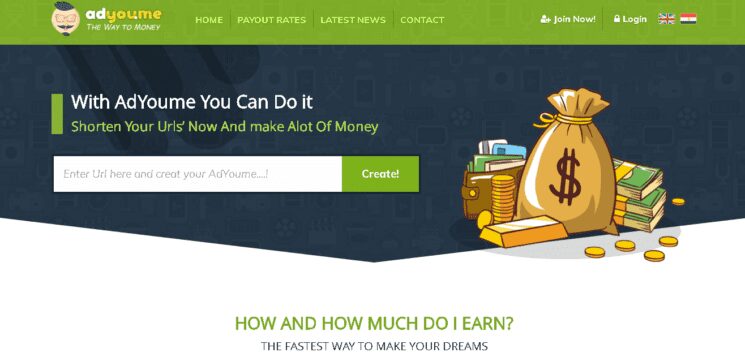 Adyoume is an online platform that helps to earn online. It is an URL shortener site.
You can earn money on this platform by shortening any lengthy URL and sharing those shorten links on YouTube, blogs, Twitter, Facebook, and any other social media.
Shrink Earn has various CPM rates for different countries. The main objective of a URL shortener is to convert lengthy URLs to short ones and make people remember them easily.
How to Get Started?
Firstly, you have to register an account on Adyoume. Visit the site to create an account.
You can see the join now option. Click that and you can see a registration form asking you your username, password, email, and main account. After filling that up click 'I agree to terms and conditions.
Once you complete the process of creating an account you will get a confirmation email to verify your email address. You should click the link sent in the confirmation email this will register and activate your account.
Then you can earn money by shortening and sharing URL links.
How Does Adyou.me Work?
After completing the registration process, you can start shortening URLs. Two positions are publisher and advertiser on this website.
As a publisher, you will have to go to the link shortener box and type the long link and click shorten. Then you have to share the shorten link on Facebook, Twitter, YouTube, Instagram, and other social media.
You can also be an advertiser to earn money. Advertisers post ads (I do not know much about this position in Adyou. me.
You can also invite your friends to join this site and you can earn a referral commission.
There are various requirements and restrictions on the Shrink Earn site that you should keep in mind while shortening URLs. Some of them are:
Do not harm minor in any way
Do not shorten links containing illegal contents
Do not share or publish links that have adult, threatening, or abusive in nature
Do not share or publish links that contain inside information, employment relationships, or confidential information
Do not use links that contain a virus, malware intended to destroy the computer or communication software and hardware
Collecting or storing personal data about other users is not allowed
Do not attempt to falsify traffic to earn revenue
Do not in any case sign up more than once.
So, follow these instructions while using Adyou.com
How Do you earn?
Adyou.me pays you based on CPM. CPM is the cost per thousand which means that this platform offers a price rate on every 1000 visits. You can be either publisher or advertiser to earn.
Publisher shortens URLs and publishes them on social media and advertiser posts advertisements to earn money.
The average CPM rate in this platform is up to $3 per 1000 visits and the minimum CPM rate is $3 per 1000 visits. This rate keeps on changing and varies according to countries.
Thus, if any visitor clicks on your link then you will be paid some amount. As I already mentioned that their payout rates depend on many factors like the number of clicks, visitor's country, etc. The visitor can use any proxy servers or VPNs to visit the link but the earning through such servers will be less.
You can also earn by referring your friends. You will earn a 5% referral commission for referring this site to others.
How are you paid?
Adyou.me pays you through PayPal, WebMoney, Skrill, Payoneer Vodafone, Neteller, Payza, and bitcoins.
The minimum payout balance through PayPal is $5. There is various minimum payout threshold for different payment sources. Thus, the minimum payment threshold may reach up to $100.
Pros and Cons of Adyou.me Review
Pros:
It is free and easy to join
The site pays through PayPal and many other sources
The payout threshold is low that is $5
It is available globally
You can be either publisher or advertiser to earn from the same account
 Cons:
The pay rate is lower compared to other sites
Low referral bonus that is only 5%
You may be tricked into clicking the ads
You have to Disable Ad-Block to get through some ads
Conclusion: Adyou.me Review
Adyou.me App is not a scam. You can earn money by shortening and sharing URL links on this website. It has various CPM rates that differ from country to country. It also provides earning through referral bonuses.
You can not only shorten links and share but also create your own ads and get paid for them.
If you want to earn a side income then you can use this website as it is legit. But I recommend other URL shortener websites because the pay rate is quite low on this website. Other websites offer you a much higher pay rate and referral bonus than Adyou.com.
if you are looking for other URL shortener sites check out our review of Shorte and find out if it is legit or a scam.